Scientists have begun blurring the line between human and animal by producing chimeras—a hybrid creature that's part human, part animal.
Chinese scientists at the Shanghai Second Medical University in 2003 successfully fused human cells with rabbit eggs. The embryos were reportedly the first human-animal chimeras successfully created. They were allowed to develop for several days in a laboratory dish before the scientists destroyed the embryos to harvest their stem cells.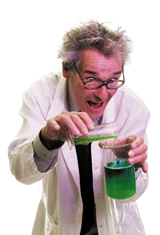 In Minnesota last year researchers at the Mayo Clinic created pigs with human blood flowing through their bodies.
And at Stanford University in California an experiment might be done later this year to create mice with human brains.
Scientists feel that, the more humanlike the animal, the better research model it makes for testing drugs or possibly growing "spare parts," such as livers, to transplant into humans.
Watching how human cells mature and interact in a living creature may also lead to the discoveries of new medical treatments.
But creating human-animal chimeras—named after a monster in Greek mythology that had a lion's head, goat's body, and serpent's tail—has raised troubling questions: What new subhuman combination should be produced and for what purpose? At what point would it be considered human? And what rights, if any, should it have?
Genesis 1:31 Says All God Made Was "Very Good," But Mad Scientists Think They'll Do Better
---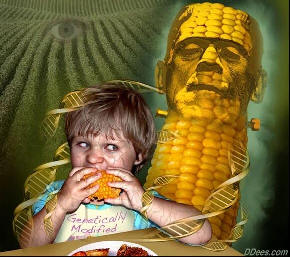 Frankenfoods (yummy!)
Mad scientists are growing genetically modified babies in labs solely for the purpose of body parts and organ replacement. By combining animal DNA with human & plant, the embryo has NO RIGHTS because it's not considered human anymore. Think of the horrifying consequences of what this means! Scientists play God, mixing plant and animal DNA with human, creating poor creatures that have no rights. GM tampering will allow cross-species diseases to spread easier into populations, that could create plagues the likes of which this world has never seen. Unlike nuclear radiation which will go away after 100-years, GM tampering is irreversible in nature.
Mutant DNA Modified Mosquitoes
---
About Hybrids & Chimeras
Hybrid animals are created when gametes (reproductive cells) from different species join to form a single embryo. A mule, for example, is the offspring of a female horse and a male donkey. Every cell in the body of hybrids contains genetic material from both parents.

Chimeras, named after creatures from Greek mythology, are created artificially by combining genetic material from different species into a single embryo. The adult animals that develop have different populations of cells that reflect different contributions from the species from which they were produced. Scientists have created the geep, for example, by combining genetic material from both a goat and a sheep.

Partially human hybrid embryos have been created by fusing human cells and animal eggs, and partially human chimeric embryos have been created by injecting human embryonic stem cells into animal embryos. Most scientists want to produce such embryos only for research, and oppose experiments that would allow human-animal chimeras to be brought to term.

The prospect of human-animal chimeras troubles many people and raises troubling questions about their moral and legal status. Would a human-animal chimera have human rights? Could it be patented and owned? What if it were 99.9% human and 0.1% chimpanzee? What of the reverse situation? END
SOURCE: Hybrids & Chimeras
---
GM Foods Cause Sterilization!!!
If you doubt that Genetically Modified (GM) foods threaten your body, here is a recent report from Russian biologists. They conducted what they thought would be a "routine" study of the long-term effects of the consumption of GM soy feed among a hamster population. For the first generation, the only untoward effects seemed to be constipation. The second generation didn't seem too much the worse for wear either. But the third generation showed serious ill effects and turned out to be completely sterile.
SOURCE: Genetically Modified Foods: More Reason to Avoid Them; Why They Threaten Organic Agriculture | The Alliance for Natural Health USA
---
Artificial Intelligence May FORCE Humans to Become Cyborgs to "Save Lives" & "Prevent Death"
(more Mark Dice videos)
---