Please take a look at this
YouTube
video
. It will remind you that every human life is precious and that we can see this truth most clearly through the face of a helpless, innocent baby who can do nothing for us but allow us the opportunity to give ourselves to him in love. It teaches that joy comes through giving oneself to another for their own sake and that authentic joy can be experienced in the midst of difficulties and even amidst tremendous sorrow. Mostly, it will reveal the heroic courage and life affirming witness that is possible for those yielded to and animated by the life of the Holy Spirit. Take a look but make sure you have your Kleenex ready.
---
| | |
| --- | --- |
| Nazi Killing Innocent Victim | Abortion Doctor Killing Innocent Victim |
| | |
| --- | --- |
| Auschwitz Death Camp | United States Abortion Death Camp |
---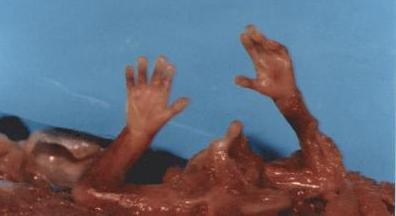 Pro-Choice: A gas oven or an abortionist's garbage dumpster?