ALL Modern Bible Versions are Corrupt!

"If the foundations be destroyed, what can the righteous do?" —Psalm 11:3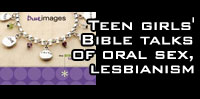 The Heretics Behind The Modern Versions

"...which they that are unlearned and unstable wrest, as they do also the other scriptures, unto their own destruction." —2nd Peter 3:16
"The biggest split that has ever come will come in the next ten years, if not sooner, over the King James Bible - and it couldn't come soon enough for me. I'm tired of colleges and universities advertising that they 'use' the King James Bible - tell the whole story! Tell everyone that you do not believe that it is inspired word for word." —Dr. Jack Hyles, Revelation to Illumination (1998 Wednesday night Bible study)

"Don't come to me with your stinkin' 'only the original is inspired'! You're not intellectual... you're retarded!" —Dr. Jack Hyles, Keep your Stinkin' Feet Out of My Drinking Water (1998 Wednesday night Bible study)
Not One Word Has Failed (Dr. Jack Hyles)
In Awe of Thy Word (Understanding the King James Bible, its mystery and history, letter by letter)
Forever Settled (a survey of the manuscripts, church fathers, Hort and Westcott, Bible history, et cetera)
Dr. Jack Hyles On the King James Bible Issue (It's more difficult to stand today for the King James Bible than it was forty years ago, but men who love the Lord Jesus Christ will stand.)
The Incorruptible Word (MP3 sermon by Pastor Jeff Owens, 1.1 MB)

Hanging Jesus in Effigy

(The Bible and the Bible, by Dr. Jack Hyles... to attack the Bible is to attack Jesus!)

All Modern Bible Versions are Corrupt and Dangerous (I wouldn't give you a dime for any of them)

Pastor Jack Hyles on the King James Bible (If it was good enough for mama, it's good enough for me! Amen.)

Westcott and Hort: Translator's Beliefs (These were two demonic heretics! Tragically, few Christians nowadays realize what's wrong with the modern corrupted Bibles, which are ALL based upon the evil works of Westcott and Hort? Sadly, most believers don't care, and then of course, many aren't truly believers.)
Westcott and Hort Were Pro-Catholic! (They believed in Purgatory, Baptismal Regeneration, prayers for the dead, etc). Few people realize that Charles T. Russell, founder of the Jehovah's Witnesses, was a Knights Templar. Perhaps this explains why he based his New World Translation upon the corrupt Greek of Westcott and Hort, as does the perverted New International Version. By the way, the owner of the exclusive printing rights to the NIV, Rupert Murdoch, was just made a Knight by the Pope. Murdoch had put the NIV under the same umbrella as the TV Guide, which he also owned.)

New Versions and Their Defenders Critiqued (by G. A. Riplinger) | New Age Bible Versions

Complacent Christians and the Bible (an article I wrote, defending the King James)

The Shocking Truth About C.I. Scofield ("Mr. Scofield was a crooked, adulterous lawyer who abandoned his wife and was paid handsomely by New York Jewish plotters to betray the Christian faith. Scofield planted 'Judaizer seeds' in his Bible commentaries denying Christ's heavenly kingdom..." —Pastor Texe Marrs)

Bible Version Comparison (a comparison of 300 verses from 7 major versions)
---
"God has preserved His inspired Word for us. It is preserved in the Hebrew Masoretic text and in the Greek Textus Receptus. It is also preserved for us in the English in the King James Bible. What He at first inspired, the Lord God has now preserved. Therefore, when I hold the King James Bible in my hand, I hold the inspired text. It was inspired and now that inspired Word has been protected, preserved and provided for us!"

SOURCE: What Is That Book You Hold In Your Hand?, by Dr. Shelton Smith, editor, Sword of the Lord

---

"The King James Bible is the One they pick-on in religion classes. That's another proof it's the right One by the way. You can tell a lot about something by its enemies and critics."

—Pastor Danny Castle, a quote from the needful sermon, Procrastination: The Devil's Best Trick

---
"Be on guard against any tampering with the Word, whether disguised as a search for truth, or a scholarly attempt at apparently hidden meanings; and beware of the confusion created by the senseless rash of new versions, translations, editions, and improvements upon the tried and tested Bible of our fathers and grandfathers."

"The true Church preaches REGENERATION; not reformation, not education, not legislation, but regeneration."

SOURCE: Dr. M.R. DeHaan, from the excellent book, THE TABERNACLE, Pg. 101
---
The Blasphemous Martin Luther King Jr. Remembrance Edition Bible (KJV)
---
"They're taking the pure Word of God and changing it for a buck and changed it for a dollar. So-called Christian colleges, take your stinking feet out of the Word of God! Quit serving dirty water! So-called Christian seminaries with your intelligencia, which is nothing more than stupidity hiding behind the guise of scholarship, you keep your stinking feet out of my drinking water! Dr. Custer of Bob Jones University, who says that there is no perfect Bible in the English language, you keep you stinking feet out of my drinking water! Greek scholars, so-called, self-styled Greek scholars, who are only called 'Greek scholars' by other Greek scholars, you keep your stinking feet out of my drinking water! ... I am so sick of these guys that go to an institution. I've got more respect for a State university professor who says there's no Word of God, than I have for a man who'll hide behind the sacred desk and change God's blessed Book." —Dr. Jack Hyles
---
"...for ye have perverted the words of the living God, of the LORD of hosts our God." —Jeremiah 23:36
The New King James Version (NKJV) Exposed!

The Living Bible (TLB) Exposed!

The New English Transition (NET) Exposed!

The New Century Version (NCV) Exposed!

The English Standard Version (ESV) Exposed!
English Standard Version (ESV) (By Will Kinney. A quick examination of one of the newest modern translations.)
The Damnable English Standard Version! (Don't believe their lies that it's a "word-for-word translation" of the originals. What they don't tell you is that they're using the corrupted Greek texts of Westcott and Hort as their originals. The ESV is another damnable imposter being used by Satan to destroy churches today. Beware!)

The New Living Translation (NLT) Exposed!

The Book for Teens (TBFT) Exposed!

New International perVersion (NIV, or better yet, HIV) -Exposed!

Today's New International perVersion (TNIV) -Exposed!
TNIV: Translation Treason

(According to Hebrews 2:17 in the TNIV, Jesus was made like a woman in every way! Should it be surprising that Harper Collins [parent company of Zondervan which publishes the NIV and TNIV] should also publish the filth,

"Making Out, The Book of Lesbian Sex and Sexuality"? I think not! The Devil is in the NIV and TNIV folks! Get ready for the homosexual "gay" bible, it is coming! By the way, Avon publishers [another subsidiary of Harper Collins] publishes the Satanic Bible!)
Judith Christ of Nazareth Bible (presents Jesus as a woman! Talk about apostasy!)
NIV 2011... The Feminist's Lesbian Bible! (God is not into the feminist and homosexual agendas of our time!)

21st Century King James Bible

New International Reader's perVersion (NIRV) -Exposed!

1901 American Standard Version (ASV) -Exposed!
Good News Bible (Today's English Version) -Exposed!
New American Standard Version (NASV) -Exposed!
New Oxford Annotated Bible -Exposed!
New Scofield Reference Bible -Exposed!
Amplified Bible -Exposed!
Revised Standard Version (RSV) -Exposed!
Conservapedia Bible Project -Exposed!
True Images Bible (TIB) -Exposed!

Other Demonic False Bibles
"Add thou not unto his words, lest he reprove thee, and thou be found a liar." —Proverb 30:6
---
"If you're looking for the real "conspirators" responsible for the destruction of America, try any number of Bible correctors like Rick Warren, best-selling author of the sacrosanct Purpose Driven series, as well as the faculties of Bob Jones University, Liberty University, Tennessee Temple University, Baptist Bible College, Piedmont Baptist College, and Maranatha Baptist Bible College."

SOURCE: How Satan Turned America Against God; by Dr. William P. Grady; pg. 854; 2005; ISBN: 0-9628809-3-0

---
The HERETICS BEHIND the MODERN VERSIONS!
"For there are certain men crept in unawares, who were
before of old ordained to this condemnation, ungodly men" —Jude 1:4

"As also in all his epistles, speaking in them of these things; in which are some things hard to be understood, which they that are unlearned and unstable wrest, as they do also the other scriptures, unto their own destruction." —2nd Peter 3:16
---
"I believe, then, we are witnessing the hand of God, cautioning us to have nothing to do with the corrupt, new bible versions. As we have repeatedly stated, the authorized King James Version (KJV) remains the one, true, untarnished Bible. It is accurate and without mixture of error. No wonder, then, that so many deceivers today seek to cast doubt on the powerful, eternal Word of God contained in the King James Bible.
My friends, the real war in these last days is not in the field of economics. Our major enemy is not political. The greatest battle is not over the conspirators' scheme for the New World Order. What we are engaged in now is the epic contest of the ages. This is a struggle for the spiritual heart of mankind. I thank God that he has provided us with all the ammunition and answers we need to fight in this Holy War and prevail. The mighty weapons we require are found in ample supply in His Book, the majestic and incomparable King James Bible."
SOURCE: Texe Marrs, Mark of the Devil Discovered?
---
There are many atheists and God-haters in the world today, who attack the content of the Bible, attempting to portray God as a fiend. However, those same skeptics and unbelievers leave off the magnificence of this universe and the impossibility of it all just HAPPENING. They are ingrates. Romans 1:21, "Because that, when they knew God, they glorified Him not as God, neither were thankful; but became vain in their imaginations, and their foolish heart was darkened." The fact that the Bible is brutally honest is further proof that men didn't author the Bible, for if they did to deceive others, they wouldn't have wrote it in such a manner.
---
The Authorized Version Defended Audio Archives
---
THE TEACHERS and their 74 MESSAGES with filenames
| | |
| --- | --- |
| | DR. SAMUEL C. GIPP Th.D. |
JAMES KNOX (pastor)

Bible Baptist Church - DeLand, FL USA
| | |
| --- | --- |
| | Knoxville, TN USA |
DR. ROY BRANSON, JR.

Landmark Church Ministries - Bristol, TN USA
Dr. ED DEVRIES

Pastor of Landmark Baptist Church

Waller, TX USA
---
"Let me repeat that no greater curse has ever afflicted the Church of Jesus Christ than the curse of spiritualizing Scripture, that is, making Scripture mean something other than its literal meaning... Instead of spiritualizing, it is 'demonizing' of the Scriptures, for if any 'spirit' has anything to do with that school of Scripture interpretation it must be an 'evil spirit.'
No, the Scriptures were not given to us to confuse us but rather to instruct us. Certainly God intends that we should believe His Word with all simplicity. A thousand years means a thousand years; a wolf means a wolf; a lion means a lion. If you read your Bible that way, a child can understand it."
SOURCE: THE SECOND COMING OF JESUS, pg. 82,83; by M.R. DeHaan; 1944; ISBN: 0-8254-2483-6
---
The Answer Book (by Samuel C. Gipp, Th.D.)

"Through thy precepts I get understanding: therefore I hate every false way."
—Psalm 119:104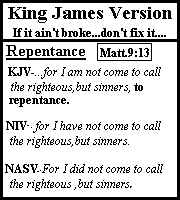 "We never thought from the beginning, that we should need to make a new Translation, nor yet to make of a bad one a good one ... but to make a good one better."

SOURCE (Preface to the King James Bible)
---
"The Bible, composed by many authors, over a period of many centuries, yet ONE BOOK, is, in itself, the outstanding Miracle of the Ages, bearing aloft its own evidence of its Superhuman Origin."

SOURCE: Halley's Bible Handbook, by Henry H. Halley; pg. 23; 1965 Edition
---