I Love Everybody, Really
by David J. Stewart | January 2020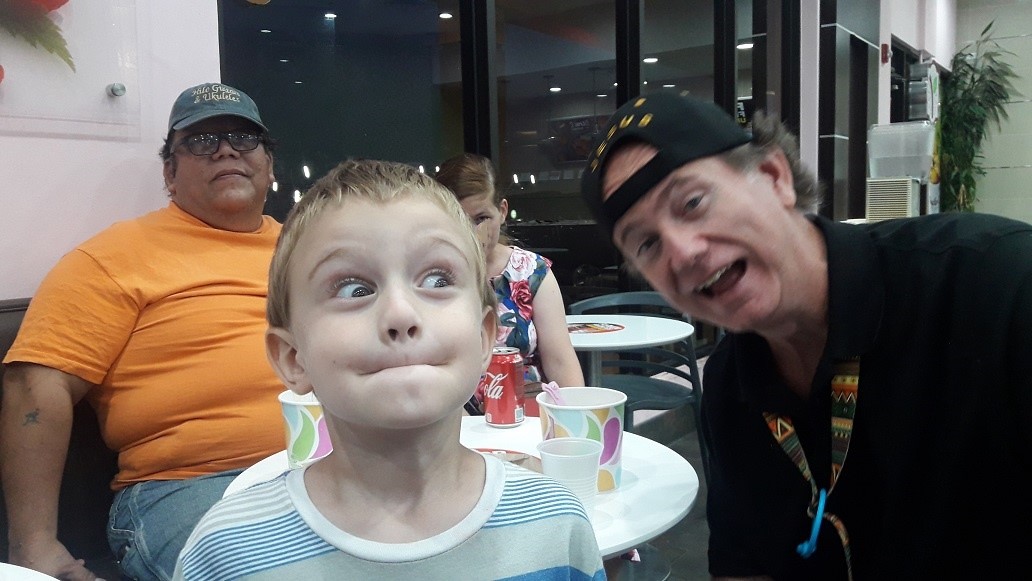 My Son-in-Law, Grandson, Daughter and Yours Truly at Yogurtland
I just wanted to tell everybody, regardless of who you are, that I love you all with God's love. I have no ill will toward any human being. I love people. My mother was a loving person. We had about 10-15 cats in our home at any given time when I was growing up, because the kids in the neighbourhood knew if they found a stray cat in the cold, my Mom would take those animals in. I am a cat person I admit, I don't like dogs. I do love animals, they are SO TASTY! Oh, sorry, I was thinking about cows (beef). I love Mongolian Beef at the Chinese restaurant!

I don't like making enemies. God knows my heart. Unfortunately, there is no such thing as a friendly war. The inspired Word of God teaches us in Ephesians 6:12-13 that we wrestle (fight) against spiritual wickedness, and not against flesh and blood. Even in spiritual war, there are no friendly battles. Preaching against heresy is ugly! People get upset. Preaching against sin is ugly! People get offended. Preaching against apostate churches is ugly! People get their egos and feelings hurt. There are casualties in any war, because all wars originate in the spiritual realm!
"There's two types of people in this world: Those who love, and those who don't!"
—a quote by David J. Stewart (I am quoting myself. I am so silly...lol. It's the prescription drugs!)
I hear people on the internet saying it is a shame how Christians cannot get along. Well, that is true to an extent, but it all depends on what they are not getting along over. If it is a mere matter of money or which side of the neighbourhood you're from, I agree; but if it is a fuss over claiming that God authored one Holy Bible, versus sanctioning 29 different Bible revisions, sign me up to fight in the war! Brother, let me tell you something, when the Devil's ministers, Brooke Westcott and Fenton Hort, published their A New Translation Of The Greek New Testament in the year 1881, it was a spiritual Pearl Harbor attack upon churches around the world! We need fundamental Bible preachers everywhere to sign-up to go to war against the Devil's Bible butchering movement! There is only ONE GOD, Who has authored only ONE HOLY BIBLE! You're a a deceived fool if you flip through a dozen Bible revisions to find God's Word. These modern Bible versions aren't even based upon ANY ANCIENT TEXT, as Pastor Max Younce wisely points out in his awesome Bible study titled: KING JAMES BIBLE: STILL THE BEST! (shocking history lessons by Pastor Max D. Younce). To hear Dr. Younce expose the corrupt modern versions that aren't based upon ANY ANCIENT TEXT, please listen to Part 4B - KJB: Still The Best (You've got to hear this! Shocking truths behind Satan's Bibles!)

The following video of Pastor Curtis Hutson (1934-1995) is heart-touching. The man is dying of cancer, rejoicing that he is ready to go home to be with his blessed Savior. I say amen to that, I'm ready to go too! I hate it down here on earth. Scotty (or Gabriel), beam me up! ...
I'M ON THE WINNING SIDE!
(Pastor Curtis Hutson sings while weak, frail and dying of cancer in 1995)
I cherish the following wonderful passage of Scripture, because it gives hope to lifetime losers. It gives comfort to suffering saints. It gives encouragement to condemned criminals. It gives hope to the hopeless! It gives hope to social misfits like me. The following precious passage of Scripture proclaims that NO ONE can condemn a child of God (that is, a born-again Christian). The implied answer to the question: "WHO IS HE THAT CONDEMNETH," is NO ONE! Dear reader, if you are a redeemed child of God, then you are already A PART OF THE LORD'S FAMILY! Matthew 12:50, "For whosoever shall do the will of my Father which is in heaven, the same is my brother, and sister, and mother." And as a member of Jesus' family, YOU ARE ALWAYS LOVED NO MATTER WHAT, so that nothing (not Heaven nor earth, not life nor death, not man nor angel, not sin nor suffering) will ever SEPARATE US FROM THE LOVE OF GOD! ...

Romans 8:34-39, "Who is he that condemneth? It is Christ that died, yea rather, that is risen again, who is even at the right hand of God, who also maketh intercession for us. Who shall separate us from the love of Christ? shall tribulation, or distress, or persecution, or famine, or nakedness, or peril, or sword? As it is written, For thy sake we are killed all the day long; we are accounted as sheep for the slaughter. Nay, in all these things we are more than conquerors through him that loved us. For I am persuaded, that neither death, nor life, nor angels, nor principalities, nor powers, nor things present, nor things to come, Nor height, nor depth, nor any other creature, shall be able to separate us from the love of God, which is in Christ Jesus our Lord."

Harvest Baptist Church on Guam sadly rejects me, but Jesus accepts me (John 6:37). They have so much potential at Harvest to do a great SOULWINNING work for God. Pastor Dwight L. Moody (1837-1899) wisely said: "It is the only happy life to live for the salvation of souls." When I think about Harvest, I am often reminded of this truthful quote from Pastor Dwight Moody...
"People have just enough religion to be miserable!" —Pastor Dwight L. Moody
I went to get a slow leaking tire fixed today. I must have run over something. When the mechanic (a younger island guy) was done I witnessed to him by giving him one of my homemade Gospel tracts, with a $20 bill folded up inside to be nice. He opened it and was happy and thanked me. I love making people happy, which makes me happy!

"The only way a Christian can have the true and the real joy is by winning other people to the Lord Jesus Christ. That is the only way!" —Pastor Max D. Younce, a quote from the awesome sermon titled, "WHAT DOES IT MEAN TO ABIDE IN CHRIST?"

Ungodly men despise me, but Jesus and the heavenly Father love me (John 14:23). This sinful and cold world doesn't care about me or you, but our wonderful Savior knows the very number of hairs upon our head (Matthew10:30) and He cares about you and me (1st Peter 5:7). I love everybody, especially all my web visitors whom I have invested in all these past 18 years since 2002. 2nd Corinthians 3:2-3, "Ye are our epistle written in our hearts, known and read of all men: Forasmuch as ye are manifestly declared to be the epistle of Christ ministered by us, written not with ink, but with the Spirit of the living God; not in tables of stone, but in fleshy tables of the heart." YOU dear friend are my ministry! My websites are simply tools that God uses to exalt the Savior, evangelize the sinner, and edify the saints. To God be the glory! I do what I do FOR YOU, as I serve the Lord for eternal rewards; but the greatest reward of all will be the saved people who greet me up in Heaven someday.

By God's wondrous grace I was raised, saved, called, trained and ordained to preach the Gospel is a local New Testament Bible-believing church! My ministry is not a substitute for church; but rather, I am a missionary to the world through the internet, as a voice crying in the wilderness of cyberspace like John the Baptist (after whom my middle name "John" was given by my Christian parents). I thank and praise God for His blessings in my life. I thank God IN all the suffering, afflictions, loss, misery, rejection, loneliness and sadness that I have endured (and am enduring), because God is using it all to help other people who are suffering. If I hadn't gone through all this suffering and pain of body and soul, then I couldn't be used of God as He is using me. Woe unto the man who prays for God to increase his faith, because faith is like film, it can only develop IN THE DARK!


I Love the Pastors, Staff and People of Harvest Baptist Church on Guam

I have been hard on Harvest Baptist Church on Guam in my preaching, for good reason, but I love them immensely. God knows my heart. Heresy is everybody's business! I also preach against other churches and pastors who I feel are causing harm to the Body of Christ. I do not discriminate—I HATE EVERYBODY! No, I'm just kidding there, I don't hate anybody, not even myself. Sometimes I want to hate God, because I have the faith that He can fix all the problems in my life, but he won't (not even when I pray umpteen times for Him to fix them). I truly believe that is because God knows that adversity makes a man, but prosperity destroys men!

I truly do love the family at Harvest, because I love my Christian brothers and sisters. I have simply wanted to attend their church since 2014, and be a part of a church family again, but it seems that they are a business more than a New Testament church these days. My humble requests to return in 2017 fell on deaf ears. God gave me a big heart and a sharp tongue, but I am a loving person. I mean no ill intent toward others by my tough preaching. God pity the preacher that the world don't hate! I heard an elderly preacher say: "It is hard to be spiritual when you are in pain." Yes Sir, that is absolutely right. It is easy to get to the place where you just don't care anymore, because you are always hurting in physical pain. I know how that feels. My neck pain is close to my head, and that adversely affects me. I kindly apologize to my family often, that my neck hurts and I cannot hide my misery, and so I just be myself and look dreary in my pain and neck tension.

I sincerely feel bad and don't mean to push people away from the local church through my preaching, feeling like an idiot for doing so. I love you guys and gals at Harvest, God knows my heart. 1st Corinthians 4:10, "We are fools for Christ's sake, but ye are wise in Christ; we are weak, but ye are strong; ye are honourable, but we are despised." The last thing I would ever want to do is push away the people whom I want to be close to through my preaching, but I have to stand for what I believe is right, as messed up as I am as a Christian. Samson was a mess too, a crooked stick, but God will use a crooked stick if it is submitted to God, which I am concerning THE TRUTH. ...

"The best thing in the world to do is stay behind truth. I don't care how much it hurts. I don't care how much pain it is. Or how much the kids don't like it, or anybody don't like it—YOU STAY BEHIND TRUTH!!! Why? Cause it's right! And it'll protect you! And if the leader goes down, the followers are gonna follow..." —Pastor Bob Gray Sr., a quote from the sermon, Truth Vs. Change

I am just a cantankerous (having a difficult and contrary disposition) man when it comes to my Biblical beliefs. I wish I knew the answer, I really do! I hate being stubborn and cantankerous, but that is how a real Bible preacher is supposed to be. The truth is only hateful to people who hate the truth! I am only cantankerous to those who disagree with my views that the King James Bible is the inspired Word of God, and the Westcott and Hort revisions are ALL corrupt. You need to understand my friend that the issue today is that the Greek translation set forth by apostates Brooke Westcott and Fenton Hort in 1881 is corrupt and of the Devil (from which all of the modern versions have the been translated, or have been greatly influenced and corrupted). It is a COMPLETELY DIFFERENT ANCIENT TEXT! I am sad that a local church won't embrace me as a brother because I AM RIGHT on the Holy Bible. I KNOW I am right! These modern revisions all strategically attack Jesus' deity, remove the Godhead, errantly redefine what it means to "repent" (thus perverting the Gospel), and umpteen other offenses. I will just keep on preaching THE TRUTH, humbly with love! I can't even believe that I am in this weird situation with Harvest.
THE BATTLE OF THE AGES (a 4:19 hour movie I made about the King James Bible)
As we just read in Romans 8:34-39, NOTHING can separate us from the love of God, and that includes loving one another. To be Christlike means allowing God to love us, and in so doing be able to love others with that same unconditional love. I get depressed often, but I think about God's love for me, and I very much want to love others too! I cannot live without love. Love is letting things go. Love is giving someone a second chance. Love is when you know all the bad things about someone's past, but you still want to be a friend to them. Proverb 10:12, "Hatred stirreth up strifes: but love covereth all sins." The Bible didn't say "some" sins, it said ALL SINS! Oh how we lack God's unfeigned love in the churches today!

The Bible says TO WHOM MUCH IS FORGIVEN, THE SAME LOVETH MUCH. Luke 7:47, "Wherefore I say unto thee, Her sins, which are many, are forgiven; for she loved much: but to whom little is forgiven, the same loveth little." God has forgiven me of much, so I love much! I think most professed Christians have a false inflated opinion of themselves, failing to realize just how utterly sinful and wicked they truly are in the sight of a holy God. I don't care who you are, you have done really bad things in your life!!! I SAW WHAT YOU DID LAST SUMMER! Just kidding! David had the right Biblical attitude in Psalms:106:6, "We have sinned with our fathers, we have committed iniquity, we have done wickedly." You didn't sin my friend, WE HAVE SINNED! That is why I need to help bear your burdens, and you mine. We desperately need each other's love, help, admonition and encouragement as believers! I say that with love. One of my favorite sermons in this important subject by Pastor Hyles is called: "If Thou Should Mark Iniquities, Who Could Stand?" If God were to hold our sins against us as Christians, NO ONE could stand, because we all sin! ...

Psalms 103:10-12, "He hath not dealt with us after our sins; nor rewarded us according to our iniquities. For as the heaven is high above the earth, so great is his mercy toward them that fear him. As far as the east is from the west, so far hath he removed our transgressions from us."

I admit that a fault of mine is I THINK TOO MUCH sometimes. That is the flipside of caring. In my heart I feel like Harvest's pastors would never give me a second chance to return to the church, nor would the people there ever receive me back into their sheepfold, and it compels me to keep preaching against them. The famous motto of the Texas Rangers is: "No man in the wrong can stand up against a fellow that's in the right and keeps on acomin'!" All I have ever done is be true to my faith as a born-again believer. I KNOW as sure as I am saved that the Greek translation set forth by Westcott and Hort is OF THE DEVIL. The reason why is so obvious, because it attacks Jesus' deity!

My heart has been at Harvest since 2014, even though my body has been at home watching Tv. They won't allow me to return, so what other options do I have? I listen to preaching during week, but on Sundays I need a distraction to take my mind off Harvest, lest I get depressed from being left out each Sunday. I am truly a social misfit. It really hurts! God knows my pain of soul. I get attached to people, places and things quickly, especially people. I ask myself if it is a good idea to return to Harvest, because they sanction and use dozens of Bible versions. That is so stupid for any church to do! But then my heart is lonely to be part of a church family, and they are a hop and a skip away in distance, and I really hope to find a wife. I am just a normal man, with a man's heart and passions, but I am alone in life, and it is a pain unbearable oftentimes.

And so my heart is torn in two all the time. It's not fair! Life is not fair. It's not fair that someone like me would tell THE TRUTH, and then be despised and rejected for it, blackballed and outcast by fellow professed Christians. Luke 6:22, "Blessed are ye, when men shall hate you, and when they shall separate you from their company, and shall reproach you, and cast out your name as evil, for the Son of man's sake." They likely think I'm trying to tell them how to run their church at Harvest, but it is God's church! I am simply taking a stand. I shouldn't have to sellout like their Bob Jones alumni pastors have, to go back to church. I am sick of the Devil's counterfeit Bible revisions!!! God only authored ONE INSPIRED HOLY BOOK, not two Mr. Westcott and Mr. Hort!

Kindly, where in the world did dummy pastors ever accept the Satanic idea that two completely different ancient Greek texts exist of the inspired Word of God? Think about that. Folks, it is IMPOSSIBLE! Do you think God does things like that? Pastors demand respect while sanctioning juggling 39 different Bible versions. It doesn't work that way in life my friend. If you are not approved unto God, you don't get respect. 2nd Timothy 2:15, "Study to shew thyself approved unto God, a workman that needeth not to be ashamed, rightly dividing the word of truth." Notice that the workman who doesn't study and rightly divide the truth, NEEDS TO BE ASHAMED! How can you rightly divide the Word of truth, if you don't even know which Bible IS THE TRUTH? Is it the ESV that Bob Jones University sanctions and sells. Is it the ERV? Which of these acronyms below (for their respective Bible version) can we trust? Hmm Mr. Smarty-pants BJU pastor? Don't get mad at me, it's not that hard to make you guys look really bad...

SUM OUT TIM ABP INT HEB PAR WRD PEO KJS CHI FUL SPL BAR CAL CLA DAR GIL GSB GUZ JFB KAD KJT MHC MHW SCO TSK WES NIV NLT ESV NAS GWT KJV ASV DRB ERV WEB WLC WLV WLO WLT BHS BHO BHT ALE PAL SEP SPU SPT VUL AKJ BBE DBY KJP OJB WBS NIV NLT ESV NAS GWT KJV ASV DRB ERV WEB WLC WLV WLO WLT BHS BHO BHT ALE PAL SEP SPU SPT VUL AKJ BBE DBY KJP OJB WBS YLT

I truly am not trying to be a jerk, God knows my broken and tired frustrated heart, I am just being honest, which seems to be a crime in churches today. Novelist George Orwell (1903-1950) was absolutely right, who said: "In a time of universal deceit, telling the truth is a revolutionary act." The churches have been woefully deceived by Satan to accept the "New World Order Bible Versions" (a brilliant 1:46 hour documentary). I love the pastors at Harvest Baptist Church, truly, because I love preachers, but it is not okay to promote the Devil's Bible versions, which corrupt the Word of God!!! The Satanic Bible changes are strategic, calculated and deliberate! PLEASE WATCH THE FILM!!!

I pray for God to help me find a Christian wife. God created a woman FOR A MAN. If she does anything else with her life, she won't be happy. I want to provide for a woman, and make her happy, and let her be her. I don't want to control someone's life, that is not me. That is how I feel. I want to be a servant to her. I think a good woman would love me for a husband, if she understood that my heavenly rewards become her rewards if she marries me. I doubt if one woman in 10,000 thinks that way, that is, with an eternal perspective (Colossians 3:1-3).

When I get down and depressed, being alone, it is difficult emotionally sometimes. I feel lost in life. It is only by God's grace I have made it this far. I hate being single. But as Brother Hyles taught me, GRACE WILL LEAD ME HOME, which he preaches in this awesome sermon: "AND GRACE WILL LEAD ME HOME!" I have been so lonely lately for companionship, but if God has led me thus far by His grace, then HE CAN ALSO LEAD ME HOME. I am not lonely in my soul, Jesus Christ is the lover of my soul, and He Keeps Me Singing.

The good thing is I have felt like playing my musical instruments again, and I don't know why, but that is good. Maybe someone has been praying for me. If it is you, God bless you and THANK YOU! I need so much prayer. I have been feeling down lately and discouraged, lonely for a church family. I could move to the United States, but I haven't a clue where to move. It is scary and overwhelming to move on my own, with no one by my side. I tried it in 2013 and it turned into a disaster. No one knew my pain and loss, except me. I wanted to commit suicide. I cannot even express in words what I suffered through. Only God knows. It was that pain that compelled me to crawl into Harvest in 2013, and it was one of the hardest things I ever did, but they became my family in the Lord, whether they like it or not. No one should feel despised and unloved for telling THE TRUTH. Jesus felt that way! Isaiah 53:3, "He is despised and rejected of men; a man of sorrows, and acquainted with grief: and we hid as it were our faces from him; he was despised, and we esteemed him not." I know how the Lord felt. That makes me feel better, knowing that my Savior suffered through the same feelings of being despised and rejected of men, not being esteemed for telling THE TRUTH.

I bought a new black weight vest recently from Amazon.com for when I go walking, and that daily walk really helps battle depression. I went walking this morning and tonight. I need that walk, like a dog (ar-ruff!) despite my constant neck pain and related bodily afflictions. I love music, that is me. I don't listen to music, I feel it, cranking up the volume! Oh yeah! As I get older, I am appreciating the musical abilities of musicians more and more. God is amazing! But I digress. Music is an escape from my misery of soul. I can't believe I'll be 53 years young (lol) on March 5th, Lord willing. I still feel like a teenager in my soul, despite my pain and afflictions. God is always good! I love you all at Harvest Baptist Church!

The following video has nothing to do with my article, but I think it is really funny...
God Allows Pain and Suffering to Conform Us Into His Son's Image

Nobody likes to suffer, but the Bible teaches that God won't allow us to bear more than we can handle. (The young woman in the photo to the right was wearing pants, but I painted a dress on her instead using Microsoft "Paint". Now she won't be depressed...lol. I know, I'm crazy! Oooaaahhh) 1st Corinthians 10:13, "There hath no temptation taken you but such as is common to man: but God is faithful, who will not suffer you to be tempted above that ye are able; but will with the temptation also make a way to escape, that ye may be able to bear it." Life is often a yoke of wood (burdens), and I hate it; but it beats a yoke of iron (unbearable burdens) that the Devil wants to enslave us to! Jesus promised us that His yoke is easy and His burden is light. Matthew 11:28-30, "Come unto me, all ye that labour and are heavy laden, and I will give you rest. Take my yoke upon you, and learn of me; for I am meek and lowly in heart: and ye shall find rest unto your souls. For my yoke is easy, and my burden is light." One of my very favorite sermons on this Scripture passage is by Dr. Jack Hyles, called: "It Doesn't Matter How You Got There." I hope you will take the time to listen to the message, I am confident you'll be glad you did!

America was strong during The Great Depression ear of the 1930's and 1940's. People who survived those hard times think very differently than the Baby Boomer generation does, and succeeding spoiled generations of American brats...lol! Seriously, people like my father (1933-2010) and Pastor Jack Hyles (1926-2001), who both grew up very poor during The Great Depression, thought very differently than the Vietnam War generation did a few decades later. My father grew up in an orphanage. The older folks learned how to "USE IT UP, WEAR IT OUT, MAKE IT DO, DO WITHOUT!" Nobody came to the rescue to help them, they toughed it out! One of my favorite sermons by Pastor Jack Hyles is called: "WHY MAMA WAS SO SMART," all about her suffering through The Great Depression, and how God used it to make her a very wise woman.

My voice counts too as an American and a believer! I preach against everybody, including myself. If you want to find a big sinner, you found him. I am a guilty sinner, deserving of Hell, a diamond in the rough, and the Lord still has a lot of work to do on me. I thank God every day that He loves a lonely misfit like me. As Christians, all we have is each other. John 13:35, "By this shall all men know that ye are my disciples, if ye have love one to another." Religion is one of the worst things that has ever happened to this world. True Christianity has nothing to do with religion. The Bible only mentions "religion" five times, and only once is it spoken of as neutral in James 1:27, "Pure religion and undefiled before God and the Father is this, To visit the fatherless and widows in their affliction, and to keep himself unspotted from the world." The Bible doesn't have even one good thing to say about religion!

I humbly don't think I am a good Christian, but you won't find a more sincere man anywhere. I got saved when I was 13, and at age 15 while sitting in church under Bible preaching, I felt burdened in my heart to spend the rest of my life living to help others in the Lord. Although I haven't always been what I should have been for God spiritually, I never stopped serving God to some degree. It is so easy to lose sight of what's important if we start to get off the path. That is why we MUST stay grounded and settled in the inspired Word of God, and that is why I make such a big fuss over using ONLY the accurate King James Bible. I love you dear friend, whoever you may be, saved or unsaved, right with God or not, I care about you and want to be a blessing for Jesus Christ in your life. YOU ARE LOVED!!!

"The mark of the child of God is that he loves everybody!"
(a quote from Pastor Jack Hyles' classic MP3 sermon, "FORGIVENESS")
"You have to believe what Christ did, what He said. Well, what did He do? He died on the cross and paid for my sins. Well, what do I have to do? BELIEVE He did it for me!" —Pastor Ralph Yankee Arnold, a great quote from the MP3 sermon titled, "Five Dangers Of Calvinism - Part Two" (Part One).
THE BUS MINISTRY (Pastor Castle, "The bus ministry doesn't just save souls, it saves lives!!!")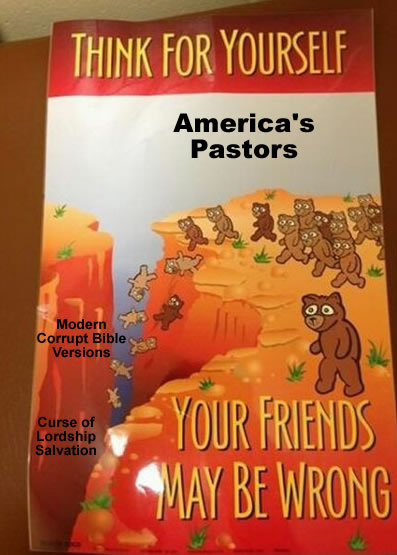 END OF ARTICLE
"You know, the greatest thing that God gives us is Himself, Himself. Have you replaced a desire for Him, with a desire for getting something from Him? And what I mean is this—The greatest thing God gives you is God! Most of us are attached to the benefits of God, and not the God of the benefits. Your Christianity is on the right level, when you want God, more than you want what you can get out of Him!" —Pastor Jeff Owens, a beautiful MP3 sermon called, "Fearing His Goodness In The Latter Days"
---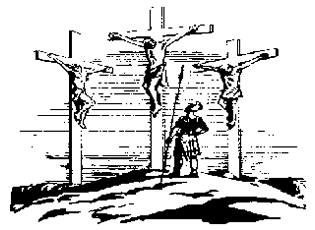 How Permanent Is Your Salvation?
(an excellent MP3 sermon by Pastor Hank Lindstrom, 1940-2008)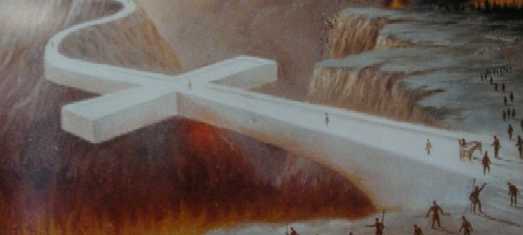 Mark 1:15, "...repent ye, and believe the gospel."
"The mark of the child of God is that he loves everybody!"
(a quote from Pastor Jack Hyles' classic MP3 sermon, "FORGIVENESS")
Mark 11:22, "And Jesus answering saith unto them, Have faith in God."
---
Ye Must Be Born Again! | You Need HIS Righteousness!