Old Fashioned Spirit-Filled Preaching
"But hath in due times manifested his word through preaching, which is committed
unto me according to the commandment of God our Saviour." —Titus 1:3
"...Speaking the truth in love..." —Ephesians 4:15
Who's Preaching The Truth?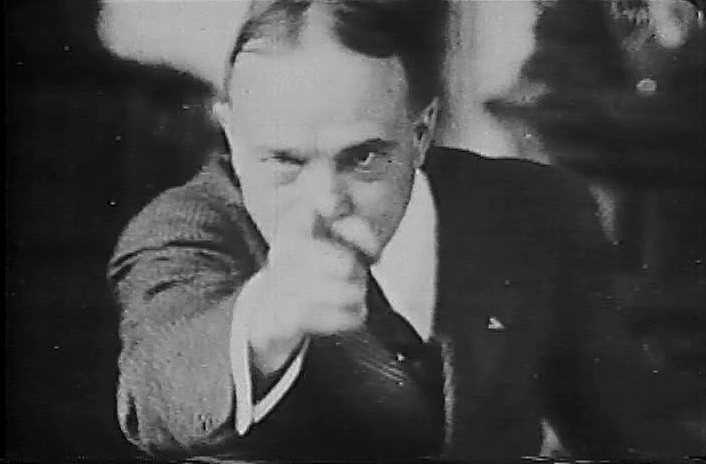 Evangelist Billy Sunday (1862-1935)
Video Sermons By Pastor Danny Castle | More
"Preaching helps you think straight!"
—Pastor Danny Castle, a quote from the video sermon titled, "BLIND MINDS."
IMPERFECT PEOPLE IN HEAVEN
(We owe it to those who've gone before us into Heaven to continue their work for Christ - MP3 by Dr. Hyles)
HUSH, YOU DON'T SPEAK GREEK! | MP3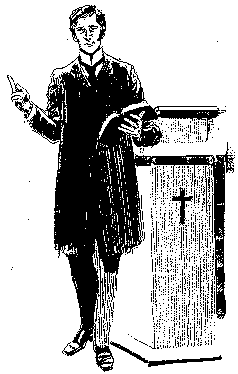 This is a Great Sermon by Pastor Norris Belcher on the King James Bible. There is only ONE Word of God. He is the MASTER COMMUNICATOR and it is blasphemous to think that we can "improve" the Word of God by creating a new version. The beloved King James Bible is not a "version," it is the preserved and inspired Word of God. A direct word-for-word (verbal) transfer of the original manuscripts into English. Done by men of God who were Greek and Hebrew scholars and under the INTENSE scrutiny of the king. It is absolutely audacious to think that we can improve upon God.
Mad scientists today are tampering with DNA and genetics, trying to improve on God's creation. Genesis 1:31b says, "And God saw every thing that he had made, and, behold, it was very good." What God called "very good" men foolishly think they can improve upon. God knew what He was doing! The so-called "imperfections" in nature's DNA are there for an important reason. Yet, arrogant men think they can do better than God. Heaven only knows the unholy Pandora's box that scientists will unleash in the near future. No wonder Jesus prophesied in Matthew 24:7 of coming "famines, and pestilences" worldwide.
The same is true of God's Word. Men think they can improve upon what God has inspired and preserved. There are no original autographs available today. We do have over 5,000 copies of copies, and they don't all agree! The majority of the texts do agree, which the King James Bible translators received as God's inspired words. Hence, the term the "received text" (or the "majority text"). The corrupted Alexandrian, Egypt, manuscripts are known as the "minority text." Nearly all preachers who cast doubt upon the Word of God, citing the Greek, are no more skilled in the Greek language than a group of school boys pretending to know karate on the playground. The King James Bible is a masterpiece of English literature; but moreover, it is God's perfect, holy, inerrant, infallible, preserved and inspired Word! I find no fault in the King James Bible!!!
* * * * * * *
More Life-Changing Audio Sermons...
"When we do not respect God, we do not respect anybody else that needs respect."
—Quote from the sermon titled, "BONDAGE," by Evangelist Lester Roloff (1914-1982)
Get the New Look from the OLD BOOK, the Bible (Thank God for Preachers!)
—Free Online Video Documentaries—
Jeremiah 5:5, "I will get me unto the great men, and will speak unto them; for they have known the way
of the LORD, and the judgment of their God: but these have altogether broken the yoke, and burst the bonds."
---
MP3 Sermons by Pastor Jack Hyles
Habakkuk 1:4, "Therefore the law is slacked, and judgment doth never go forth: for the
wicked doth compass about the righteous; therefore wrong judgment proceedeth."
God is good all of the time—All of the time God is good!

I AM JUST A VOICE!
(We need voices to take the FAITH of our fathers to this generation and say, "This is what they said!" This world needs VOICES; not talent, not dynamics, not pretty-boys, but VOICES!!!)
---
Sermons That Change Lives
There's nothing in the world comparable to Bible preaching. God has chosen the foolishness of preaching to save those who believe on His Son. No not just any preaching—Gospel preaching; the preaching of the cross; preaching that convicts of sin, righteousness and judgment to come; preaching all the counsel of God. 2nd Timothy 4:2, "Preach the word; be instant in season, out of season; reprove, rebuke, exhort with all longsuffering and doctrine." The prayer of this preacher is that Jesus Christ will be honored, His name extolled, fires of holy love for Him be kindled and souls will be saved! May every hearer's delight be to do God's will.
Too many people let the failures of yesterday, and the fear of tomorrow, rob them of the joy of serving God today!
The Authorized Version Defended Audio Archive...
DR. SAMUEL C. GIPP Th.D.

A Friend To Churches Ministries - Massillon, OH USA


(Note: I support Evangelist Sam Gipp's ministry, but I disagree with his false teaching that Jesus is not also the Messiah of the Gentiles. The Samaritan woman (a Gentile) in John 4:25-26 said she was looking for the Messiah, and Jesus announced that it was Him. Heretic John Hagee teaches that Jesus never claimed to be the Messiah, but He sure did in John 4:26.)
JAMES KNOX (pastor)

Bible Baptist Church - DeLand, FL USA


(Note: I fully support Pastor James Knox, but not his unbiblical Zionist views and idolization of the Jews.)

Please read my Biblical views on present-day Israel in my article titled, Satan's Counterfeit Israel, Antichrist & World Rule
TEXE MARRS

Power of Prophecy (MP3 Archives)— Austin, TX USA


(Note: I love Texe Marrs and support his ministry, but I disagree with Texe's postribulation Rapture position. The King James Bible teaches that Christ's return is imminent, sudden and without warning. Only a pretribulation Rapture view supports this vital Bible teaching from Mark 13:32-37.)
| | |
| --- | --- |
| | Knoxville, TN USA (Note: Although I 100% support Dr. Grady's excellent writings on the authorized King James Bible, I totally disagree with Dr. Grady's unbiblical Zionist views in his popular book, "How Satan Turned America Against God," as I also disagree with Jack Chick, James Modlish and John Hagee. Please read my Biblical views on present-day Israel in my article titled, Satan's Counterfeit Israel, Antichrist & World Rule |
DR. ROY BRANSON, JR.

Landmark Church Ministries - Bristol, TN USA