Chicago Honors Evil Whore With 26 Foot Lewd Statue
By David J. Stewart | August 2011 | Updated February 2016
Proverbs 31:30, "Favour is deceitful, and beauty is vain: but
a woman that feareth the LORD, she shall be praised."
Shame on Chicago!!! You couldn't make this stuff up. Marilyn Monroe (born Norma Jeane Mortenson, June 1, 1926 — August 5, 1962) spent her entire life glamorizing the sin of sexual immorality. She was murdered at age 36. To honor such a foolish and immoral woman is evil and a clear indicator of America's dire spiritual condition. Every God-fearing, Bible-believing, Christian ought to be angry over this evil smut and total disregard for God, nation and decency...

Marilyn Monroe sculpture goes up on Michigan Avenue
She's got legs … but when will she have a face?

Jul

y 12, 2011

|

By Lauren Viera, Tribune reporter

As if in response to Chicago's sudden summer heat, Marilyn Monroe's famous subway-grate stance as captured in "The Seven Year Itch," is now front and center on Michigan Avenue.

The massive sculpture in Pioneer Court (400 block of North Michigan Avenue, east side), by New Jersey-based artist Seward Johnson began installation late Monday night, leaving Monroe's famous legs (and dainty panties) exposed to Tuesday morning commuters and tourists.

The top half of the sculpture, and the 26-foot-tall completed work will be unveiled Friday evening after 7 p.m.

SOURCE: Marilyn Monroe sculpture goes up in Pioneer Court - Chicago Tribune

The lascivious monument is called THE SEVEN YEAR ITCH based upon the Hollywood movie of the same title. THE SEVEN YEAR ITCH is a horrible, horrible, wicked movie produced in 1954 which promotes lust and adultery, staring Marilyn Monroe. In the film, electric fans blow her skirt up into the air and her private area is exposed for all to lust upon. This is the whorish and whoremongering evil works of Hollywood, which is homosexual to the core. Monroe was 28-years old at the time of the filming (she died, believed by many to have been murdered, at age 36 of a drug-overdose).

Proverbs 28:4, "They that forsake the law praise the wicked:
but such as keep the law contend with them."

Monroe's husband at the time, baseball player Joe DiMaggio, got upset over the whorish scene, resulting in a public argument and a separation, which ended in divorce months later. When a wife behaves whorishly and exposes her body, a good husband gets jealous and upset. God is a jealous God over us (Exodus 20:4-5).

The filthy, unclean, sexually immoral, scene was repeatedly filmed...

One of Monroe's most notable film roles was shot in September 1954, a skirt-blowing key scene for The Seven Year Itch in New York City. In it, she stands with her co-star, Tom Ewell, while the air from a subway grating blows her skirt up. A large crowd watched as director Billy Wilder ordered the scene to be refilmed many times. Joe DiMaggio was reported to have been present and infuriated by the spectacle. After a quarrel, witnessed by journalist Walter Winchell, the couple returned to California where they avoided the press for two weeks, until Monroe announced that they had separated. Their divorce was granted in November 1954.

SOURCE: Marilyn Monroe

I don't blame Joe DiMaggio for being jealous and getting upset. That's the way a husband is supposed to act. When you love someone you are jealous over them. The modern-day, sicko type of open-relationships in America, where married couples engage in swinger orgies and sexually share each other is demonic. A husband and wife ought to be jealous over each other. There's something wrong with a wife who doesn't mind her husband going with other women, and vise versa. That is heathendom and adultery in the eyes of God (Hebrews 13:4). Joe DiMaggio had it right!

CODE BLUE!!! America is dying! Our nation's churches have flat-lined, there's no heartbeat, grab the paddles (the Word of God). Let's try to bring America's churches back to life with the paddles of the Word of God. ZAP!!! No, it looks like the patient is dead. Nearly all of America's churches are going through Near Death Experiences!!! America is going straight down to destruction!
Proverb 7:10, "And, behold, there met him a woman with
the attire of an harlot, and subtil of heart."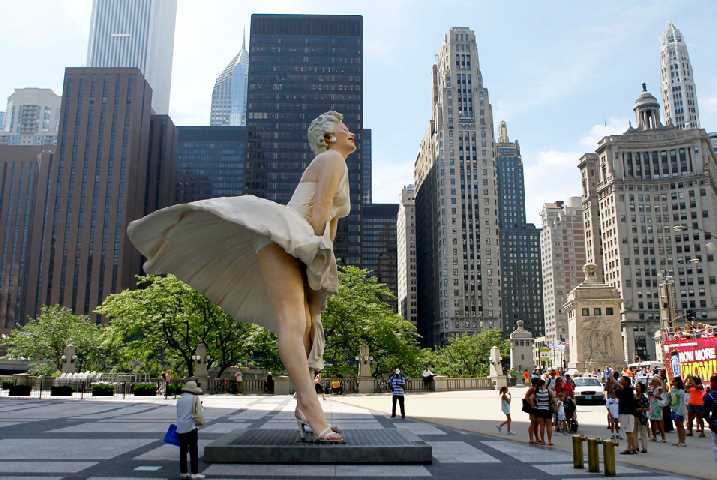 Twenty-Six-Foot Tall Sculpture of Marilyn Monroe Unveiled on Michigan Avenue in Chicago

Moral integrity is out the window in America. Chicago is Las Vegas' twin city, EVIL CITY! Jesus taught in Matthew 5:28 that it is a sin to lust. The Bible warns in 1st Peter 2:11, "Dearly beloved, I beseech you as strangers and pilgrims, abstain from fleshly lusts, which war against the soul." Yet wicked men mock God, promote lewdness, showing total disregard for the God of the Bible. This is an insult to Christians everywhere who try to think and live righteously. The message of this lewd statue is clear—we worship the god of sexual immorality!!!

When lewd and adulterous men come to power, all forms of wickedness flourish. Chicago's new mayor, Rahm Immanuel is part of the Clinton-Bush-Obama criminal syndicate gang. They're all puppets of the evil Banksters, having sold their souls for worldly wealth, pleasures and prosperity. Proverb 29:2, "When the righteous are in authority, the people rejoice: but when the wicked beareth rule, the people mourn." There is much reason to mourn in America these days. It is a sad time for the New Testament Church—witnessing widespread sexual immorality, criminal corruption of power, blatant treason by our leaders, a woeful lack of understanding and concern by Christian leaders, and the Homosexualization of our nation by elite pedophiles, feminist lesbians and intense God-haters!!!
We live in a morally toxic society. America is on a downward spiral into hell, fire and damnation! To sin is human, but to glorify, promote and glamorize sin is demonic. Adultery and all forms of sexual immorality are condemned in the Bible...

Colossians 3:3-6, "For ye are dead, and your life is hid with Christ in God. When Christ, who is our life, shall appear, then shall ye also appear with him in glory. Mortify therefore your members which are upon the earth; fornication, uncleanness, inordinate affection, evil concupiscence, and covetousness, which is idolatry: For which things' sake the wrath of God cometh on the children of disobedience."

THE SEVEN YEAR ITCH statue of Marilyn Monroe in Chicago is of the Devil. This is plain evidence of the decadent immoral condition of our nation. They've taken carnality to a whole new level. Chicago is a hell-hole! It is sad enough that a whore like Marilyn Monroe would be honored; but to display a 26-foot statue viewing up a woman's skirt for everyone to view her private area is the height of wickedness.

Marilyn Monroe was into the occult. It was said that she would go into trances before her performances. One of Monroe's close personal psychics said that she would...

"draw attention from the spirit world, asking for their guidance."

SOURCE: I Still Talk To Kenny Kingston, pg, 226

Monroe attested that a force was working in her...

"Jekyll and Hyde... More than two. I'm so many people. They shock me sometimes. I wish it was just me!"

SOURCE: Goddess, pg. 5.; Anthony Summers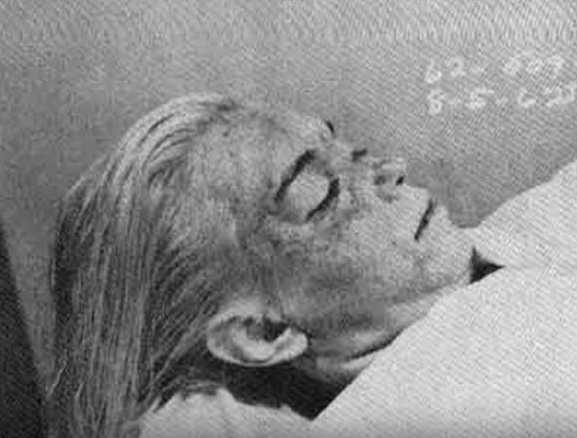 ABOVE: A morgue shot of the once beautiful Marilyn Monroe. Satan is a beautiful liar!
Proverbs 31:30, "Favour is deceitful, and beauty is vain: but
a woman that feareth the LORD, she shall be praised."
This is just more of the public humiliation of decent Americans and faithful Christians today. In your face! It's getting so immoral these days that even if you get rid of the TV, you still cannot escape the wickedness of this untoward generation. Acts 2:40, "...Save yourselves from this untoward generation."

Unrepentant sinners often become hardened by the deceitfulness of sin. The "deceitfulness of sin" means that, if wrong is tolerated, it incrementally becomes less offensive and less sinful. Hebrews 3:13, "But exhort one another daily, while it is called To day; lest any of you be hardened through the deceitfulness of sin." This is why unrepentant sinners have taught teens to say "wicked cool," because it makes evil less offensive; whereas the Bible makes sin "exceedingly sinful" (Romans 7:13). That's why the wicked removed the Bible from public (government) schools in 1963. This is all part of the Communist subversion of America.

Godless Communists have de-Christianized America with Rock music, feminism and secular education. It's tragic enough that the massive sexual immorality of the 1960's led to abortion being federally legalized in 1973. Today, 40 years after Roe vs. Wade, our nation has murdered over 51,000,000 human beings by abortion. And to spite and challenge God's patience, we erect statues looking up a woman's skirt to mock morality, promote fornication and adultery, and scorn the evils of sexual immorality that have caused tens-of-millions of unwanted pregnancies in our nation. This is just so evil what they are doing in Chicago. Woe unto Chicago!

What is this teaching little children and teens? They are being taught that nothing is sacred and holy, and that chastity and virtue mean nothing. Such public exploitation of a woman's body cheapens womanhood. This is the work of pornographers, perverts, and of arrogant wicked men who do not fear God (Romans 3:18). Hell will be hot enough!
Proverb 30:12, "There is a generation that are pure in their own
eyes, and yet is not washed from their filthiness."
Joe DiMaggio Had the Right Idea

Joe DiMaggio (1914-1999) had the right idea... we should all get mad. Joe was upset that his wife was giving her body, which belongs to him in marriage, to pigs to lust upon. I have a lot of respect for Joe DiMaggio after reading this information about him. A good husband should be jealous over his wife; but feminist trash like Marilyn Monroe just accuse their husbands of being mentally-cruel (which were her grounds for divorce by the way). Monroe divorced her husband in 1954, just 9 months after getting married, because she wanted to do things HER WAY.

This is the feminist trap. Most women are vulnerable, just as Eve was deceived the Bible says (1st Timothy 2:14); sincerely believing that women are victims of mental cruelty because of an authoritarian husband who puts his foot down. I'm not kidding. If you read some of the insane Domestic Abuse literature of women's rights groups today, they label husbands as "abusive" who keep track of their wife's activities, demand to know when a wife is coming back, wanting to know where she is going, et cetera. Biblically, every husband has a God-given right to scrutinize every aspect of his wife's activities, plans and life. It is demonic rebellion, which God considers equal with witchcraft (1st Samuel 15:23) for any wife to challenge her husband in this area of authority.

Every wife today, if you care at all about God's Word, must choose between obeying your husband or listening to insane feminist lesbians who hate God and every form of God-ordained authority. God will be vindicated and the wicked will be punished. Your time is running short, for the Lord's return is imminent. Isaiah 13:11, "And I will punish the world for their evil, and the wicked for their iniquity; and I will cause the arrogancy of the proud to cease, and will lay low the haughtiness of the terrible." Feminists and lesbians are steeped in arrogant sinful pride and rebellion against the God of the Bible.

Ecclesiastes 11:9 and 14, "Rejoice, O young man, in thy youth; and let thy heart cheer thee in the days of thy youth, and walk in the ways of thine heart, and in the sight of thine eyes: but know thou, that for all these things God will bring thee into judgment. ... For God shall bring every work into judgment, with every secret thing, whether it be good, or whether it be evil."

God is not playing games with anyone. Marilyn Monroe is burning in the fires of Hell this moment, having died in her sins without Christ. Monroe was a lifelong follower of the Christian Science religious cult, who openly deny Christ's deity and salvation by grace alone. As with Mormonism, Seventh Day Adventism, the Charismatic Movement, and Jehovah's Witnesses, Christian Science was founded by 33rd degree Freemasons to infiltrate religious circles and lead the masses to accept World Government through ecumenical one-world religion.

The Bible warns in 1st Timothy 6:10 that the love of money is the root of all evil. The Bible plainly teaches in Proverb 16:8, "Better is a little with righteousness than great revenues without right."


Why Marilyn Monroe Was Assassinated

Author Victor Thorn is not a conspiracy theorist; but rather, a conspiracy scientist. He utilizes conspiracy forensics, systematically unearthing the truth for his readers. His latest book is NEW WORLD ORDER ASSASSINS.

Here's some information from Thorn's new book. Extensive research has revealed that Marilyn Monroe was indeed assassinated to silence her. After multiple affairs with Jack (John) Kennedy, Marilyn wised up and started keeping a diary while having affairs with Bobby Kennedy (who was Attorney General at the time). This has become common practice amongst escort girls these days (that is, setting up their victims).

John Kennedy sent Bobby out to Hollywood, California to notify Marilyn that they needed to break off their relationship (between John and Marilyn). Marilynn was overwhelmed because she had been planning on marrying John. So Bobby ends up having an affairs with her too. Evidently, Marilyn Monroe was the Kennedy family's whore!

She threatened on the Monday after her death (if she had lived) to hold a press conference and reveal everything she had learned and wrote in her diary. If Marilyn had made good on her threat, it would have toppled the presidency, so they killed her.

If the Kennedy's hadn't assassinated Marilyn Monroe, the Kennedy family likely would have suffered utter public damage as with the Tiger Woods escapade in the newsmedia. There's a ton of information on the internet to research about the Tiger Woods story.

Tiger (married at the time) was having multiple affairs with women all across the country after his golf tournaments. One of the madams (chief whore) who operated a brothel snitched to the newsmedia that Tiger often ordered high-priced prostitutes before he came to town, arranging for adulterous affairs in advance.

Those witches set him up (which is not surprising with women who are sex perverts, who sell their virtue for money). Such women surely cannot be expected to posses any self-respect, honor, dignity, decency AND TRUST. Only a fool would place trust in such a person of immoral character. Tiger was young and foolish, living dangerously. I'm not condoning or showing any sympathy toward Tiger Woods for his adulterous lifestyle. Woods brought his own world down upon himself. Woods is fortunate that he only lost revenues. But what bothers me even more are all the lewd women who recorded him naked, recorded his voice messages, recorded dairies so that they could extort money out of him later by committing black mail. Woods had no idea this was going on.

The National Enquirer had photos of Tiger Woods that would have destroyed his reputation. The Enquirer negotiated with Tiger's management Team to resolve the issue. It's blackmail if you ask me. It was agree that Tiger would appear on their magazine cover and make a few appearance to resolve the issue (to prevent the photos from being published). It's tragic that this is how America operates today... give us money or we'll destroy your public image. Eventually others had the same wicked idea and took more pictures of Tiger with his pants down. Woods management team could only do so much to whitewash everything. Tiger was an accident waiting to happen and it did, literally, when he had been drinking and slammed into a tree on his own property. Then his wife divorced him amidst it all, being awarded an estimated one-hundred millions dollars. Jesus taught forgiveness in Matthew 18:22, not revenge in court and a divorce. Women's rights have ruined America. Argue as you may, the divorce rate was less than 1% back in the year 1900. Those were the good ole days.

I don't judge Tiger, for I am the biggest sinner I know, and so are you if you're right with God (James 2:10). Tiger went public admitting that he was sorry, saying that he had commit transgressions, and has brought reproach on his career and family. But it was all too late. Dozens of sponsors called Tiger's managers to cancel his contracts for breech of contract (whoever is sponsored is supposed to maintain a clean public image). Tiger was devastated. He lost his mansion. Woods lost tens-if-not-hundreds of millions-of-dollars in corporate sponsorship because of all this fiasco.

Unfortunately, Tiger Woods is a Buddhist and does not have faith in Jesus Christ, so his sins go unforgiven in the eyes of God. Buddhism is of th Devil.

Two wrong don't make a right and vengeance belongeth to the Lord (Romans 12:19). We have laws for a reason and no one has a right to bypass the law and hurt a person like they did Tiger. What a bunch of thugs! An angry mob... give us money or else!!! All they wanted was Tiger's amassed fortunes (money). It's all sickening. The woman who recorded Woods naked and sold it to the press should be arrested. The woman who saved his phone messages to blackmail Woods should be arrested.

What bothers me is that of all the low-life women coming forward to crucify Woods and urinate on his grave, all had consensual sex with woods (but now they claim to be victims and want his money). The bottom line is that Woods has money (and lots of it) for every ambulance-chasing lawyer and lewd trashy whore to go after. It's a rats game of evil from beginning to end. They all knowingly had sex with him for money, but now everyone wants a piece of Tiger Woods. Again, I'm not defending Woods. Feminist whores portray themselves as victims and Woods as the villain. They're all sex perverts... all of them! Money ruins people, and the love of money. As Christians we should despise money. This is Biblical, for the Bible says you'll either hate money and love God, or else you'll hate God and love money (Luke 16:13).

Mr. Woods didn't know (but it is common public knowledge) that some of the women were taking pictures of him naked (and he didn't know it). They were keeping diaries and writing things down. One of Tiger's lovers saved his phone messages on her answering machine. All of these women had intentions of blackmailing Mr. Woods at some point to get money (and they did). This is how wicked America is today. From reading the Tiger Woods story, and the media circus it caused, it should be obvious why the Kennedy's didn't want Monroe going to the newsmedia. You can read more about it in NEW WORLD ORDER ASSASSINS.


Chicago, Chicago... Satan's Kind Of Town!

Chicago is infamous worldwide for gangs and crime. Still today, Chicago is publicly mafia-controlled with massive blatant crimes happening within every city department, especially the police department and city hall. Anyone who lives in Chicago knows exactly where they can go buy illegal drugs on various street corners and the police do absolutely nothing.

The city of Chicago is a modern-day Sodom. Chicago has a history of being infested with political corruption, criminal gangsters, and thug police who are puppets of a corrupt and controlled system of mafia tyrants. Through scandal after scandal, billions-of-dollars were stolen during Mayor Daley's criminal administration (like father like son). Just in the Millennium Park project, they stole hundreds-of-millions of dollars. The project was 4 years over schedule and ended up costing the city $475,000,000. I doubt if it even cost them $25,000,000 to build that downtown exhibit. The money gets stolen through crooked contractor companies. Constant road construction is another way they steal money. By the use of family and friend owned private-contractors, the money is easy to funnel off and steal.

So it does not come as a surprise to me that the city also chooses to promote sexual immorality for all their tourists to see. Millions of tourists per year are going to photograph this tasteless trash to add to their photo album, featuring Marilyn Monroe's buttocks and thigh area in vivid detail. It is wickedness in America!!!

If you think this is a laughing matter, then you need to get right with God. I'm sad that you fornicated and murdered your baby by abortion, and that you are a lesbian feminist whose divorced. I hope your frozen eggs don't go bad while you're pursuing a career to make lots of money. I'm being facetious of course. The world has gone insane! I hope this is not a trifle matter to you. Christians ought to be flabbergasted over the things being reported in the news these days. Truly, the world is a wicked place as the Bible confirms in 1st John 5:19. But we are of God, as Christians, and we must shine the Light of God's Word in this dark world of sin and shame. The Word of God is our anchor to hold to in these perilous times of change and woeful evil.

Call me what you will, I am on the Lord's side (Joshua 24:15). I side with God against all works of darkness (and so should you). I am not a friend of the world (James 4:4). A genuine man of God takes God's side in a controversy. God is so good to all of us, and we treat Him like garbage by erecting statues of lewd whorish movie stars who have led a nation into sexual immorality. America has forsaken the Bible, since 1963 and now were going to pay for it in the rising Police State.

Where are the faithful, moral, daughters of Sarah, the virtuous women (1st Peter 3:6; Proverb 31). 1st Timothy 2:9 teaches for women to dress modestly (of good behavior), and not to showcase their bodies by stripping naked to be photographed (like Miley Cyrus) and lifting their skirts for the cameras like Marilyn Monroe. There is no fear of God before their eyes (Romans 3:18). It was Marilyn Manson's reprobate lifestyle of shameful sin and glorifying sexual immorality that compelled Brain Warner to name his band, Marilyn Manson, after Marilyn Monroe.
Isaiah 32:9, "Rise up, ye women that are at ease; hear my voice,
ye careless daughters; give ear unto my speech."
America is filled with unthankful ingrates, immoral heathens, and lewd spoiled-brats who are cocky, arrogant and sinfully proud. Judgment Day is coming (Hebrews 9:27). In response to all of God's continued blessings upon the unthankful and the evil (Luke 6:35), evil doers are just waxing worse and worse. God's continued goodness is repaid with more and more evil. God has been so patient and longsuffering in His love; but a day of reckoning is coming soon.

How tragic that Americans will tolerate a 26 foot statue of a lewd whore to honor her; yet a small manger scene with the baby Jesus is removed because one person cries "separation of religion and state." It is beyond evil the way Americans treat God. I am so sorry God for the horrible way that we mistreat you in this nation.
Proverb 28:4, "They that forsake the law praise the wicked:
but such as keep the law contend with them."
---
Will you spend eternity in the Lake of Fire?
| You Need HIS Righteousness!