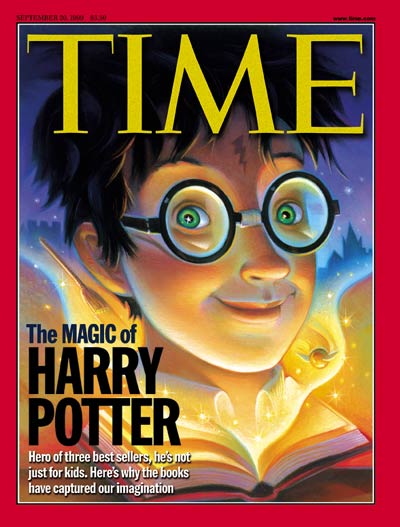 WITCHCRAFT IS A SIN according to the Word of God, the Bible!

There is an erroneous and deceitful teaching by witches that the witchcraft mentioned in the Bible is "dark" witchcraft, but the witchcraft of Wicca is "good" witchcraft.

The truth is that ALL witchcraft is evil through-and-through.

Witchcraft by it's very nature denies the Lord Jesus as the Christ and promotes a belief in MANY pagan gods.

Wicca teaches and promotes the unbiblical heresy that there are hundreds of gods which you can choose from to worship. The Word of God calls this act, IDOLATRY!

There is ONLY One God according to the Bible...

"That ye may know and believe me, and understand that I am he: before me there was no God formed, neither shall there be after me. I, even I, am the LORD; and beside me there is no Saviour." -Isaiah 43:10,11

Please don't allow the colorful wrapping and spectacular imagery to deceive you, Harry Potter is nothing LESS than WITCHCRAFT REPACKAGED. It all boils down to whether or not you believe that the Bible is God's Word. Sadly, fewer and fewer people have faith nowadays. Jesus taught that there would be a lack of faith in the last days...
"...Nevertheless when the Son of man cometh, shall he find faith on the earth?" -Luke 18:8
There is NO HARMONY between Harry Potter's witchcraft and the Word of God. The Bible condemns witchcraft in every form. For anyone to attempt to sugarcoat Wicca witchcraft under the disguise of good intentions is to completely ignore and disregard the Word of God. Just because Wiccans are conscious about the environment and are willing to accept all other religions does NOT exempt them from obeying the Bible.
"O foolish Galatians, who hath bewitched you, that ye should not obey the truth, before whose eyes Jesus Christ hath been evidently set forth, crucified among you?" -Galatians 3:1
You CANNOT obey the Word of God and also support Harry Potter's witchcraft, Wicca, or ANY type of witchcraft. You can change the truth of God into a lie in your own mind, but you cannot change the truth of God's Word. The Bible is the TRUTH...
"Sanctify them through thy truth: thy word is truth." -John 17:17
I recently ran across a TIME Collection article and read some very disturbing statements about Harry Potter. No parent should ever allow their child to get involved with the occult witchcraft of Harry Potter. To do so is an abomination against God Almighty.
Recently, the sixth volume of the Harry Potter series was released to the public. The book sold a record-breaking 6.9 million copies on its FIRST DAY on the shelves. Can you imagine the worldwide impact of such an abomination twenty years from now? Even as I type, New Age and many other forms of witchcraft are prevalent throughout society like infectious diseases. As a result, millions of people are turning away from God in apostasy, many ironically still claiming to be "Christians"...
"Having a form of godliness, but denying the power thereof: from such turn away." -2nd Timothy 3:5
Harry Potter is of the devil, straight from hell. If you think that kind of talk is ridiculous or extreme, then you are certainly VERY far from God in your heart.
Following are several comments (in bold green) made by different people throughout several TIME Magazine articles concerning Harry Potter. My comments will BE IN WHITE BOLD CAPITAL TYPE.
"Happily, a few chapters into J.K. Rowling's Harry Potter and the Sorcerer's Stone, which Scholastic Press published last September, our hero receives a letter via owl informing him that he is, in fact, a famous wizard and has won a place at the prestigious Hogwarts School of Witchcraft and Wizardry. And with that, the reader and Harry together are plopped down into a world every bit as fantabulous and vividly original as those created by C.S. Lewis, Roald Dahl or, for that matter, George Lucas.


SOURCE: The Wizard of Hogwarts
By Elizabeth Gleick
Apr. 12, 1999

"WITCHCRAFT AND WIZARDRY?" I JUST DON'T UNDERSTAND ANY CHRISTIAN PARENT'S INABILITY TO SEE THE EVILS BEHIND HARRY POTTER.

---

"This year Harry turns 13, and he and his pals Ron and Hermione meet flying Hippogriffs and terrifying Dementors, prison guards who suck the happiness out of people; they take classes in Divination and discover new powers. But as Rowling, with her trademark humor and tight plotting, continues to mine her true themes of betrayal and loyalty, love and loss, the forces of evil are also encroaching.
From Abracadabra!
By Elizabeth Gleick
Jul. 26, 1999

"CLASSES IN DIVINATION AND DISCOVER NEW POWERS?" FOLKS THIS IS DAMNABLE WICKEDNESS!

---

"In fact, it is not particularly hard to figure out the rules governing the Harry Potter books. Place appealing characters in interesting but perilous situations and leave the outcome in doubt for as long as possible. Nothing new here, nothing that storytellers as far back as Homer did not grasp and gainfully employ. But, as devoted Harry Potter fans have learned, knowing a magic charm is not the same thing as performing magic."
From Wild About Harry
By Paul Gray
Sep. 20, 1999

"BUT, AS DEVOTED HARRY POTTER FANS HAVE LEARNED, KNOWING A MAGIC CHARM IS NOT THE SAME AS PERFORMING MAGIC?" YOU'VE GOT TO BE KIDDING ME? HOW CAN ANY INTELLIGENT CHRISTIAN PARENT ACTUALLY DEFEND MAGIC CHARMS AND PERFORMING MAGIC? DID YOU UNDERSTAND THAT?..."PERFORMING MAGIC." THE HARRY POTTER SERIES PROMOTES ACTIVE WITCHCRAFT INVOLVEMENT, IT'S NOT JUST A PASSIVE MOVIE.

---

"Strange, strange things are happening wherever on Earth the young fictional hero and his friends can be found.....Rowling's books have bridged political and cultural chasms; they have altered publishing industries; they have even spurred censorship moves by some religious fundamentalists."
From The Magic of Potter
By Paul Gray
Dec. 25, 2000

AND CENSORED RIGHTFULLY SO!

"Many of them also which used curious arts brought their books together, and burned them before all men: and they counted the price of them, and found it fifty thousand pieces of silver. So mightily grew the word of God and prevailed."

-Acts 19:19,20

---

"Like Rowling's books, the movies are becoming darker and more intense as they progress."
From The Dark Side of Potter
By Jess Cagle
Oct. 27, 2002

EXACTLY CORRECT, AND WHERE WILL THESE WORKS OF DARKNESS LEAD A FUTURE GENERATION?

---

"Children buy her [Rowling's] books with their own money. They wear out flashlights reading them after lights-out. Kids with a fear of fat books and dyslexic kids who have never finished a book read Harry Potter not once or twice but a dozen times. Parents report reading levels jumping four grades in two years. They cannot quite believe this gift, that for an entire generation of children, the most powerful entertainment experience of their lives comes not on a screen or a monitor or a disc but on a page."
From The Real Magic Of Harry Potter
By Nancy Gibbs
Jun. 23, 2003

IT IS A DISGRACE AND AN ABOMINATION BEFORE GOD THAT ANY PARENT WOULD VALUE READING SCORES MORE THAN THE CONTENTS OF THE BOOK WHICH THEIR CHILD IS READING. A CHILD WOULD BE BETTER OFF ILLITERATE THAN TO LEARN HOW TO READ AT THE DEVIL'S SCHOOL. SADLY, MANY PARENTS WOULD SELL THEIR SOUL (AND THEIR CHILD'S) IN THE NAME OF EDUCATION. I JUST CAN'T IMAGINE ANY DECENT PARENT ALLOWING THEIR CHILD TO READ THROUGH A BOOK WHICH OPENLY PROMOTES WITCHCRAFT, NOT EVEN ONCE...LET ALONE A DOZEN TIMES. IF SOMEONE WANTED YOUR CHILD TO READ A BOOK TITLED "WITCHCRAFT 101," YOU'D SAY "NO WAY! GET LOST!" BUT THE DEVIL'S CROWD REPACKAGES WITCHCRAFT, CALLS IT "HARRY POTTER," AND THEN EVEN PROFESSED CHRISTIAN PARENTS FALL FOR IT. WAKE UP FOLKS!

---

"In the values Hollywood understands, worldwide box-office income, the first two films from the J.K. Rowling books outperformed the first two Tolkien films, $1.84 billion to $1.78 billion. Reason enough to continue with the education of Harry Potter.
From When Harry Met Sirius
By Richard Corliss
Jun. 7, 2004

"REASON ENOUGH TO CONTINUE WITH THE EDUCATION OF HARRY POTTER?" NO WONDER THE BIBLE IN 1ST TIMOTHY 6:10 CALLS THE LOVE OF MONEY THE "ROOT OF ALL EVIL." ANYTHING FOR A BUCK! SO WHILE MISS ROWLING IS MAKING HER BILLION DOLLARS, YOUR CHILD IS BEING CORRUPTED BY THE DEVIL (AND YOU'RE THE ONE MAKING J.K. ROWLING RICH). WHAT IS WRONG WITH PEOPLE?
---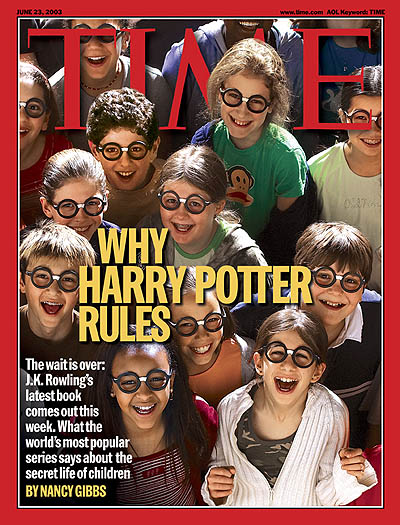 I'm perplexed at just how many Christian believers are IGNORANT of the evils of Harry Potter and Wicca witchcraft. The following information can be found at: www.MagicWicca.com.

Just look at the list of things available on this Wicca promoting website:

"Catalog links for Wicca products, essential, fragrance, and occult oils, books, libros, Crystal Balls, Novenas and Oraciones, Cauldrons, herbs, spells, love spells, books, spell books, aceites, Candles, Incense and accessories. Catalog of the tools you need for witchcraft spells and pagan rituals in Wicca, witchcraft, Santeria, and any of the pagan, occult or esoteric religions. Incense, ritual candles, spell kits, books and more. Whether you are a witch, pagan, shaman, or just interested in the magick of herbs and other gifts from the Earth, we offer you the best in Witchcraft and wicca products and pagan resources" -www.MagicWicca.com

Now don't tell me that you don't see anything wrong with Wicca!!! The Bible strongly condemns such evil practices (such as spells, spell kits, crystal balls, witchcraft books, pagan rituals, ritual candles, etc). Wicca is NOT good, it is a false religion and blasphemy against a Holy God.

Official Harry Potter Hogwart's School of Witchcraft Logo

Children can actually enroll into the Hogwart's School of Witchcraft.

Here's another Hogwart's Witchcraft school where children are taught divination, charms, and potions. This site is maintained by a 15-year old Canadian girl (just one of millions of young Satanist's being groomed to prepare the stage for the coming antichrist).

Harry Potter: The Witch's View

---

"Harry in an absolute godsend to our cause,"

said High Priest "Egan" of the First Church of Satan in Salem, MA

. "An organization like ours thrives on new blood - no pun intended - and we've had more applicants than we can handle lately."

SOURCE: HARRY POTTER AND WITCHCRAFT, by Ray Novosel

---

Here's the complete movie...


---
-Links to Articles Exposing the Evils of Harry Potter-
Harry Potter 'occult' warning (News Report from the BBC).
http://news.bbc.co.uk/hi/english/education/newsid_1638000/1638887.stm
School bans Harry Potter. (News Report from the BBC).
http://news.bbc.co.uk/hi/english/education/newsid_693000/693779.stm
Buffy Draws Children to Witchcraft. (News Report from the BBC).
http://news.bbc.co.uk/hi/english/entertainment/newsid_864000/864984.stm
Harry Potter, Sorcery and Fantasy.
Harry Potter, Sorcery and Fantasy (Book 1)
Harry Potter: A Journey to Power.
Harry Potter: A Journey to Power, Books 2, 3, & 4, (Page 1 of 4)
Harry Potter? What Does God Have To Say?
http://www.lasttrumpetministries.org/tracts/tract7.html
The Harry Potter Books and Christians.
Is "Harry Potter" Harmless?
Harry Potter. Many articles on Harry Potter.
http://www.cuttingedge.org/news/hpmain.html
---