"I believe there are more instances of the abridgement of the freedom of the people by gradual and silent encroachments of those in power than by violent and sudden usurpations." —James Madison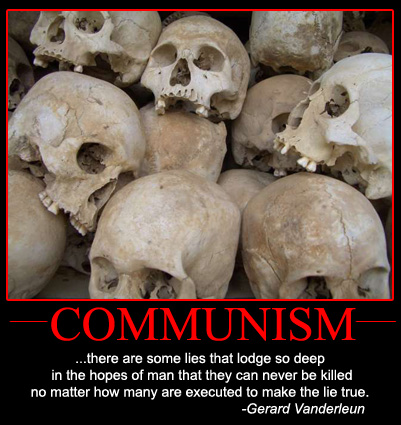 The American people have been lied to, robbed, and betrayed by multitudes of our leaders. When I speak out against the "evils in government," I am NOT speaking about government itself, for government is ordained of God; I am talking about those criminals who have betrayed their oath of office, swindling the public, sinning against God in Heaven by oppressing the citizens they were entrusted to serve.
Our troops aren't fighting for freedom, they're fighting for Halliburton. Police brutality is epidemic in America. The corporate State is a fascist State! The New World Order is the corporate criminal takeover of governments. U.S. President Kennedy tried to warn us. Resistance to tyrants is obedience to God (Daniel 3:17-18).
I am NOT a REVOLUTIONARY, I am a RESTITUTIONALIST; that is, I do not want violent overthrow of government, I want to see our federal government restored to once again follow the U.S. Constitution and our Bill of Rights.
Police State 4-The Rise of FEMA
"Centralized power is always a substitute for God." —Dr. Jack Hyles
---
Who is running America?

Have you ever asked that question?


Under the doctrine of Parens Patriae, "Government As Parent", as a result of the manipulated bankruptcy of the United States of America in 1930, ALL the assets of the American people, their person, and of our country itself are held by the Depository Trust Corporation at 55 Water Street, NY, NY, secured by UCC Commercial Liens, which are then monetized as "debt money" by the Federal Reserve. It may interest you to know that under the umbrella of the Depository Trust Corporation lies the CEDE Corporation, the Federal Reserve Corporation and the American Bar Association, the legal arm of the banking interests.


Now you know who is running America!


You might want to take exception to the name on the marquee at the entrance to 55 Water Street:


??? . . . "Tower of Power" . . . ???
---
Gerald Celente—Speaking of the globalist suckups, corrupt corporate leaders, sellout Washington D.C. politicians, and the Wall Street white shoe boys—said concerning their stealing, hypocrisy, and blatant abuse of government power:
"Do you know what 'justice' means? It means 'JUST-US!' "
SOURCE: Alex Jones' Show; December 14, 2010
Apathy is treason!

---
"The real rulers in Washington are invisible and exercise power from behind the scenes"
—Felix Frankfurter, U.S. Supreme Court Justice during the FDR administration
---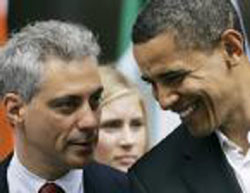 America's Future Is Now in the Hands of Two Psychopaths at 1600 Pennsylvania Ave: President Barack Obama, Israeli Agent "Rahm the Cruel" Emanuel, and a Leninist America by 2012: On January 20, 2009, President Barack Obama takes possession of the Oval Office. "Rahm the Cruel" Emanuel takes over as White House Chief of Staff. Obama and Emanuel are both in the employ of the Israeli Mossad, and "Rahm the Cruel," a former Wall Street manipulator and Chicago Mafioso, actually served in the Israeli military. Together, Obama, our charming and charismatic young President, and Rahm, his Stalinist overseer and Mossad controller, will lash and steer the American Republic ever forward into the morass of a Leninist dictatorship of the elite. Unless something incredible intervenes, by 2012 we shall experience the final, irrevocable "Sovietization of America."
SOURCE: Power of Prophecy: America's Future Is Now in the Hands of Two Psychopaths at 1600 Pennsylvania Ave.
America's Future Is Now in the Hands of Two Psychopaths at 1600 Pennsylvania Avenue
It is impossible to have liberty in a two-party system.
If voting could change anything it would be illegal!
"A conspiracy theorist is anyone who pays attention to facts or analysis." —Dr. Craig Roberts
You can't be politically correct and right with God!
Gerald Celente Blasts Jon Corzine, Goldman Sachs and MF Global for Being Thieves
Gerald Celente - Imbecile People Continue To Vote For Evil (George Orwell would be shocked)
"Communism is complete dependence upon the state." —Dr. Jack Hyles
---
"You mean the governments gonna stick their hands down my pants and put me in a microwave oven? You mean the TSA's setting up checkpoints on the highway?

You see you've got to really let it sink in and just wake up to how crazy it is. I'm not 'the crazy guy on the radio' as the corporate media calls me because I cover real news and get freaked-out over real issues (and don't cover fluff and mindless garbage). I'm a normal person who the mind-control doesn't work on. The only way it works on me is making me frustrated and angry, because once you're awake and once you've studied it, it's everywhere!"

—THE ALEX JONES SHOW; Wednesday, January 18th, 2012
---
Fall of the Republic (Full-length video)
We cannot defend freedom abroad by deserting it at home!
GEORGE ORWELL
—Speaking Out Against Evils in Government—

Titus 3:1-2, "Put them in mind to be subject to principalities and powers, to obey magistrates, to be ready to every good work, To speak evil of no man, to be no brawlers, but gentle, shewing all meekness unto all men."
I recently heard a pastor of a very large church foolishly state that it's wrong to criticize President Obama for any reason. The pastor used the Biblical text, "speak evil of no man" from Titus 3:2. Unfortunately he took the verse out of context. The Bible does not prohibit Christians from speaking out against evil; but rather, not speaking evil.
RED ALERT! WARNING to Pastors!

God, Guns, and Guts!

---

Things are not as they appear...

Indefinite Detention of Americans
---
Syndicated radio talk show host, Alex Jones, stated on The Alex Jones Show on February 1st, 2010 . . .
"All the new World Order is, is powerful offshore corporations and banks that combine forces to bring in tyranny on a society-wide basis. All the New World Order is, is private corporations paying off your government to sign treaties with them, granting them government power to create monopolies and cartels, to control the free market and society. They have stolen us blind. They have stolen Iceland and England and Europe and Canada and Australia and the United States blind. It is fraudulent. It is based in fraud. They can create unlimited derivatives, unlimited currency and credit for themselves, but they need fake environmentalism to actually get your property. They need fake government rules to seize all the major highways and roads and turn them into toll-roads for offshore corporations like Centra of Spain. This is looting. This is corruption.

Because the general public is only focused on football and on Hollywood stars and on diversions, the establishment is able to get away with this. But they have gone so far in their crimes. They have done so much evil, that if we simply stand up and point out that the emperor is wearing no clothes, and point out the crimes they have committed, and that Geitner and Paulson and all these people have given themselves hundreds-of-millions of dollars individually to themselves out of the banker bailout money, and that the number is really $28,000,000,000,000 (not $700,000,000,000), and that they engineered this and then McClatchy Newspapers wrote a five part series in December exposing that this is premeditated; if we expose them, if we point out what they've done, if we simply have the energy to point out that they are the harbiture, the progenitor, the engine behind our economy falling apart; they want to destroy the economy; Ron Paul has said that, because when they bankrupt you, you go under government control.

More than half the population now work for the government or get government contracts. That's not enough. It's their job to bankrupt. It's their job to bankrupt the states. It's their job to take over society. It's a monopoly game. It's a game of absolute domination and control."

SOURCE: Alex Jones, The Alex Jones Show; www.infowars.com; February 1st, 2010

---
ALEX JONES SHOW ARCHIVE
There is a war on for your mind!

Those who will not be controlled by God will be ruled by tyrants!

---
Bush's War at Home: A Creeping Coup D'état (Our government has been hijacked by the globalist elite.)

The Best Democracy Money Can Buy by Greg Palast (This book reveals just how diabolical the Bush Family really is! Read how the 2000 Presidential election was stolen, mass murder, theft of billions, pollution, et cetera. The truth about corporate cons, globalization, and high-finance fraudsters! BUSH IS NO CHRISTIAN!)

Americans in U.S. Federal Prisons are Paid 23 Cents Per Hour (SLAVE LABOR! The U.S. prison population is the largest in the world and is relentlessly growing, more than five times what it was 30 years ago.)

Total Police State Takeover? (Alex Jones puts Patriot II into layman's terms for us to read)

Operation Garden Plot (gulags for Americans?) More Garden Plot (see, THE RISE OF FEMA video by Alex Jones)

Bio-chip Implant Arrives for Cashless Transactions (Mark of the beast? The end surely cannot be far away)

Oklahoma City Bombing (It wasn't diesel fuel and fertilizer, but high explosives planted in the building)

Oklahoma City Bombing COVER-UP! (Our own government did this to us) | Any Questions?

What Really Happened in Oklahoma 1995? (same video as 911 above, but contains a lot of info about the Oklahoma City bombing later in the film. This is an excellent made video that I hope you will watch).

Which god Will Bless America? (the new Ecumenism)

911? (someone's got a lot of explaining to do!)

911, Hundreds of Unanswered Questions (why won't the government give us the answers?)

What About WTC 7 Building? (Most people don't know about the THIRD building that crumbled just one block north of the trade towers hours later. No planes hit it and there were only a few small fires, so why did WTC 7 crumble wholly to the ground exactly as an imploded building would?)

EPA Approves Pesticide Experiments on Humans
Police Officer Murdered to Cover-up OKC Bombing | The Oklahoma City Bombing: 30 Unanswered Questions

Pawns in the Game: The Events Leading up to World War II (by William Guy Carr)

World War One and the Illuminati (Winston Churchill was a Druid Witch!)

Pawns in the Game (Read the entire .PDF book online free)

The Northwood Documents (In 1962 our government planned to deliberately shoot down a civilian airliner.)

America Needs VOICES! (Our country is going to hell in a wheel-barrow, let's defend it!!!)

Bush's War at Home: A Creeping Coup D'état (Our government has been hijacked by the globalist elite.)

The Best Democracy Money Can Buy by Greg Palast (This book reveals just how diabolical the Bush Family really is! Read how the 2000 Presidential election was stolen, mass murder, theft of billions, pollution, etc. The truth about corporate cons, globalization, and high-finance fraudsters! BUSH IS NO CHRISTIAN!)

Project Megiddo (FBI report vilifies all Bible believers, home schoolers, 2nd Amendment rights advocates, and freedom-loving Americans as domestic terrorists). Read the complete "Megiddo Report"

The United States is in Deep Doodoo! (hardly anything is made in America anymore, debt is sky high)

Quotes by Movers and Shakers to Make Us Think! | In Your Face! (David Rockefeller: no friend to America!)

Why Lawyers are the Scum of the Earth! (The most dangerous sharks aren't in the ocean!)

The United States has Been in a State of Declared National Emergency Since 1933! (These proclamations give force to more than 470 provisions of Federal law. Read Senate Report 93-549.

Here's Some Amazing Facts About Hemp! | So Why is Hemp Illegal? | The Real Reason Hemp is Illegal (please note that I DO NOT endorse smoking marijuana. Although not a narcotic, nor addictive, pot has a reverse tolerance that builds up tetrahydrocannabinol in the body, so a person needs less-and-less to get high. Evangelist Lester Roloff discusses Marijuana in his awesome MP3 sermon, "TWO WORKS OF THE DEVIL - PART 2." Pot adversely affects the mind. Tests on spiders given marijuana demonstrated that they still made webs, but lost all symmetry, patterns and glorious design. Marijuana causes youth to become sloppy, lazy, have no purpose in life and no desire to work. Lying is synonymous with drug addiction.)

What Does Jude 9 Mean? (Beware of apostate ministers who teach obedience to tyranny and criminal leaders!)

Evils of the U.S. Invasion of Iraq (warning: gruesome photos)
Sacrificing America's Youth for the Communist New World Order! (Stealing Iraqi Oil)
The Fraudulent Gulf of Tonkin Incident in Vietnam (58,000 Vietnam soldiers were killed based on lie.)
Depleted Uranium (warning: gruesome photos) | U.S. Government Pays for "Piss Christ" Art
The Truth About Depleted Uranium (As of May 2002, the U.S. Government has awarded permanent disability for combat injuries to 159,238 soldiers from Gulf War 1. In a January 7, 2003 article, Toxic Threat for Troops in New Gulf Way, Robert McMahon of Soldiers for the Truth said: "A 100 hour ground campaign that saw 148 Americans KIA and 467 wounded in Gulf War 1 produced 159,238 veterans receiving a medical disability payment monthly.)
Every Generation Must Rediscover the Truth! (societies' blinded fools)

The Writings of Texas Congressman Ron Paul (America is in big trouble! Read, The Unpatriot Act)

Government Internment Camps (Federal concentration camps for Americans!

From The Wilderness (FTW) Publications (If you dare learn the truth!) FTW - Index

The United Nations | Evils of the Iraqi Invasion | DU (Depleted Uranium)
Operation Garden Plot (gulags for Americans?) More Garden Plot (It could happen folks!)
Our Bill of Rights | Don't Give Up Your Firearms
USA PATRIOT Act (UN-Patriot Act now permanent) | John Todd (the Illuminati & Witchcraft)
Everything is a deception these days. The illusion of freedom in America will continue as long as it's profitable to continue the illusion. At the point where the illusion becomes too expensive to maintain, the criminal gang behind the New World Order will just take down the scenery; they will pull back the curtains, they will move the tables and chairs out of the way and you will see the brick wall at the back of the theater. You will then realize that you were being enslaved the entire time. America has sadly become the land of the cowards and homes of the slaves. Sinclair Lewis rightly said, "When fascism comes to America, it will be wrapped in the flag and carrying a cross." What a statement!!!
It's always a highly motivated minority that defeats tyranny, and never a majority. Likewise, it is a highly-motivated minority that brings in tyranny. A small remnant of patriotic Americans and God-fearing Christians can preserve liberty and freedom. Maybe we can't stop the New World Order (NWO), but we CAN fight and hinder the Communism that is building the NWO. We should never lay down and accept tyranny. The average professed Christian today is woefully ignorant and thinks they should do nothing. The criminal global elite are tyrants, cowards, using their predatory behavior to oppress the sheeple. Mass-murderers agree... Gun control works! They want you to accept over-the-top corruption and tyranny. All we need to do is expose it all for the LIES and DECEPTION that it is, and don't be ashamed just because you are in the minority. Truth is ALWAYS in the minority at first, but eventually becomes self-evident!
---
"Restriction of free thought and free speech is the most dangerous of all subversions. It is the one un-American act that could most easily defeat us."
SOURCE: Supreme Court Justice William O. Douglas, "The One Un-American Act" (Nieman Reports, vol. 7, no. 1 (Jan. 1953): p. 20.)
---
"Soon it will be possible to assert almost continuous surveillance over every citizen and maintain up-to-date complete files containing even the most personal information about the citizen..."
—ZBIGNIEW BRZENZINSKI, United States National Security Advisor
---
"Justice, being violated, destroys; justice, being preserved, preserves: therefore, justice must not be violated, lest violated justice destroy us." ~ Manusmriti, 1200 BC
"And how we burned in the camps later, thinking: What would things have been like if every Security operative, when he went out at night to make an arrest, had been uncertain whether he would return alive and had to say good-bye to his family? Or if, during periods of mass arrests, as for example in Leningrad, when they arrested a quarter of the entire city, people had not simply sat there in their lairs, paling with terror at every bang of the downstairs door and at every step on the staircase, but had understood they had nothing left to lose and had boldly set up in the downstairs hall an ambush of half a dozen people with axes, hammers, pokers, or whatever else was at hand?... The Organs would very quickly have suffered a shortage of officers and transport and, notwithstanding all of Stalin's thirst, the cursed machine would have ground to a halt! If...if...We didn't love freedom enough. And even more – we had no awareness of the real situation.... We purely and simply deserved everything that happened afterward."
SOURCE: Aleksandr I. Solzhenitsyn (The author spent 7-years as a prisoner in the Soviet gulag work camps)
---
CONGRESS SHALL MAKE NO LAW RESPECTING AN ESTABLISHMENT OF RELIGION, OR PROHIBITING THE FREE EXERCISE THEREOF; OR ABRIDGING THE FREEDOM OF SPEECH, OR OF THE PRESS; OR THE RIGHT OF THE PEOPLE PEACEABLY TO ASSEMBLE, AND TO PETITION THE GOVERNMENT FOR A REDRESS OF GRIEVANCES.
The Bill of Rights to the U.S. Constitution was ratified on December 15, 1791
---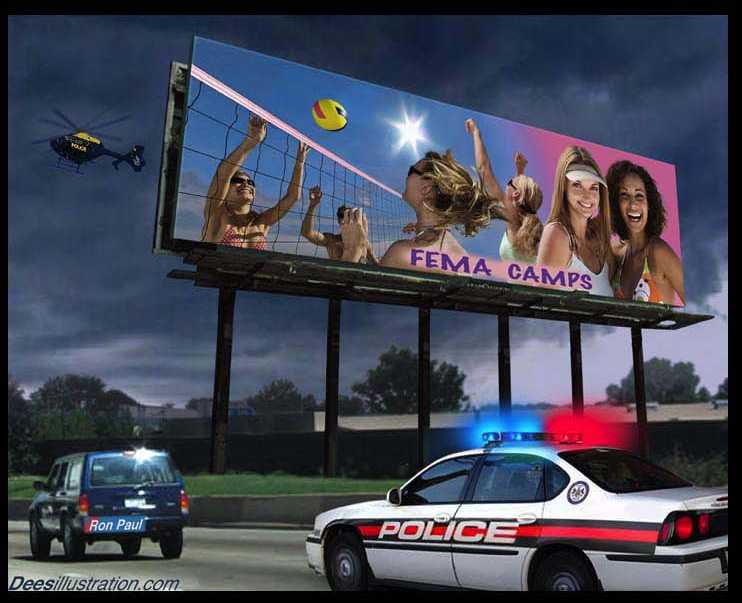 ---
11 Signs That The U.S. Government Has Become An Overgrown Monstrosity That Almost Every American Is Dependent Upon For Economic Survival
---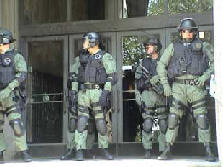 New World Order Thugs!
---
NOAH WEBSTER (1832)



"When you become entitled to exercise the right of voting for public officers, let it be impressed on your mind that God commands you to choose for rulers, just men who will rule in the fear of God. The preservation of a [our] government depends on the faithful discharge of this duty; If the citizens neglect their duty and place unprincipled men in office, the government will soon be corrupted; laws will be made not for the public good so much as for the selfish or local purposes; Corrupt or incompetent men will be appointed to execute the Laws; the public revenues will be squandered on unworthy men; and the rights of the citizens will be violated or disregarded. If a [our] government fails to secure public prosperity and happiness, it must be because the citizens neglect the divine commands, and elect bad men to make and administer the Laws."
SOURCE: Noah Webster, History of the United States (New Haven: Durrie & Peck, 1832), pp. 336-337, ¦49.]



The American Holocaust: ABORTION!
---
The American eagle ought to be replaced with the ostrich!
(because ostriches hide their head in the ground)