Discerning Dr. Phil
18 October 2005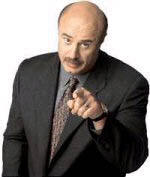 Dr. Phil McGraw is currently the recognized popular authority on all issues related to life. His entrance into fame, via the aid of Oprah Winfrey, led to a spark among Americans to find peace and the good life through following the advice of a smart, likable and tough-minded psychologist. Even many Christians have embraced Dr. Phil as a powerful authority on life.

"Get Real" With Some Biblical Principles

Dr. Phil made the "Top 50 Most Influential Christians" list, just barely, at #50 (thechurchreport.com). On one of his shows, he has stated that God is his "Higher Power," and that he is a Christian. Furthermore, the principles that he postulates are quite often similar to the principles that we find scattered throughout the Bible. For example, Dr. Phil believes and teaches that people must take personal responsibility for their actions and quit playing "the role of victim" (Dr. Phil's Ten Life Laws, #2). We find this same principle many times in the Bible, stated in the form of a warning that we must answer to the Lord for the choices we make. "But in accordance with your hardness and your impenitent heart you are treasuring up for yourself wrath in the day of wrath and revelation of the righteous judgment of God, who 'will render to each one according to his deeds'" (Romans 2:5-6).

However, Dr. Phil never refers to the Bible as an authority on life. In fact, he rarely if ever refers to any higher authority at all. His advice comes from himself, as he sees and interprets life. This does not make his points untrue, for it is clear that Dr. Phil often speaks truth and often helps people, but his points are not linked to another source of authority that we can test.

It is also clear that Dr. Phil carries much New Age baggage. This becomes apparent when he speaks about "defining your authentic self." Instead of promoting prayer, Dr. Phil suggests "eliminating your negative internal dialogue," which he describes as something that "powerfully programs and shapes your self-concept." In order to eliminate the negative internal dialogue, a person should go through several exercises during the course of a chosen day, ending with self-focused questions like, "You're the one who talks to you, all day, every day. What kind of friend are you?" So instead of looking upward to God for help, Dr. Phil teaches that we should look inward and help ourselves.

Overall, the advice that Dr. Phil offers is a surface level, loose collection of fortune cookie pop-psychology, finding its source in some unmentioned biblical principles and some New Age principles.

What Should a Christian Do?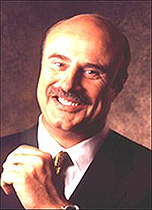 Dr. Phil has been truly helpful to Christians and non-Christians alike, helping people take a look at life and make real steps to correct problems in relationships, finances, health, parenting, and many other areas. For this, he must be commended. As a believer, I have personally benefited from listening to his advice and following many of the steps he postulates. But as believers we must be heavily discerning. It is easy to substitute a daily dose of Dr. Phil for regular Bible reading and prayer. Dr. Phil may offer helpful advice, but he has never offered anyone the answers they really need – how to be saved from the wrath of an angry God, how to recognize our rebellion against God, or how to walk closer to Jesus Christ each day. A Christian who listens to Dr. Phil must be wise enough to know if a certain piece of advice corresponds to a biblical principle (and how) or if the advice is based on self-focused, New Age principles, which never bring glory to God.

I could never recommend to anyone that they listen to Dr. Phil. There are plenty of strong pastors who can be found at a local church, on the radio, or via internet ministries who offer equally strong advice anchored totally in the Word of God. These spiritual leaders are not ashamed to state where they receive their information and they do not mix it with New Age spirituality. Furthermore, I would advise weaker Christians who are dodging Scripture and prayer and trusting in Dr. Phil instead (some may be addicted to him) to stop watching him altogether. Stronger Christians who can discern truth from error might find some of his words helpful in a limited sense.

The bottom line is Dr. Phil is dangerous for the soul. He offers enough truth and insight and goodness that Christians are enticed to listen, but he mixes enough self-focused, error-laden, pop-psychology to lead a soul away from Christ into self-dependence and into ruin. -SOURCE