It's The 20th Anniversary Of Jesus-is-Savior.com
by David J. Stewart | April 2022
Philippians 1:6-7, "Being confident of this very thing, that he which hath begun a good work in you will perform it until the day of Jesus Christ: Even as it is meet for me to think this of you all, because I have you in my heart; inasmuch as both in my bonds, and in the defence and confirmation of the gospel, ye all are partakers of my grace."
It is hard to believe that 20 years have passed since by God's grace I began my website ministry in April of 2002. I give God ALL the credit, glory and praise, for without Jesus we can do nothing (John 15:5).

I have been through legal nightmares, threatened with lawsuits countless times, dealt with DMCA complaints, had my websites terminated, forced to move to another web hosting company (it took me 125 hours to upload everything again), suspended more times than I can remember, slandered and called every imaginable hateful thing known to mankind. But it was all for my blessed Savior and the Gospel's sake!!!

Matthew 5:11-12, "Blessed are ye, when men shall revile you, and persecute you, and shall say all manner of evil against you falsely, for my sake. Rejoice, and be exceeding glad: for great is your reward in heaven: for so persecuted they the prophets which were before you."

Sadly, my biggest enemies over the years, which have caused me the most pain, grief and suffering in my ministry, are ungodly pastors of churches. Go figure! You'd think that if one group of people in this world would appreciate my courageous stand for THE TRUTH, it would be church pastors. Nope! At the Harvest Baptist Church on Guam I was sinfully called "a cult." They called Dr. Al Lacy and Pastor Jack Hyles "a cult" too, because we all expose today's corrupt Devil's bibles; whereas Harvest uses, sells and promotes Devil's bibles. Harvest's wicked pastors forced me out of their church (they are the damned "cult") and banned me from returning; shunning and ostracizing me in the community and from coming to church permanently. My blood is upon their wicked hands (Romans 12:19-21; Matthew 7:1-2; Galatians 1:6-9; 3:1-3; 5:4, 6:7; Matthew 12:36). Woe unto the wicked shepherds!

At the Lighthouse Baptist Church on Guam I was called "obsessed over the Bible" by their ungodly pastor. Buster, you better believe that I am obsessed over the Holy Bible! Psalms 119:139-140, "My zeal hath consumed me, because mine enemies have forgotten thy words. Thy word is very pure: therefore thy servant loveth it." What a sorry and wicked thing for any pastor to tell a man who is zealous over the truth of God's Word! Of course I am obsessed over God's Word, and by God's grace I intend to stay this way!!!

At Campus Church on the campus of Pensacola Christian College (PCC), I was falsely accused by their pastor of "finding weaknesses in preachers." Is that what I'm doing by exposing the damnable doctrine of Lordship Salvation? Is that what I am doing by exposing the Devil's damnable counterfeit bibles? Is that what I'm doing by warning everyone about Dr. Steve Pettit's damnable Calvinist plan of salvation? No, I am faithfully obeying Titus 1:13b, "Wherefore rebuke them sharply, that they may be sound in the faith;" Tragically, Jeff Redlin is at ease on Zion, collecting his undeserved ridiculous 6-digit annual salary, criticizing faithful preachers like me who put him to shame, because I am standing while he is sitting idle at Campus Church. I am contending for the Christian faith (Jude 1:3), while Jeff Redlin is sinfully bidding Godspeed to infidel Dr. Steve Pettit, the demonic Harvest Baptist Church on Guam and the perverse Bob Jones University crowd today. Right doctrine doesn't matter to the PCC camp, just making more money.

Yes, 2022 is the 20th anniversary of my website ministry. To God be the glory, great things He hath done (and is doing). Every preacher has his particular battles to fight. For Evangelist Billy Sunday (1862-1935) it was the dirty liquor traffic business. It was dirty dancing and filthy gambling! For Pastor J. Frank Norris (1877-1952) and Dr. John R. Rice (1895-1980), it was the dirty Southern Baptist Convention. For Pastor Jack Hyles (1926-2001) it was the neo-evangelical Bob Jones University camp, disgruntled former church members, and the manure-spreading Hammond Times newspaper. And for me it is the Satanic Bob Jones University camp, and the shallow ungodly Pensacola Christian College camp. We are at spiritual war folks!!! Dr. Hyles rightly called it: "The Battle Of The Ages" (MP3 sermon preached in 1994).

Lordship Salvation is a perversion of the Gospel (by Pastor Curtis Hutson, 1934-1995). The Bob Jones crowd have fully embraced the damnable heresy of Lordship Salvation. Why won't Pastor Jeff Redlin, Timothy Zacharias and the PCC camp expose them? Why does PCC bid Godspeed to the cesspool of unsaved Bob Jones graduate infidels at Harvest Baptist Church on Guam? Unfortunately, by hobnobbing with the Bob Jones camp, Pensacola Christian College (PCC) is being changed and slowly corrupted. Incrementally, PCC is becoming just like BJU.

In a generation or two, PCC will be totally corrupt! Already Campus Church is errantly preaching that "repentance is a change of mind resulting in a change of behavior" (this actual screenshot is from Wednesday evening at Campus Church on July 21, 2021 taught by Timothy Zacharias). I was sitting in the audience, angry at what he was false preaching. That is their official dogma in their Foundation's Class for all new church members. Folks, your behavior changing has absolutely NOTHING to do with repentance (thinking differently) to BELIEVE ON THE LORD JESUS CHRIST (Acts 16:30-31). Pensacola Christian College is already corrupted doctrinally!!! That is what happens when you lay down with dogs, you get their ticks and flees. SHAME on PCC for bidding Godspeed to the spiritually deadly Bob Jones crowd.

Pensacola Christian College ought to be exposing the corrupt Bob Jones camp like I AM DOING. That wicked pastor, Jeff Redlin, humiliated, berated and condemned me for contending for the faith! Pastor Redlin is in big trouble with God (Romans 3:4). Jeff mistreated me on multiple levels during my time at Campus Church. I didn't stay there because it was very obvious that I was not welcomed nor wanted at Campus Church. Redlin threatened me, telling me to "walk circumspectly," based on nothing more than slander he read on the internet about me. What a wicked man! Jeff Redlin is not right with God. He certainly owes me a big sincere apology, but he is too proud and arrogant to apologize. What a jerk! If anyone needs to be careful, it is that scrawny religious circus clown Jeff Redlin!!! Don't get me started.

Anyway, by God's wondrous grace, thousands of people have come to know Jesus Christ as their personal Savior through this humble ministry. This website ministry is much bigger than me, I am just the little man behind the curtain. When people first see my Jesus-is-Savior.com website, they feel like Dorothy, the Scarecrow, the Tin-man and the Cowardly Lion. They see THE GREAT OZ, with smoke and an intimidating thundering deep voice...lol. They see a holier-than-thou, in your face, rip-snorting, hell-fire-and-damnation type of preacher. But then when they email me, they see that I am just the little friendly fella behind the curtain pulling the gadgets and levers to scare everyone...lol. Really, I am a really nice guy to meet and know, full of love and concern, but my preaching is bold, uncompromising and THE TRUTH (the way preaching should be). It is sadly ironic that preachers are my biggest critics. Go figure! Of course, there are also many preachers and pastors who love and appreciate my labors for Christ.

I have never attempted to serve God outside of the local New Testament church. I was saved, water baptized, schooled, trained and ordained in local New Testament, Bible-believing, churches!!! My nine websites and ten blogs are all missionary work, trying to reach the lost with the Gospel, and help to feed Christ's sheep around the world. You may not like me personally (that is true of people in general), nor agree with all my teachings (who does anybody's teachings), but if you are a child of God you should at least appreciate and recognize the good that God is accomplishing through my humble ministry. For some arrogant and high-minded foolish pastor like Jeff Redlin to reject and criticize my website ministry is very wrong, and speaks volumes about his woeful lack of humility and spiritual insight as a pastor. SHAME is the only word I can think of to describe Jeff Redlin. By the way, I'm just getting started exposing Mr. Redlin and the PCC camp! Sean Quinlan and Jeff Redlin picked this fight, and I will finish it until the Lord takes me home. This ole "obsessed over the Bible" man, plans to continue exposing wickedness in preachers like Sean Quinlan and Jeff Redlin!!! God help us!

I apologize for ranting so much lately about the PCC camp, but this is what God has laid upon my burdened heart. Somebody needs to get real mad about this apostasy, wickedness and bidding Godspeed to evildoers! I CARE because my dear Savior CARES, and so should you!!! Wow! It has been 20 years since I started this website ministry in April of 2002. It seems like just yesterday. I was 35 years old in 2002. Now I am 55! Good night in the morning! I don't know if I'll make it to 75 years old, but if so by God's will, I plan to keep PREACHING THE TRUTH!!!

And THANK YOU to all my dear web visitors, friends and family, who have stood by this broken, lonely, humble, neck-pain suffering, slandered, often unappreciated and tired inspired King James Bible ONLY preacher!!! If you help to encourage, pray for, redistribute or in any way benefit this needful ministry for Christ, then you are a part of my ministry and rewards. Mark 9:41, "For whosoever shall give you a cup of water to drink in my name, because ye belong to Christ, verily I say unto you, he shall not lose his reward." Please keep me all in your daily prayers, as I do all of you. To God alone be the glory. I love you all in Jesus Christ, our blessed and precious God and Savior.
AND just for you dear friends...
On a different personal note, I am getting back into my music slowly. All of my musical instruments are still in dry storage here in Pensacola. I miss my pedal steel guitars. I pay $100 a month to store one create. It's been in storage since I moved from Guam last July. I'm just not ready to get all my junk out of storage yet. I'm not sure how long I'll be staying here in Pensacola, but as far as I can see right now, I will be here for the foreseeable future. I'm just taking things one day at a time. I'd like to buy a home, but it is too soon to decide yet, and I want to wait awhile before I get settled.

I am frustrated that the only pain clinic I could find that would except me, refuses to prescribe more than 40 mg a day of Oxycontin, which is just not enough. I had taken at least 80 mg each day for 11 years on Guam. So my neck is hurting more than it needs to. Doctors by law cannot even prescribe pain medications in Florida, according to my pain specialist. But I praise the Lord for what prescription drugs I have, something is way better than nothing!

I am considering moving up somewhere in Tennessee, like Bristol; but I want to spend a couple years exploring Pensacola. I like the strong Christian emphasis in Pensacola. Tennessee also has a strong Christian emphasis. I'd appreciate your prayers for God to help me figure out where I should settle down. Then again, life is what happens to us while we're busy making other plans (Proverbs 27:1). Thankfully, my website ministry is the same wherever I choose to live. Maybe Alaska...lol. Here is a photo of my new Hofner bass guitar...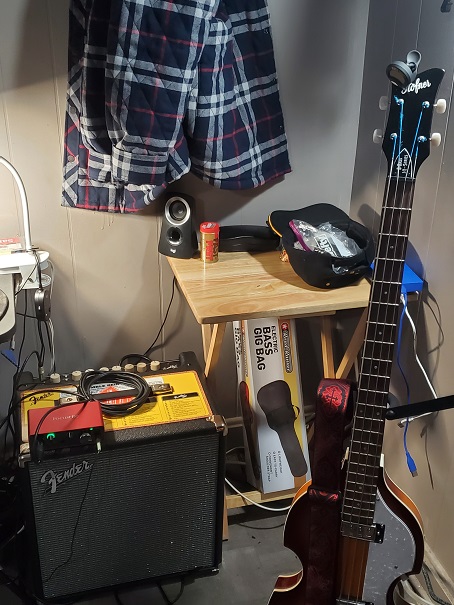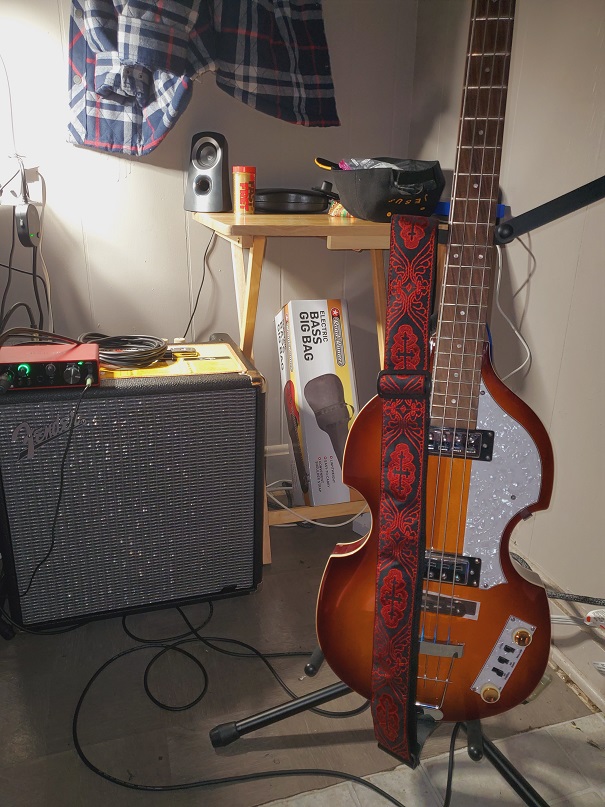 ABOVE: I bought a new Hofner bass (just like Paul McCartney uses) from Guitar Center. I am thankful to God for His blessings! You can also see my new "Rumble 40" Watt from Fender that I purchased locally at Blue Angel Music. I also bought from Amazon.com a Focusrite interface (the red box on top of the amp), which allows me to record my musical instruments, like my banjo and pedal steel onto my laptop. Right now I am making my own backing tracks for the banjo, which will take me a few months at least. The small Baptist church I am attending likes musical instruments, so they are inspiring me to make music again. I've been playing along with the backing tracks from The Rochester Family.

I'm wanting to buy a Goldtone PBS solid wood dobro, which I had mentioned to my web visitors last year while still on Guam. I already purchased and downloaded this dobro song course with the backing track to learn. But first I need a really good banjo. Lord willing, I think I'm going to save up and buy a Deering Mahogany neck Sierra with an electric pickup in the head. It has all the higher end professional parts inside, but without the expense pretty aesthetics. Dave Hum is my musical mentor on the banjo. I love the guy! I even made a blog to study and promote Dave Hum's banjo style of playing. I don't often feel like making music because of my neck pain and nerve burning, but I do what I can here and there and always get something done over time. I am trying to recreate Dave Hum's backing tracts. I wish Dave was still alive so I could ask him about his tracks, but he died of cancer in 2012 at only age 46. Dave and his wife, Mel, also lost a daughter to cancer at age 13. Life is not fair, but we know that everything God does is right.

God willing, I hope to record some banjo videos eventually, which is what I am working up to. For now I need some good backing tracks. I am using MixCraft 9 software on my laptop to arrange my MIDI kick drum and tambourine, and then I record a live bass on an audio track. So far so good, I just need to practice my bass parts. I am good at playing bass, I'm just not familiar with the fills and styles. Fortunately, Dave Hum's bass lines are fairly simple stuff to follow. I was working on this song played by Dave Hum, called: "Eight Of January" this week. I am making a backing track for the song, so I can hopefully record my banjo along with it. Cool stuff!

On a more somber note, I have been driving past this grave marker in my neighbourhood for the past few months. Yesterday I finally stopped to take some photos to share it with my web visitors. I have no idea who this person is. On Guam, there are grave markings like this all along the roads. Many of the deceased were no doubt killed because of drunk drivers. On Guam the street light poles are 3-foot thick concrete, to withstand 200 mph super typhoons. So if you hit one, you are a goner! This is the first grave marker that I have seen in Pensacola, which caught my attention right away. It is a reminder that life is unpredictable and short. James 4:14, "Whereas ye know not what shall be on the morrow. For what is your life? It is even a vapour, that appeareth for a little time, and then vanisheth away." ...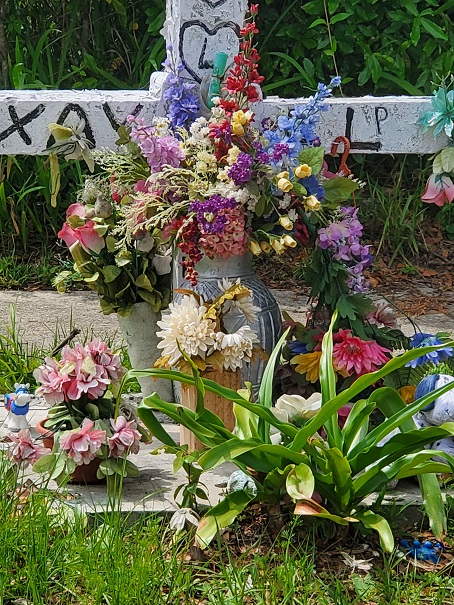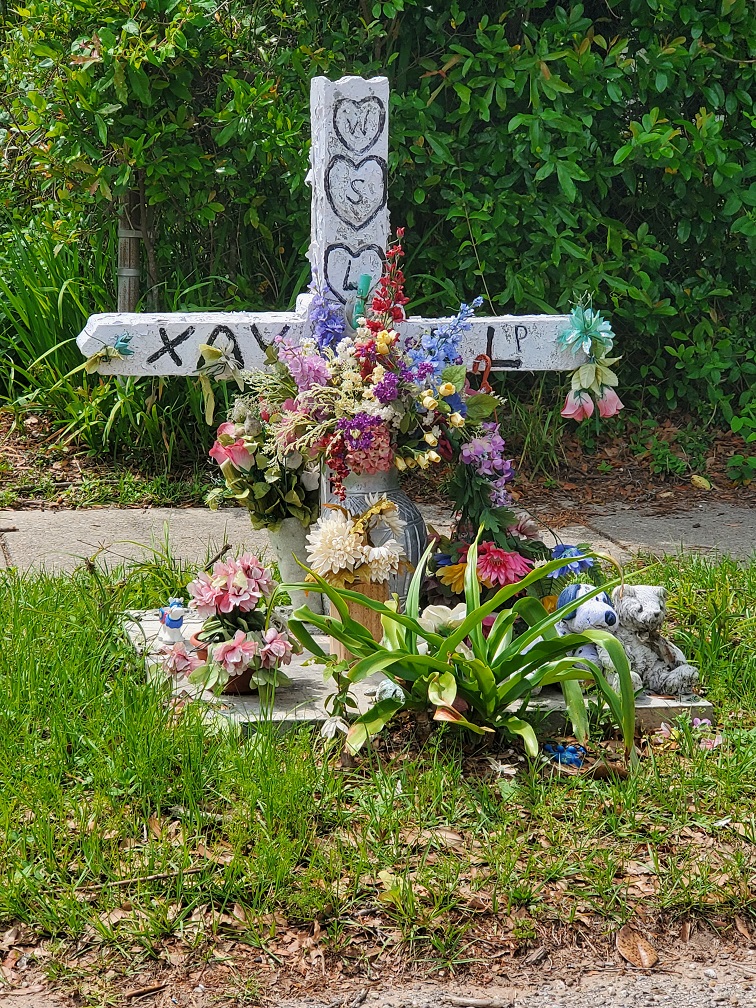 Life Is So Short, Have You Been Born-Again Friend?
The Gift Of Eternal Life Is Wrapped In The Wonderful Package Of Jesus
END OF ARTICLE
"Faith is the only righteous thing that I can do!"
—Pastor Jack Hyles, a quote from the MP3 sermon titled: "God's Reversal Of Psalm 51"
1st Corinthians 16:24, "My love be with you all in Christ Jesus. Amen."
---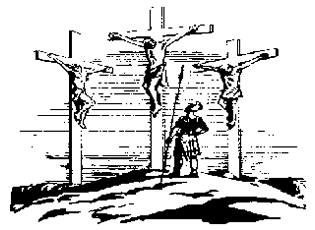 How Permanent Is Your Salvation?
(an excellent MP3 sermon by Pastor Hank Lindstrom, 1940-2008)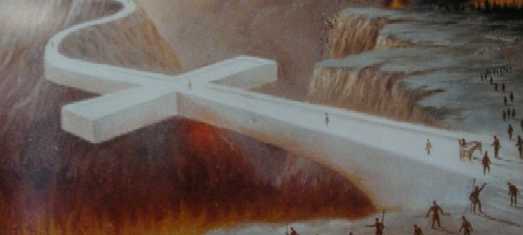 Mark 1:15, "...repent ye, and believe the gospel."
"The mark of the child of God is that he loves everybody!"
(a quote from Pastor Jack Hyles' classic MP3 sermon, "FORGIVENESS")
Mark 11:22, "And Jesus answering saith unto them, Have faith in God."
---
Ye Must Be Born Again! | You Need HIS Righteousness!