I Went To Church, Will Be Sleeping In My Car Again
by David J. Stewart | July 2021
Hello everyone! Well, I did go to Waffle House last night, just as I planned. I got there at 2 am, across from Wal-Mart on route 90 where I'm staying, sleeping in their parking lot. Tonight will be my third night sleeping in Wal-Mart's parking lot. Each night gets a little better, knowing what to expect. It's important to know what places are open 24 hours, in case I need food or a pit stop. What-A-Burger and Waffle House are open all the time, thankfully.

When I went to Waffle House, the woman at the cash register looked like she was having a bad night. She pointed to the guy in front of me and said to me, "He is the last customer, sorry!" I just smiled and replied, "That's the story of my life." I did tell you the other day that I'm always a day late, a dollar short, and the other guy gets the girl. The waitress said that they had no clean dishes, since they were so busy, and they were closing for an hour. So I went back to my car and decided not to wait. I just didn't like her gorilla tone...lol. I drove 7 minutes north to the other Waffle House and they weren't as busy. The waitress there was very friendly and said there would be a 20 minute wait. I said I would gladly wait, and I did. She brought me an orange juice. I enjoyed my meal of a big waffle, 3 pieces of bacon, sausage, scrambled eggs, toast and hash browns. Lord willing, next time I will use blueberry syrup. I used maple last night.

I slept from 11 pm last night to 1 am. I couldn't sleep until about 5 am, but then sleep sound until to 8 am. I got up and shaved looking at my vehicle side window to see my reflection. I made a protein shake. I tried to look as presentable as I could, for a guy living out of a car, so I could go to church. I had been frustrated all week, not impressed with the churches I found. So I got to wondering where Pensacola Christian College (PCC) sends all their students? Wherever it was, that is where I want to attend. So I searched Google and Campus Church came up. I had seen the place online earlier in the week, but didn't make the connection (my brain works slow...lol). I got there early and took these photos to share with everyone. The usher was friendly and said I was welcome to take photos. Everybody I met were super friendly and kind to me. I really liked being there! I was awestruck when I first stepped foot into the auditorium. It is GIGANTIC. The place must seat about 10,000 people. Within the next 30 minutes, the building packed full of people. They said it gets much fuller in the fall when all the PCC students return to school...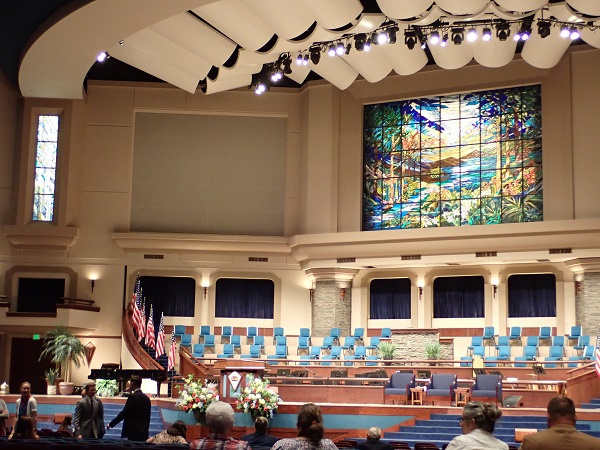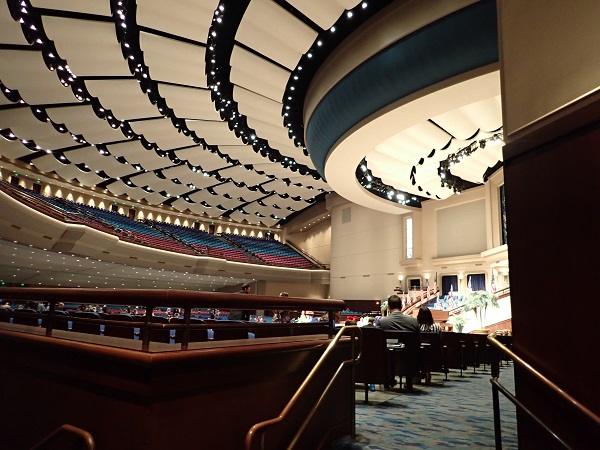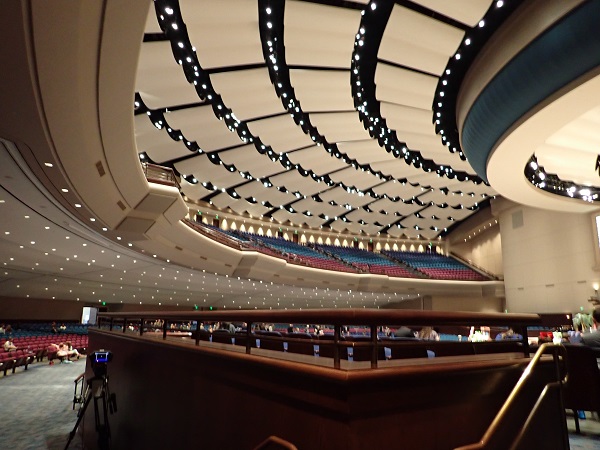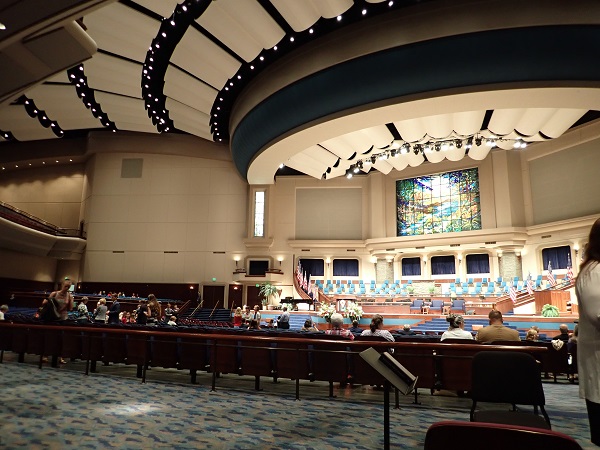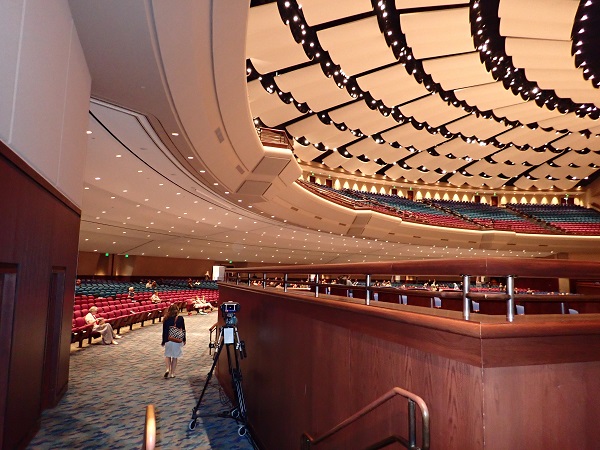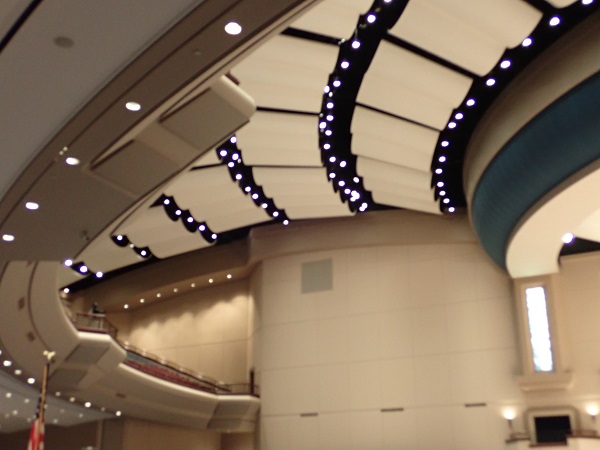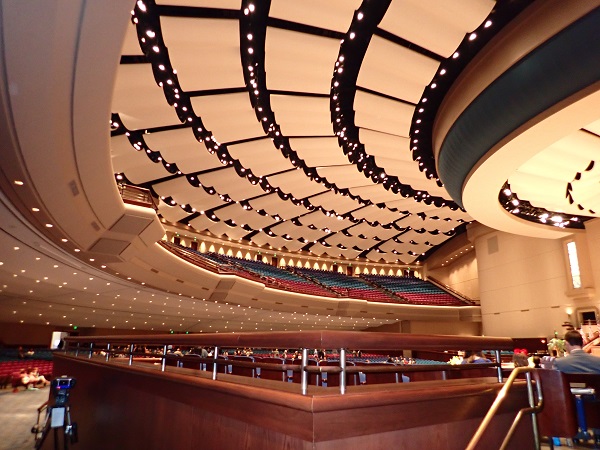 ABOVE: 7 Photos of Pensacola Christian College's CAMPUS CHURCH
So this is my new church home! Since today is the 4th of July they had a church picnic afterwards, and they welcomed me, so I definitely went. I felt like a fish out of water and was aimlessly wandering in the grass, when a kind man approached me and said I looked lost. I told him I definitely was lost as a new guest, and didn't know where to go. So he kindly welcomed me, shook my hand, and led me to a table of church members. He said this is the place for you! I was so happy to join them. I made a quick friend named Judy. She is age 52, a graduate of PCC and crippled in the lower body due to a car accident decades ago. I didn't say a word and she told me where the singles class meets each for Sunday School. It's like she read my mind. I also got to meet her mom and dad, Pat and Jerry. Their family is originally from New Jersey. So I have some friends already! We swapped e-mails.

I also met some other church members at our table, who told me that the kind man who befriended me, and brought me to their table, was none other than the church pastor himself. I had no idea. I was impressed that HE CARED enough to observe and notice that I looked lost at the event, and I sure was. I was about to leave, not feeling like I belonged, and the pastor took the initiative to befriend me. That is a good pastor! I also had filled out a visitor's card earlier. I still cannot believe how massive the whole place is. Wow! I have needed a church family for so long, and I now have one! Praise God! No church is perfect, and when I find their imperfections, they'll never hear it from me.

I left the church happy. Lord willing, I am going back each Sunday. I am going to attend their singles Sunday School class for sure! I would have gone tonight, but they aren't holding services on Sunday night today for the 4th. I am not sure what I will do tonight, probably just have a quiet night sitting in Wal-Mart's parking lot...lol. I walked around Wal-Mart last night, just to familiarize myself with what they sell, until they closed at 11 pm. They open at 6 am. My laptop battery is now at 80%, so I still have some time left. Then I need to check my e-mails next. I apologize to everyone for not replying to e-mails lately, I simply cannot keep up with everything.

Being in Florida has been so pleasantly strange for me the past couple days, because no face masks are required to be worn here. On Guam, you still by law have to wear a mask in all business and enclosed places. No one wears a mask here in Florida. I LOVE IT!!! Freedom! I hated wearing those stupid masks from day one. Paper face masks aren't even filtered enough to prevent contracting COVID-19. Even with a mask, you'd still catch the virus! So why wear it? So I love not having to wear that stupid face diaper anymore!!!

I will be sleeping in my vehicle again tonight. My body is still trying to adjust to the time difference. I told the pastor (not knowing that he is the senior pastor) that I just arrived 2 days ago from Guam. He instantly knew that my body's biological clock is out of whack, and it sure is, which is one reason I cannot sleep at night. So hopefully things will normalize in a week or two. Since tomorrow is July 5th, there is a much better chance of me finding housing. I am calling 3 different hotels tomorrow, which all have reasonable prices, and said I should call back after the 4th is over. So we'll see how things go. I need to get my Florida driver's license very soon. I e-mailed the doctor's office last evening, still waiting to see if they will accept me as a new patient or not.

The Campus Church ordered catering from Sonny's barbeque. I declined any food at first, because I didn't want to take anybody else's food, but they all insisted multiple times, so I ate with them. I had a pulled-pork sandwich, baked beans and coleslaw with 2 bottles of water. I was still hungry this afternoon, so I stopped at What-A-Burger and ordered a double cheeseburger. Heaven came down! Boy, that was a great burger, loaded with lettuce, tomato, pickles and all the stuff I love. Thank you Lord! Now I have to fast until tomorrow! I drank a large unsweetened tea today with the meal, which is what I drank at MacDonald's yesterday (zero calories). Tomorrow I hope to find a hotel to stay, which would make things a lot easier. My neck hurts very badly right now, and I am used to taking a daily nap for an hour or two. It is hard to sleep in my car.

I mentioned at our dinner table at Campus Church today that my attitude is always to just love everyone, and if they love me back that is a bonus; but if not, I have a need to love others. Judy's father (whom I didn't know was her father at the time) said to me, "That sounds like unconditional love." I said, "Yes Sir, it sure is." Jerry is absolutely right! God is love, and as His child God's Spirit lives inside of me, and I cannot live without love. God willing, I plan to be at church next Sunday morning and Sunday night. I am not sure about Wednesday yet, I have to wait and see how the week goes, and how I feel. My body is hurting everywhere. I had been following the death toll in the East Side condo collapse. I just checked and it is up to 22 so far. What a horrible way to die, sleeping soundly one moment and buried beneath a mountain of ruble the next. We have so much to be thankful for to God.

I wanted to sit in MacDonald's again today, so I could work and keep my laptop charged, but the dining room is closed today for the holiday. Most places are closed. I even drove by China Wok, because I was craving their egg rolls. They were also closed. I asked at What-A-Burger, but they don't have Wi-Fi. I haven't had any time to write blogs or articles for my website ministry this past week. Lord willing, hopefully once things start to settle down for me, I can get back to writing daily. Right now everything is hectic, up in the air, and I'm doing the best I know how with the Lord's strength. I am so happy to have a church family. I want to get involved, but not overdo it by pushing myself, or I'll quit. They even encouraged me and said there was no pressure to do anything. I am glad they made me feel at home.

I love everybody, sincerely. I am so glad to be here in Pensacola. I had felt out of place on Guam, ever since I first arrived there in 2004. It feels good to be back in the United States. My mind and body are tired, but I am in good spirits. One day at a time. Jesus is precious!!!
The Gift Of Eternal Life Is Wrapped In The Wonderful Package Of Jesus
END OF ARTICLE
"Faith is the only righteous thing that I can do!"
—Pastor Jack Hyles, a quote from the MP3 sermon titled: "God's Reversal Of Psalm 51"
1st Corinthians 16:24, "My love be with you all in Christ Jesus. Amen."
---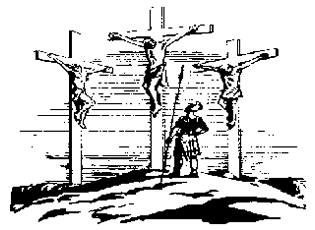 How Permanent Is Your Salvation?
(an excellent MP3 sermon by Pastor Hank Lindstrom, 1940-2008)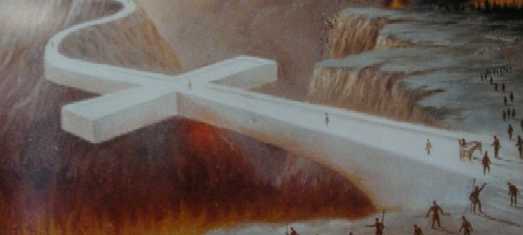 Mark 1:15, "...repent ye, and believe the gospel."
"The mark of the child of God is that he loves everybody!"
(a quote from Pastor Jack Hyles' classic MP3 sermon, "FORGIVENESS")
Mark 11:22, "And Jesus answering saith unto them, Have faith in God."
---
Ye Must Be Born Again! | You Need HIS Righteousness!