A Trip Around Guam For My Web Visitors
by David J. Stewart | January 2021
I decided to take a drive around the southern part of the island of Guam today, to share these photos with my web visitors. I have 60 photos to share with you below. But first I'd like to share my heart, to let everyone know what my personal burdens are.

As many of you know, I have been wanting to move back to the United States for several years. I cannot find a wife on Guam. The largest independent Baptist church, Harvest Baptist Church of Guam, has cruelly banned and ostracized me since 2014. They are caught up in the Devil's corrupt modern Bible versions, and the Devil's lie of Lordship Salvation. They are all Bob Jones University alumni and blinded by the Devil. I tried to free them with the truth, but they have counted me as their enemy since, like they did the Apostle Paul. Galatians 4:16, "Am I therefore become your enemy, because I tell you the truth?" Sadly, the pastors of Harvest have pathetic attitudes, arrogant, thinking they know more than God (Romans 3:4). You cannot show me one Bible verse that says to "turn away from your sins" to be saved, and any fool can see that something is very wrong with all of the modern Bible revisions. Only the King James Bible stands true to honor Jesus Christ! Oh why won't they heed the truth?

Anyway, I am praying for the Lord to give me peace about where to move. I am suffering in neck pain all the time from my old injuries, so too big a city won't work for me. And too small a town won't be good either. I like Tucson, Arizona, but I've been reading that the traffic is bad there. Still, I like Tucson a lot. I'm looking elsewhere in Arizona. I cannot be shoveling heavy snow with my neck injury. Also, somewhere in Tennessee appeals to me. I'll move anywhere that God shows me. But so far I haven't found peace in the matter. I've considered Kentucky and Texas. I just don't know. This is so hard for me. Please pray for me. Right now I feel like I don't have a friend in this world. I know I have many friends across the world through my ministry, and throughout Africa, but I need to find a church family. I am all alone in life, but I know Jesus is with me (Hebrews 13:5). Still, everyone needs connections with people. It is not good for anyone to be alone. The Harvest Baptist Church of Guam might as well have literally thrown me under a speeding bus. Still, I love them dearly! They are so selfish, but I forgive them. What they meant for evil, God meant for good, to save many people alive (Genesis 50:20).

Lord willing I will turn 54 on March 5th. I have been wanting to move back to the United States for several years. There is no reason for me to remain on Guam. I'd stay permanently on Guam if Abby asked me to, but she won't even wave at me because of my Biblical stand against the ungodly pastors at Harvest, who don't care about truth. She has my email, but has never wrote back to me. There is so much I want to share with her, but so far it has only been a one-way street. She told me not to write her back in 2017, when I gave her a care bear with her name on it. Since I am a gentleman, I would never contact her, per her request. I have been in love with Abby since 2017. She has been visiting her younger female friend across the street, every evening at sunset, since I wrote her a poem a couple weeks ago. She is my happy thought. Abby brightens my every day. I am sad when she is gone. I wish, hope and pray that she would love me too.

Albeit, I think she is intrigued that I love her, but that's it, she doesn't feel the same love toward me. I pray that she would contact me, so we could talk, but I don't think she is interested. Sadly, our paths don't cross. I so much wish Harvest Baptist Church would have given me a chance to be part of their church family, but I guess I'm thinking with my heart's love for Abby, and not seeing that Harvest is a cesspool of doctrinal iniquity. I humbly wish I had the power to fire all their pastors, and bring in true men of God who love the truth and people. Something is wrong with pastors who don't care about everyone, who don't go door-to-door soulwinning. Sadly, Harvest is fruitless!

Abby makes me happy whenever I see her. I really need to move off Guam soon, so I can close this painful chapter of my life. If Abby doesn't want me, God has someone else for me. Jesus said in Mark 11:22b, "Have faith in God." They don't care about the purity of God's Word. They don't care about the accuracy of the Gospel. They don't care about hurting sinners like me, who has pleaded for their help hundreds of times since 2014. They read all my articles and know exactly where I live. They have no excuses. Proverbs 24:12, "If thou sayest, Behold, we knew it not; doth not he that pondereth the heart consider it? and he that keepeth thy soul, doth not he know it? and shall not he render to every man according to his works?" I need to leave Guam to forget about Harvest, just like they have forgotten me as a human being. People are like sheep the Bible says. They follow whatever their pastors teach them. Proverbs 14:15, "The simple believeth every word: but the prudent man looketh well to his going."

Anyway, forgive my rambling, my heart is broken and heavy right now. I feel like crying lately, just wanting things to get better. I think of people crippled in wheel chairs, and people in prison, and people who are blind, deaf and children with cancer. I am so blessed of God. I cried today as I drove and thought about how good our God is, and that He continues to use a nobody like me to help get people saved, and feed His sheep. It is my joy and privilege dear friends to serve you, as I serve Jesus Christ. The Bible says he that is greatest among you shall be your servant. I am your web servant! I love you all, whoever you may be. I don't hold grudges. If I am your friend, you'll have a friend for life. It's hard to believe that I will have had my online website ministry now for 19 years in April. To Jesus Christ alone be the praise, credit and glory! Thank you Lord.

Okay, having said that. I like to visit graveyards from time to time, to remind me of how short this life is, and to keep my heart soft toward lost sinners. The first place I stopped today on my trip around the southern part of Guam is a cemetery in Umatac. This first tombstone touched my heart. I like to look at the year people were born and died. This young man has the same middle name as I do, "John." Oczelle John Pedroso was only 24 years old when he died. Wow, that is a short life. I pondered how he died. I do not know. My heart goes out to him and his family. Dear friend, life is so unpredictable.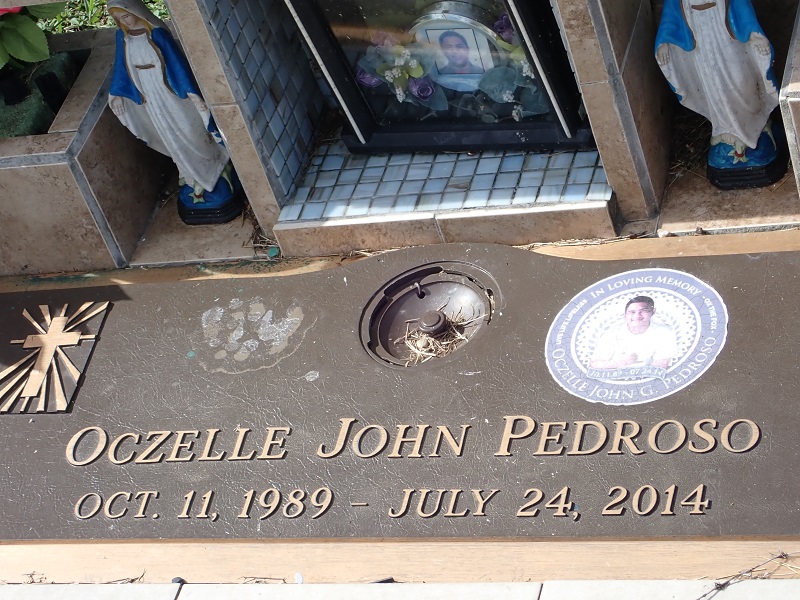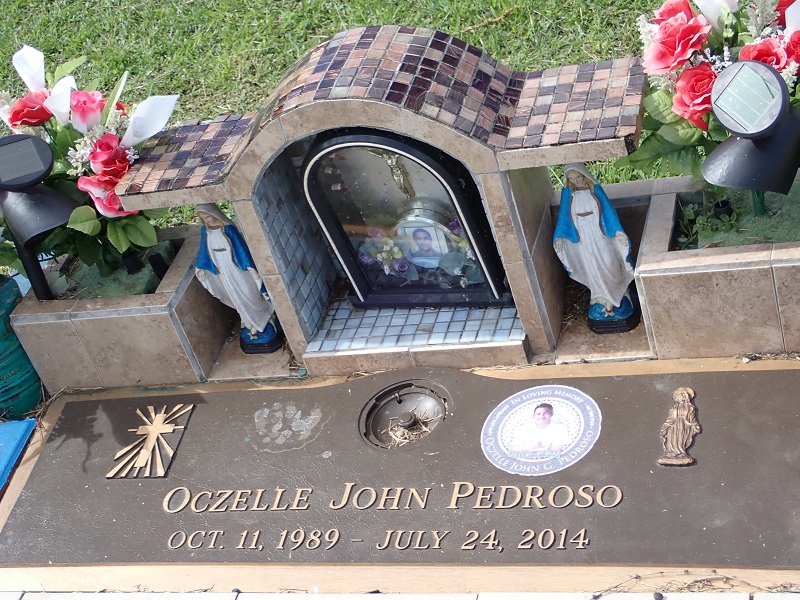 ---
ABOVE: Here is another man who lived a very short life. Fejeran Anthony was only 38 years old when he died. I wonder if he was saved or lost? I do not know. Oh how we need to warn the lost about Hell. It is so easy and free to be saved, simply by faith in the Lord Jesus Christ (John 6:47). If you believe that Jesus died on the cross to pay for your sins, and that He was buried, and that He physically resurrected three days later, and that is your only hope to get to Heaven, you are saved (1st Corinthians 15:1-4).
---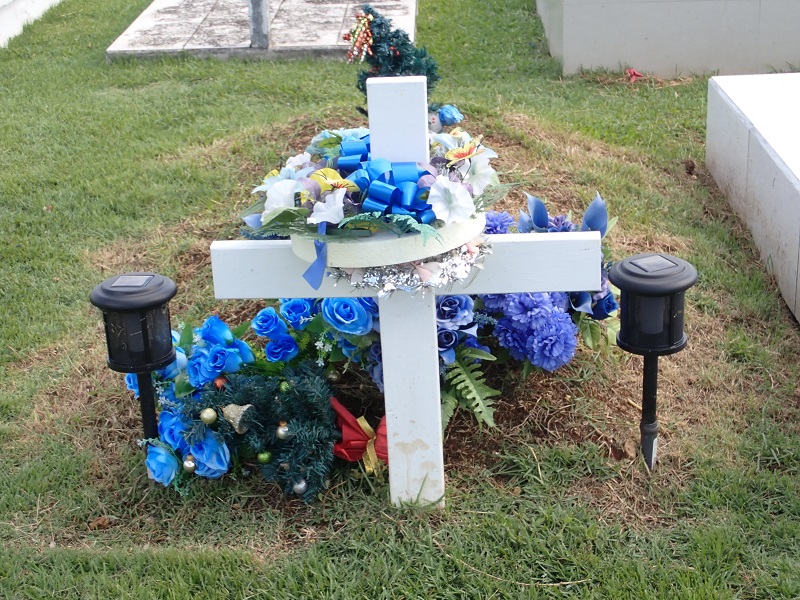 ABOVE: I don't know who is buried in this grave, but I took a photo to honor the person.
---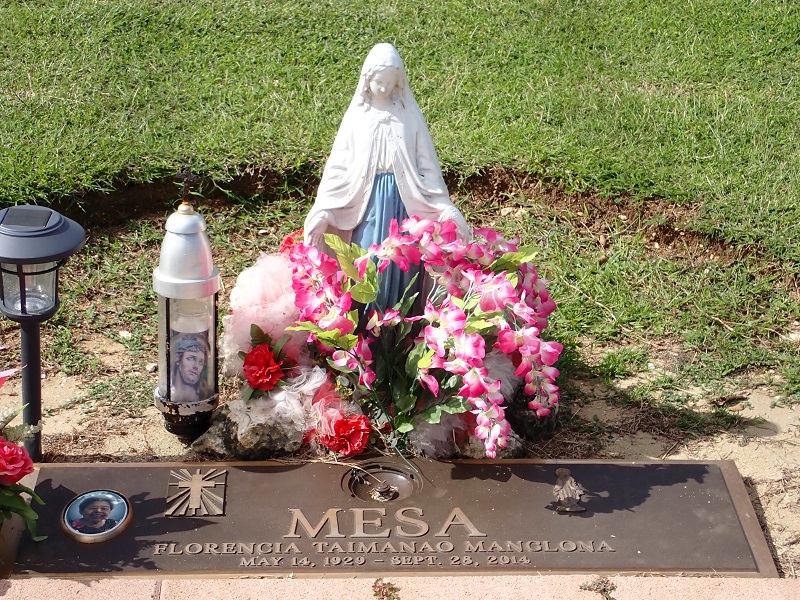 ABOVE: I was saddened by this grave, seeing the statue of the Virgin Mary. This very likely means she (Florencia) died in her Roman Catholic faith. Dear friend, Catholicism is the Devil's prisonhouse of religion. Catholics don't place their confidence only in Christ's finished work of redemption. Instead, they trust in the Seven Sacraments of the Catholic Church to save them. Instead of trusting the one Mediator between God and men, Jesus Christ (1st Timothy 2:5), they put their trust in the Catholic priest to forgive their sins. There is no such thing as a Lutheran minister nor a Catholic priest who has ever forgiven even one sin! Not one! Only God can forgive sin. Even the heathen Pharisees knew that (Mark 2:7). John 14:6, "Jesus saith unto him, I am the way, the truth, and the life: no man cometh unto the Father, but by me."
---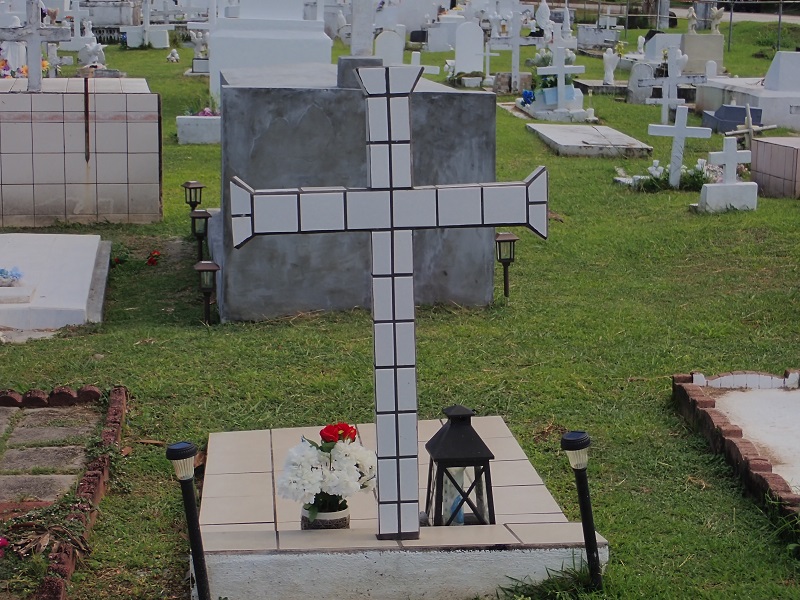 ABOVE: Another unnamed grave. I am not sure why there is no name. God knows who it is. Where are they in eternity?
---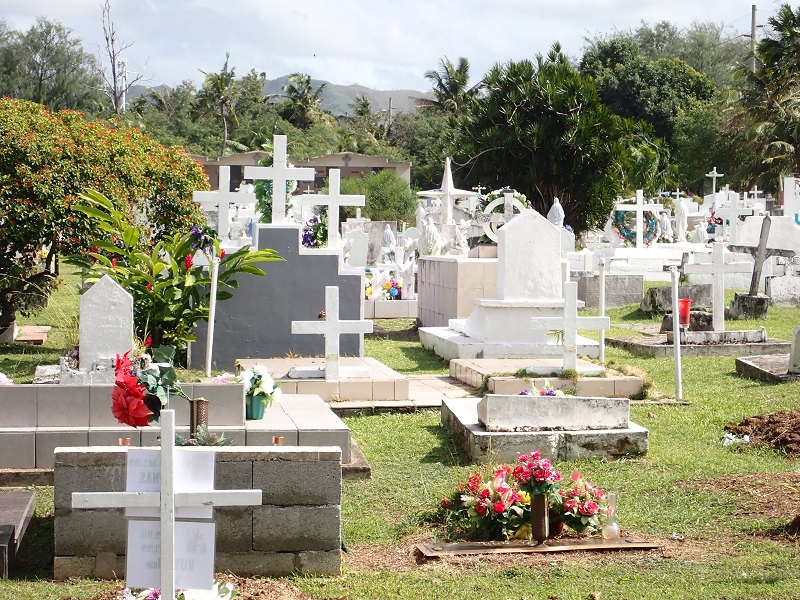 ABOVE: A larger picture of the cemetery. I have always been amazed how so many people will avoid religion their entire life, but then when people die all the crosses come out. Have you ever noticed that too? Please don't wait until it is too late dear reader, God wants to save you right this moment, freely and forever. Simple take God at His Word as recorded in the King James Bible. Jesus said in John 11:25-26, "Jesus said unto her, I am the resurrection, and the life: he that believeth in me, though he were dead, yet shall he live: And whosoever liveth and believeth in me shall never die. Believest thou this?" Simply BELIEVE on the name of the only begotten Son of God, Jesus.
---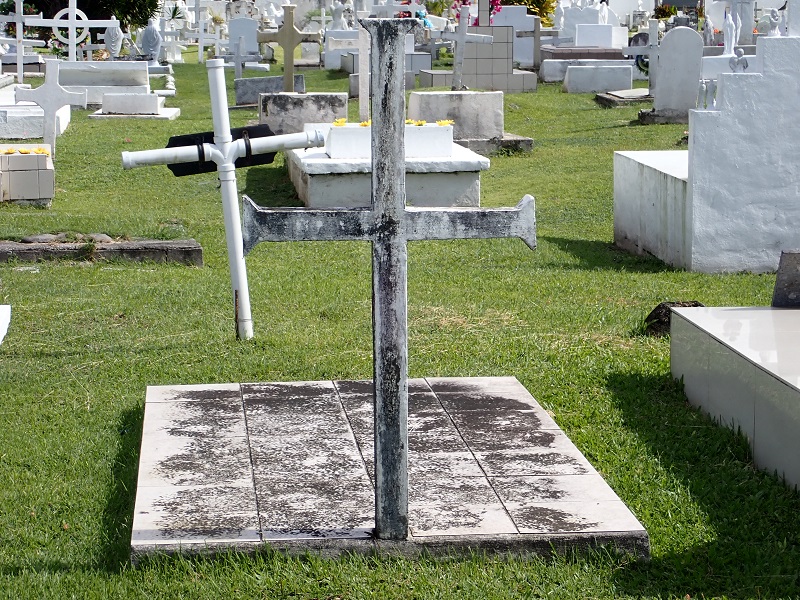 ABOVE: Another unnamed grave marking. Are you born-again dear friend? Have you received Christ as your personal Savior? I did when I was just 13 years old, and I have never regretted it for one second. John 5:24, "Verily, verily, I say unto you, He that heareth my word, and believeth on him that sent me, hath everlasting life, and shall not come into condemnation; but is passed from death unto life."
---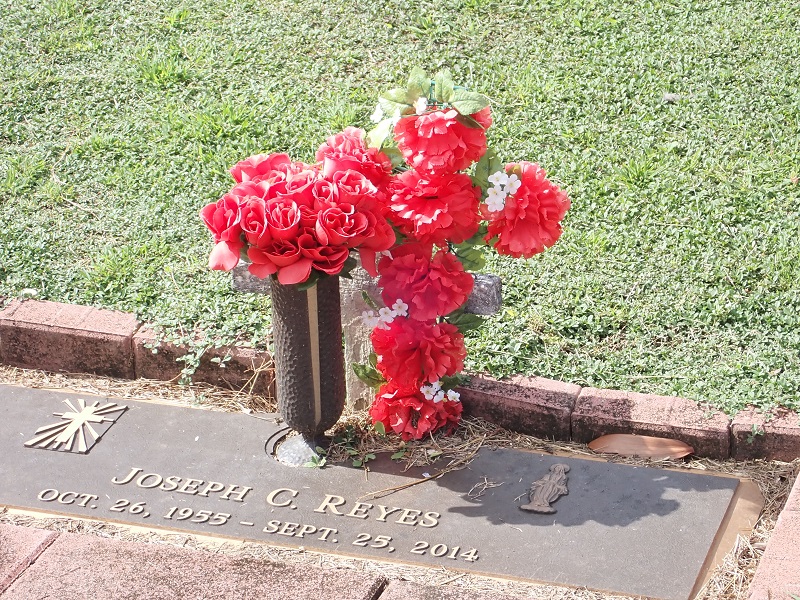 ABOVE: This dear man, Joseph C. Reyes, was only 58 years old when he died. So many people die before their time. The Bible says man days shall be three score and ten (70 total). I am 53 years old. My Mom died at age 65 in 2001. My Dad died at age 76 in 2010. My turn to die is next! I am ready dear friend, are you? I have peace with my God through Jesus Christ. I know that my name is written in the Lamb's Book of Life. I read a wonderful Bible verse yesterday that I noticed for the first time. Philippians 4:3, "And I intreat thee also, true yokefellow, help those women which laboured with me in the gospel, with Clement also, and with other my fellowlabourers, whose names are in the book of life." Is your name in the Book of Life? It is if you've trusted Jesus as your personal Savior.
---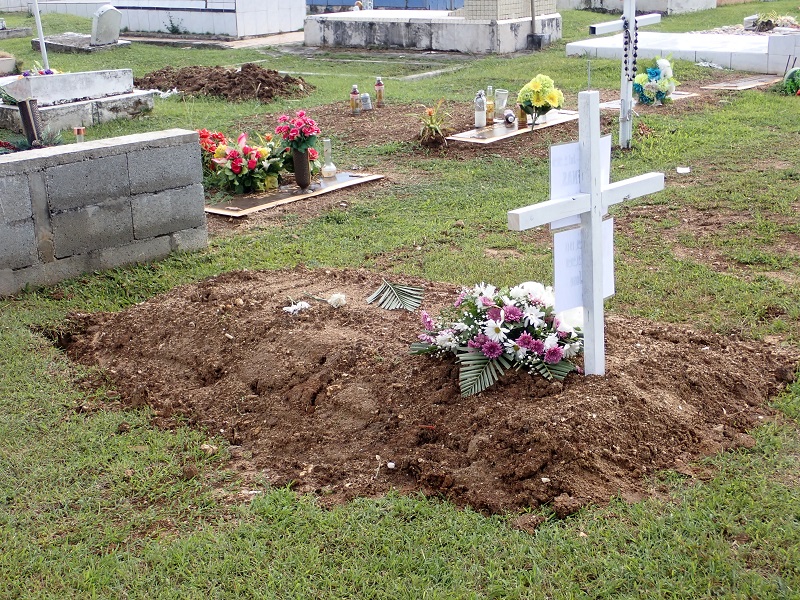 ABOVE: This is a compelling sight. Ecclesiastes 12:7, "Then shall the dust return to the earth as it was: and the spirit shall return unto God who gave it." I love you dear friend, please make sure you are saved. If you have any doubts at all, please email me and let's get this settled. I have seen pastor's wives realize 15 years into her husband pastorate that she was not really born-again. Deacons sometimes get saved 20 years after being in a church for decades. There is no shame in admitting that you don't have sweet assurance. You simply need a good Bible teacher, and by God's grace you got him! God put me here for a reason, because I am a truth-teller. Here is a helpful book I wrote titled: "SALVATION." I have never received one penny for my website ministry, nor ever will. I love you friend. I do this all for Jesus, precious Jesus!
---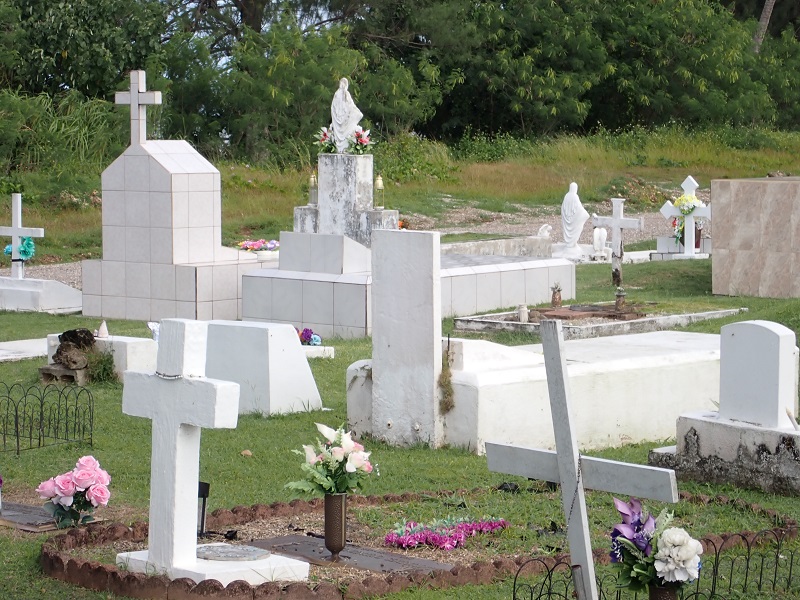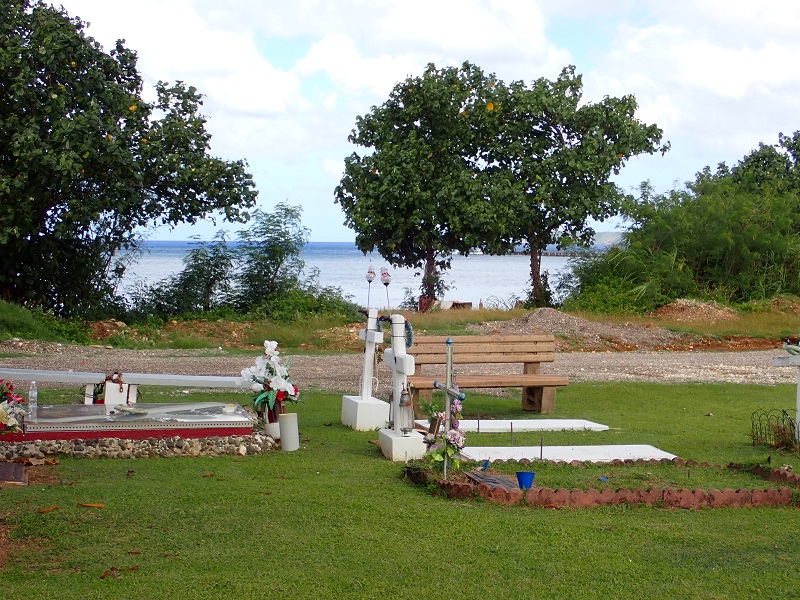 Revelation 14:13, "And I heard a voice from heaven saying unto me, Write, Blessed are the dead which die in the Lord from henceforth: Yea, saith the Spirit, that they may rest from their labours; and their works do follow them."
---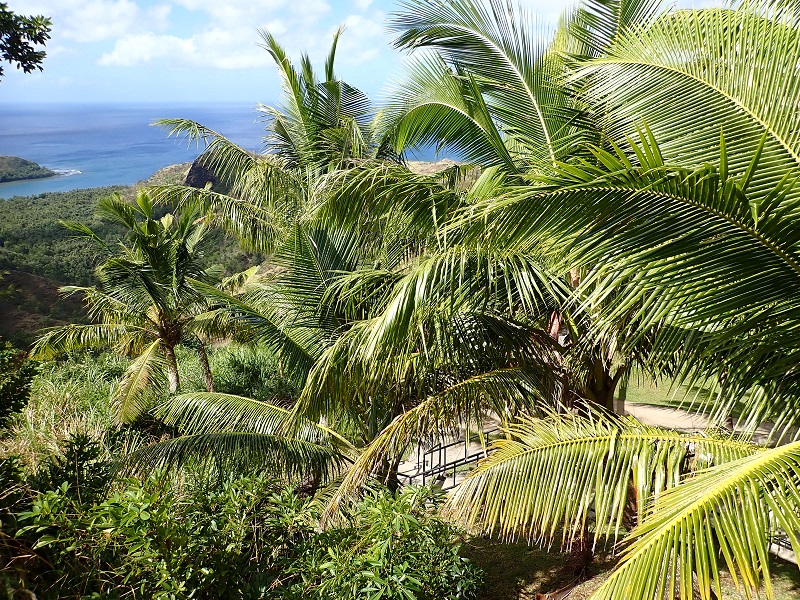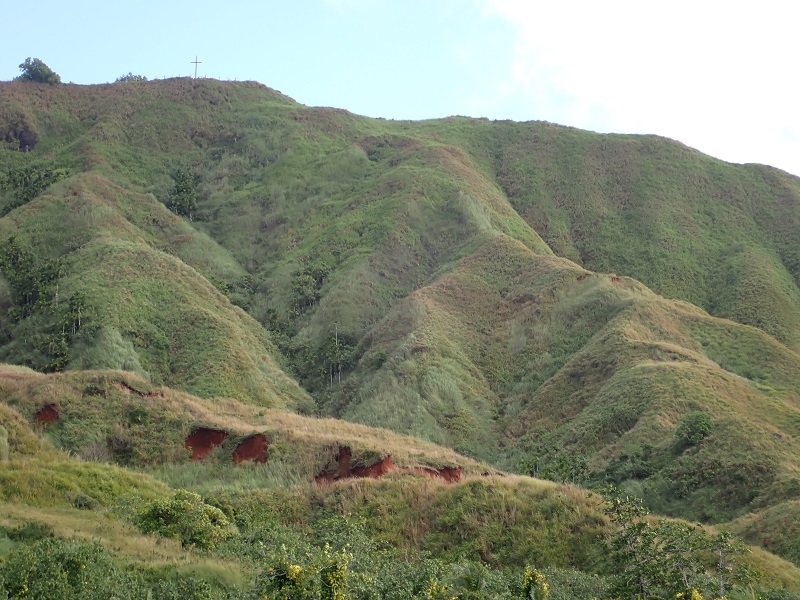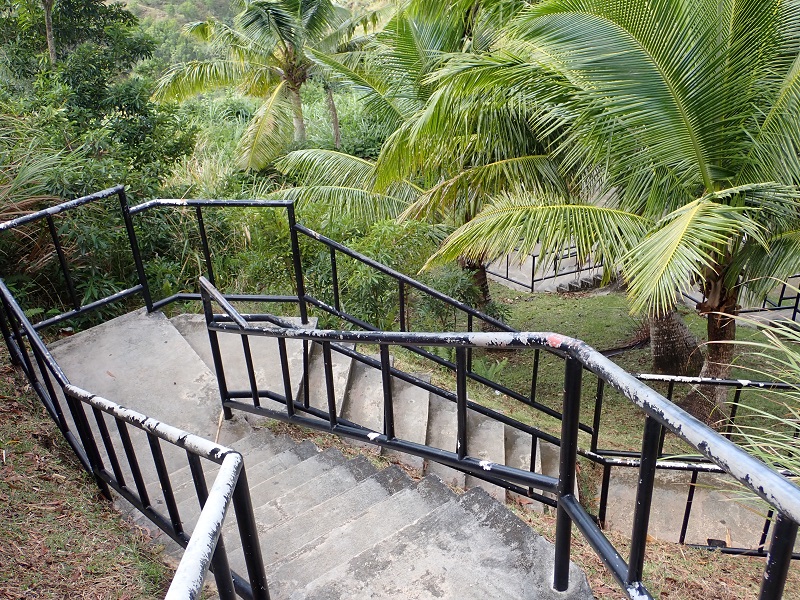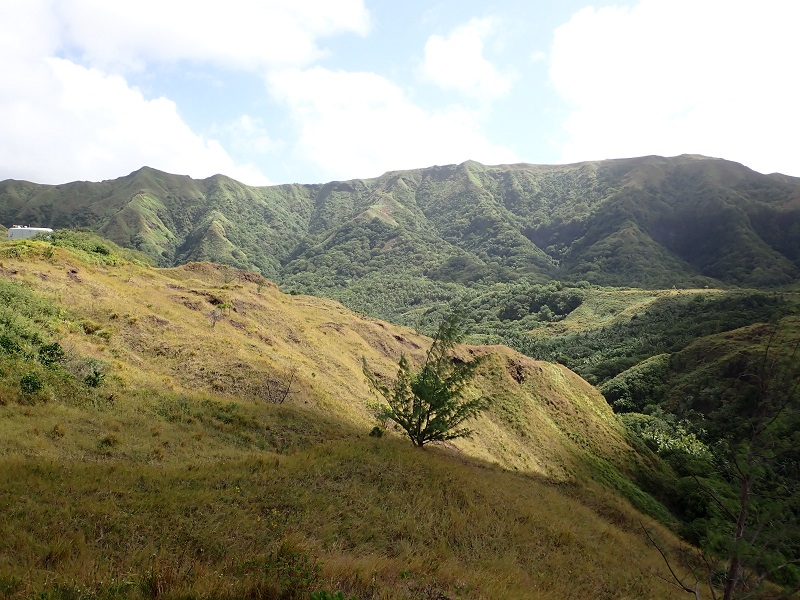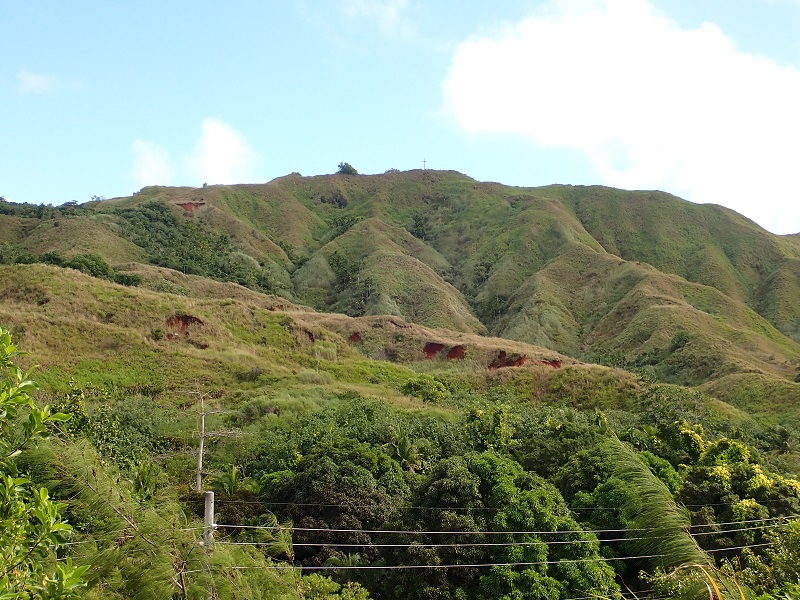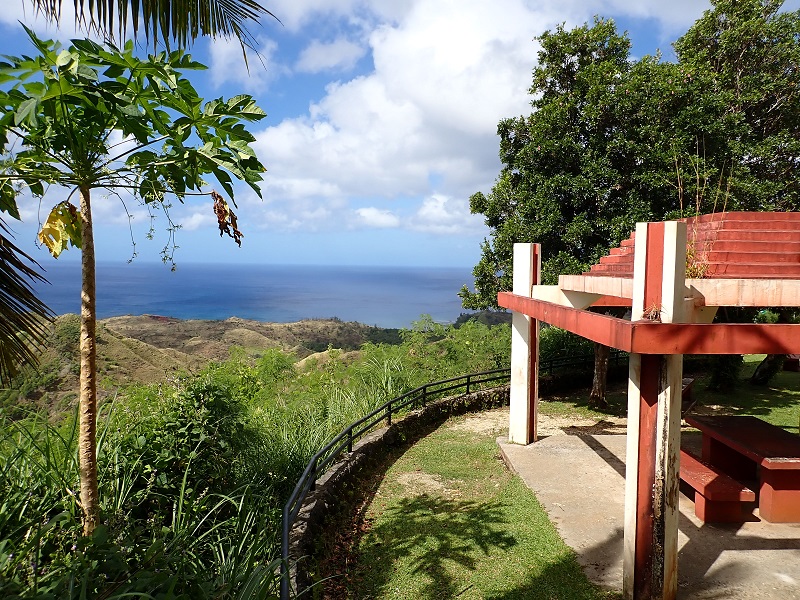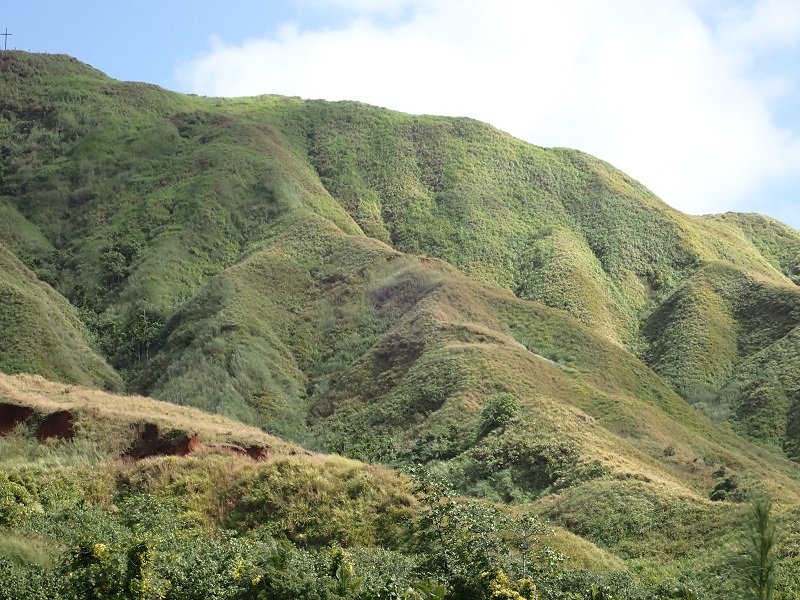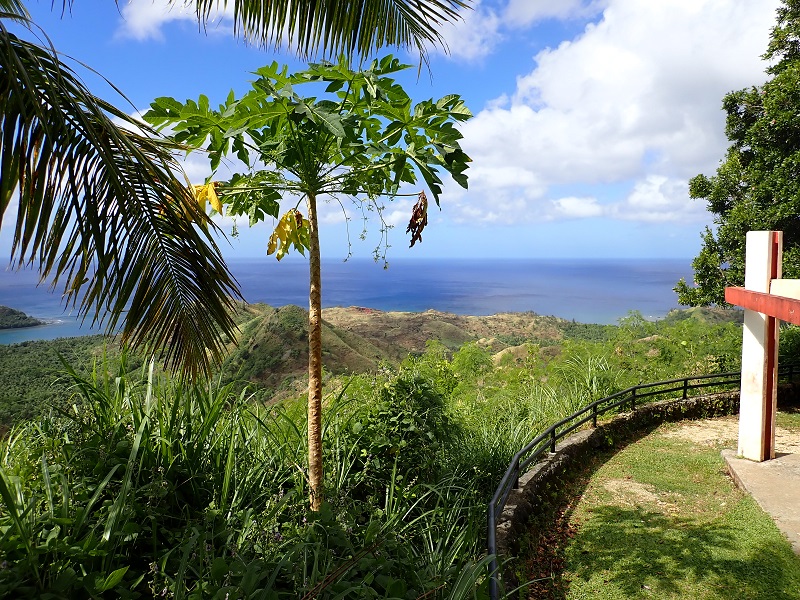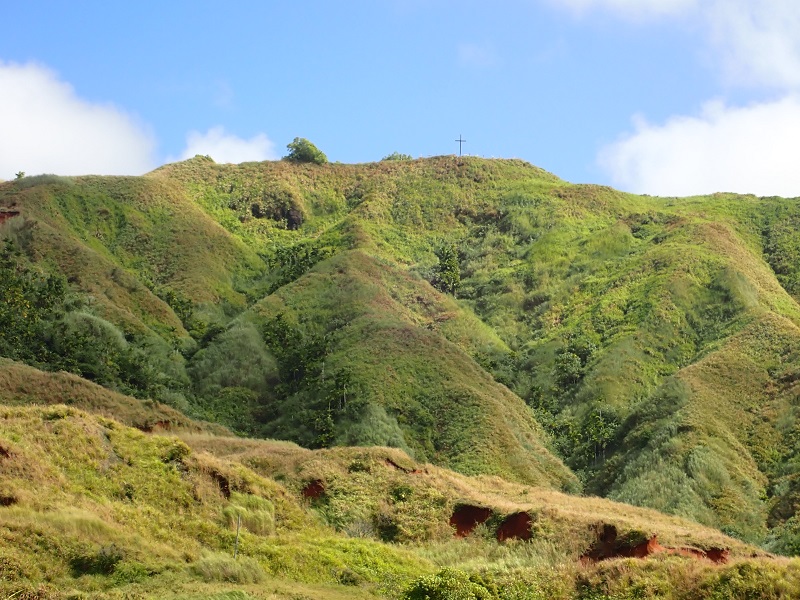 ABOVE: All these photos were taken in Umatac, from a tourist lookout along the way. I climbed up the steep stairs and took these amazing photos just for you my fine non-feathered friends. Since I am alone in life right now, my web visitors are all I have. So I am sharing my time and heart with you. These hills on southern Guam are breathtaking. It may not be as beautiful as the 7,000 foot high towering mountains in Oahu, Hawaii, but Guam has its own charm and beauty all its own. Guam's hills at the highest reach up about 1,300 feet.

In one of the photos, you can see the steep staircase that I carefully climbed. Going up is not a problem so much for me, it is coming down where I must be extremely careful, or my legs may give out and I'll break every bone on my body tumbling down on my head. My neck injury (stenosis and radiculitis) causes knee jerk reactions, so I am always careful going down stairs. I thank God I am still able to ascend and descend this steep staircase by myself. That made me feel good today.
Here is a panoramic photo of the hills in Merizo | Panoramic Two
---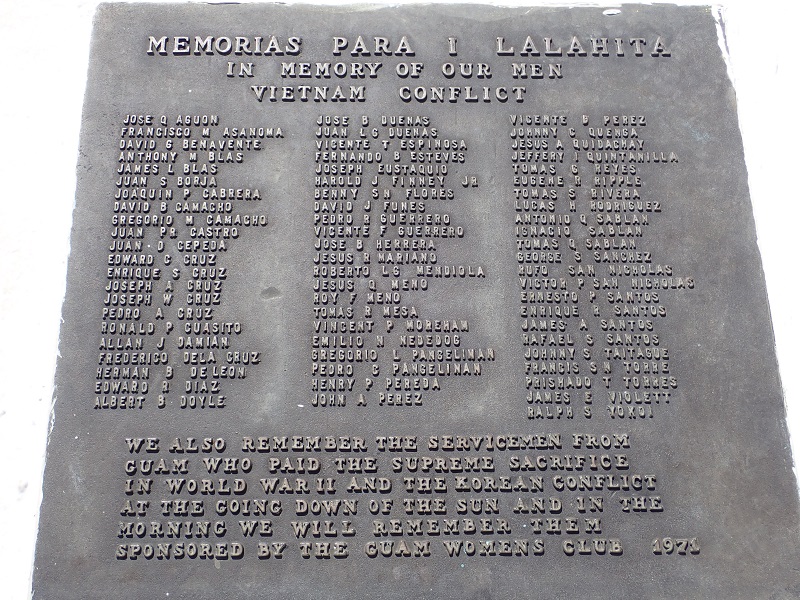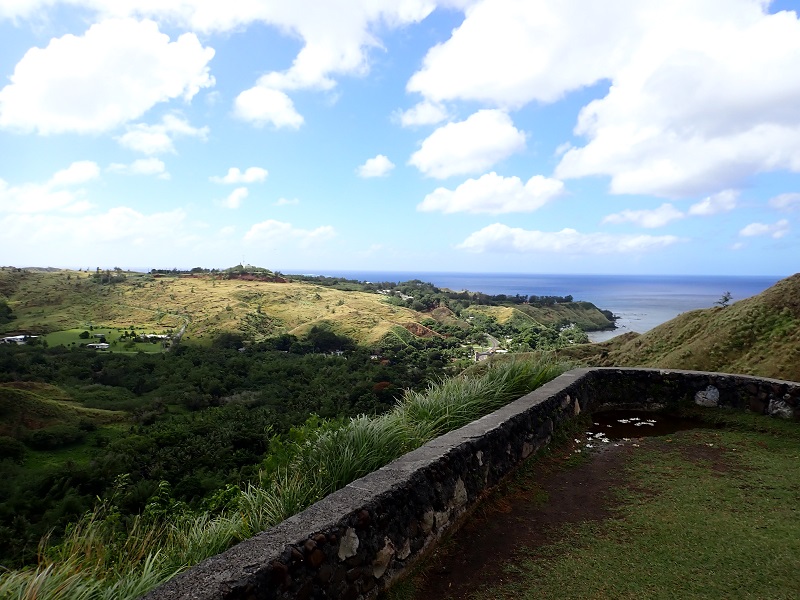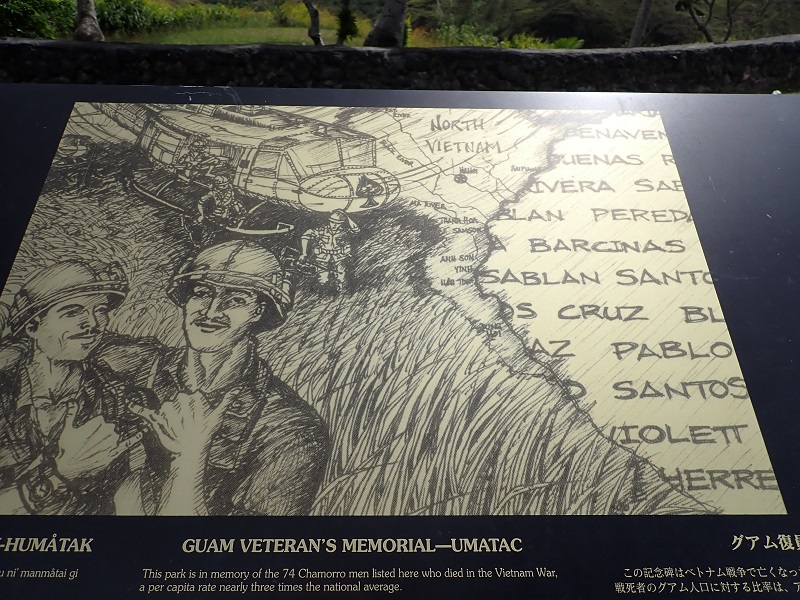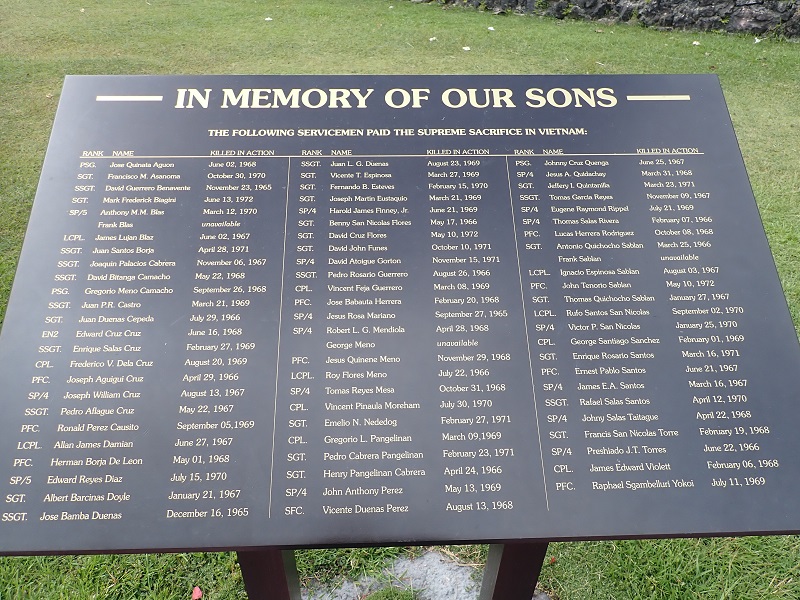 ABOVE: These are photos of Guam's Vietnam Veterans Memorial Park. These plaques list the brave names of the soldiers who died in service to their country. Pastor Jack Hyles (1926-2001) once said something profound that I had never thought of before. He said that most of our freedoms were paid for with teenage blood. That is so true! Thank you to all the veterans and their families!!!
---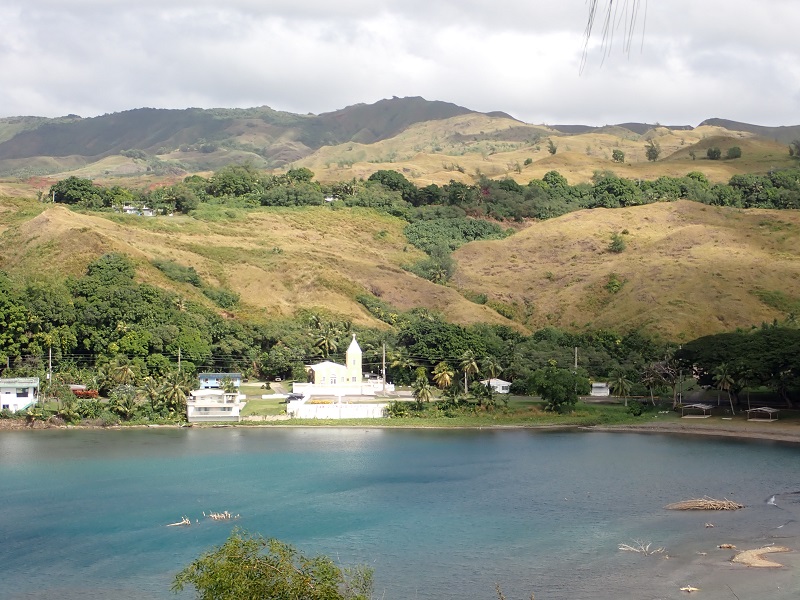 ABOVE: I took this photo of a little quaint church in Merizo, looking down from Fort Soledad.
---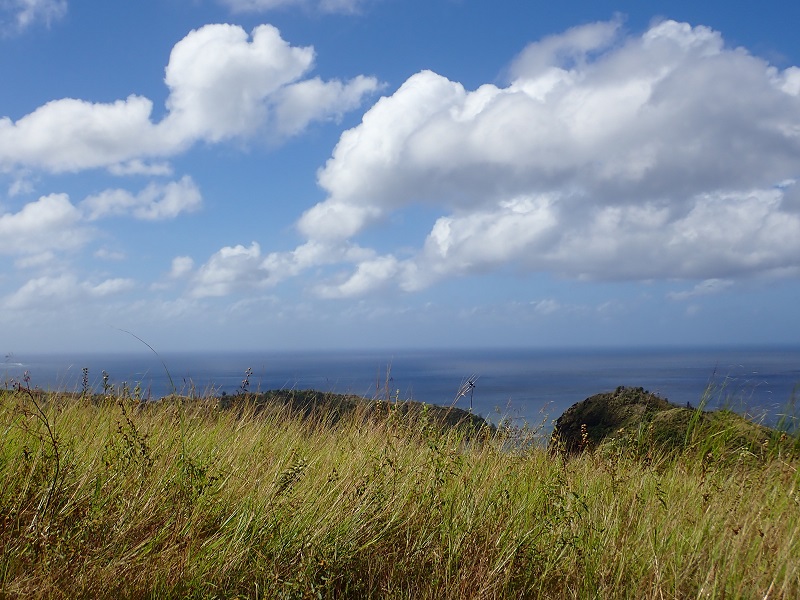 ABOVE: Fort Soledad overlooking the south Pacific Ocean.
---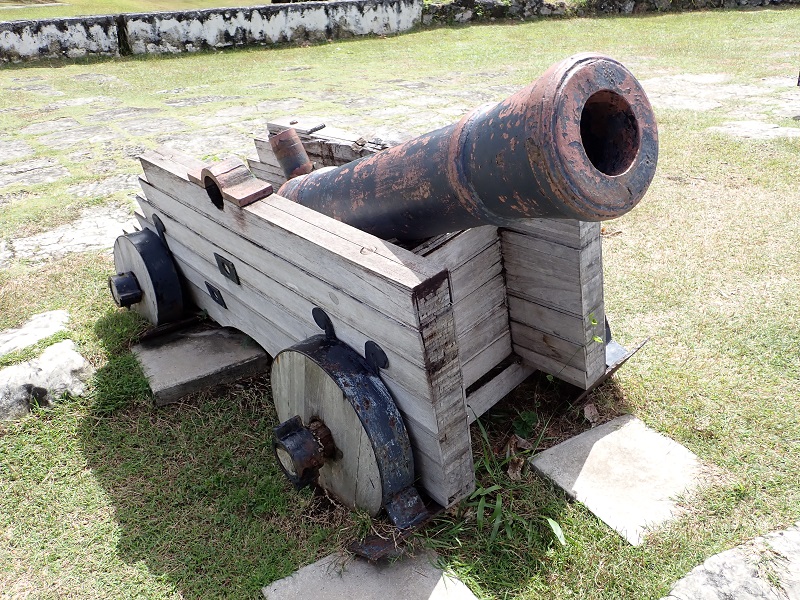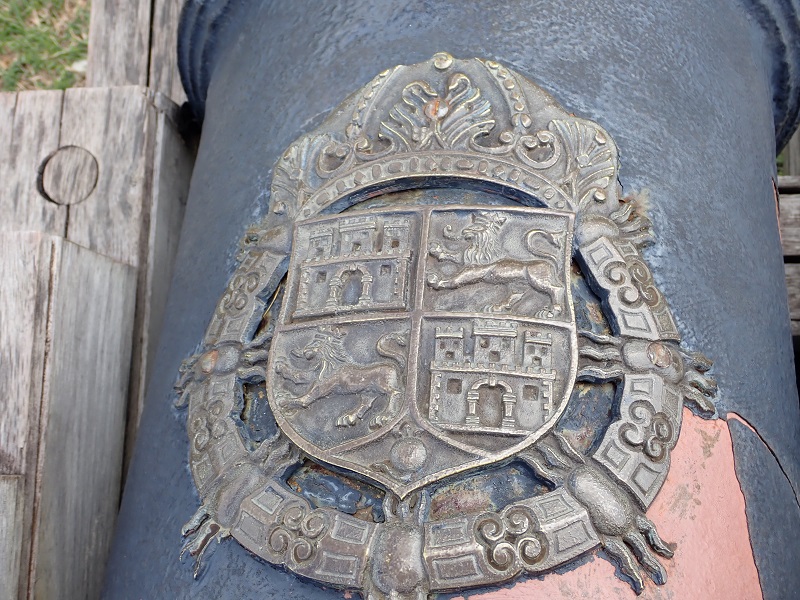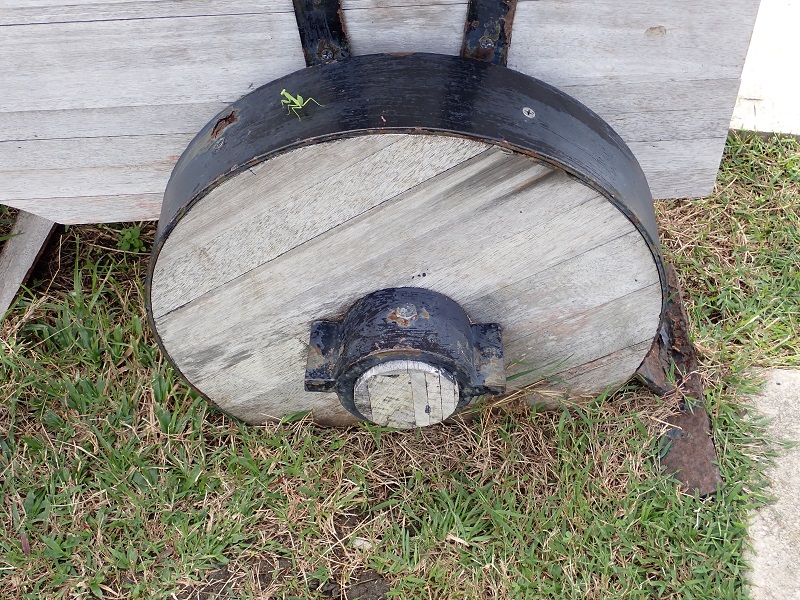 ABOVE: I took these three photos at Fort Soledad. I love these old cannons, which date back to the Spanish conquest of the island of Guam in the 16th century. To my understanding, this is where the strong Roman Catholic presence on Guam originated, with the Spaniards. The second picture is of a crest on the side of the canon. And lastly, an amazing wheel made of wood. Did you know that George Washington has teeth made of wood? Ouch! Thank God for modern times!
---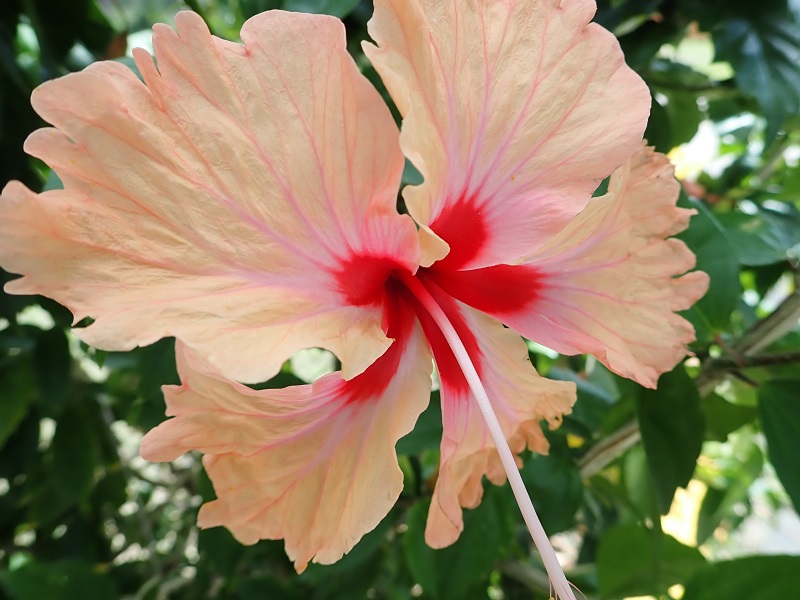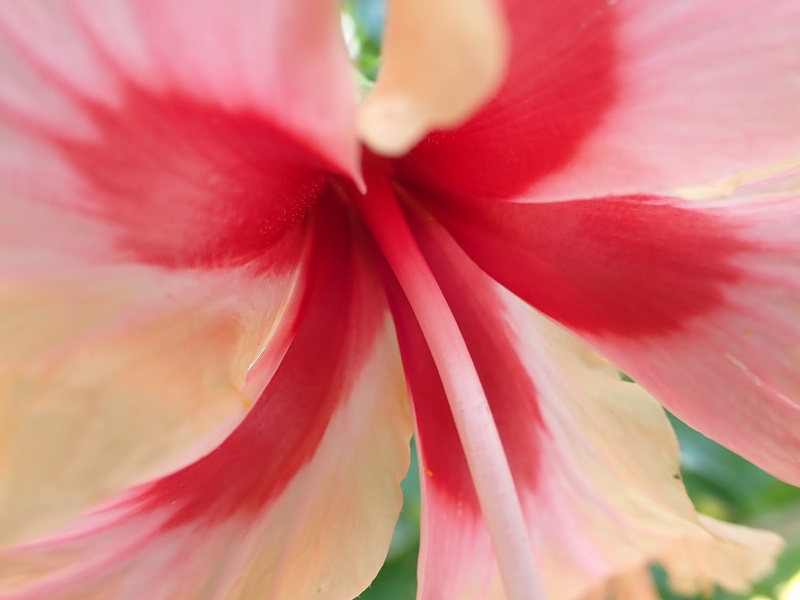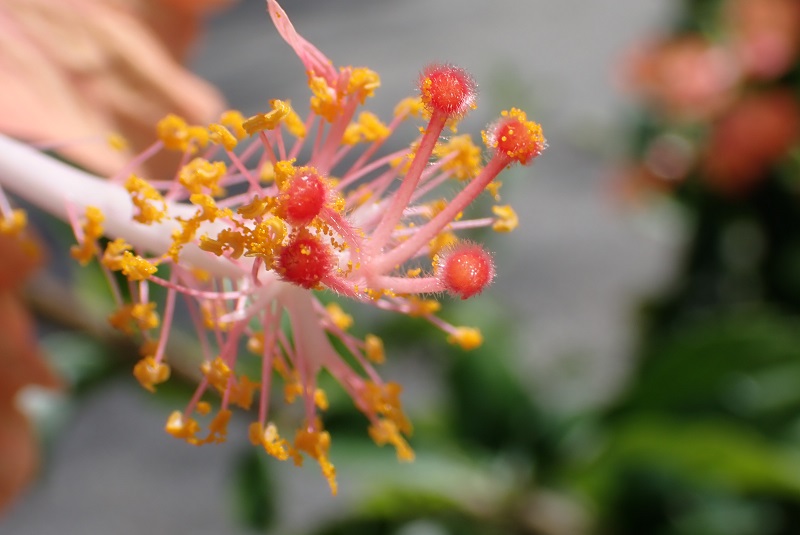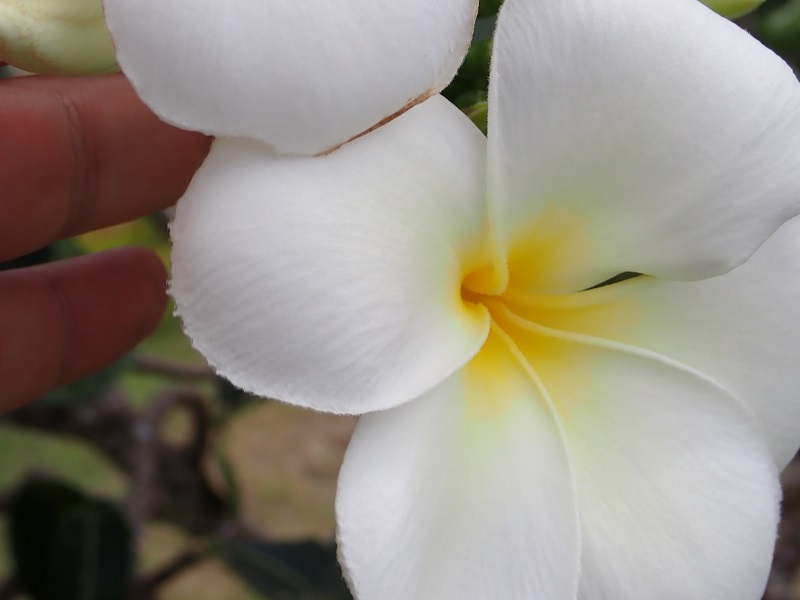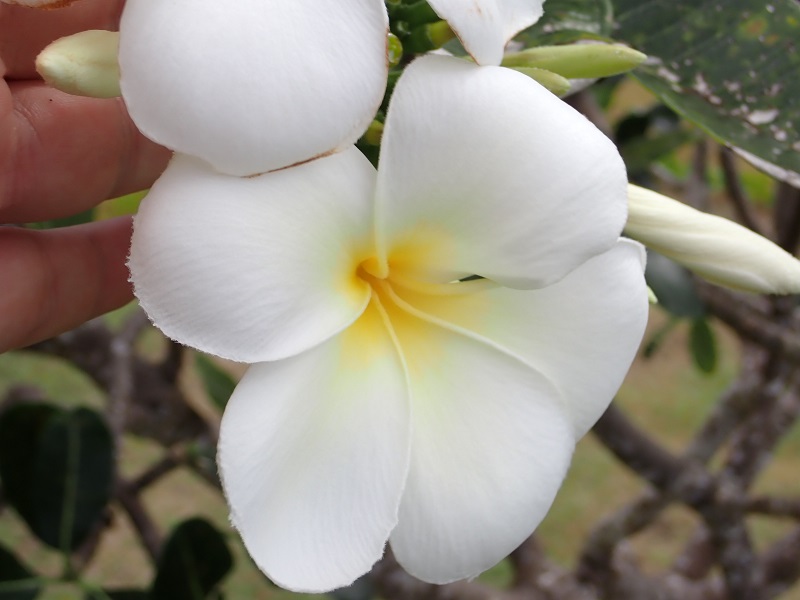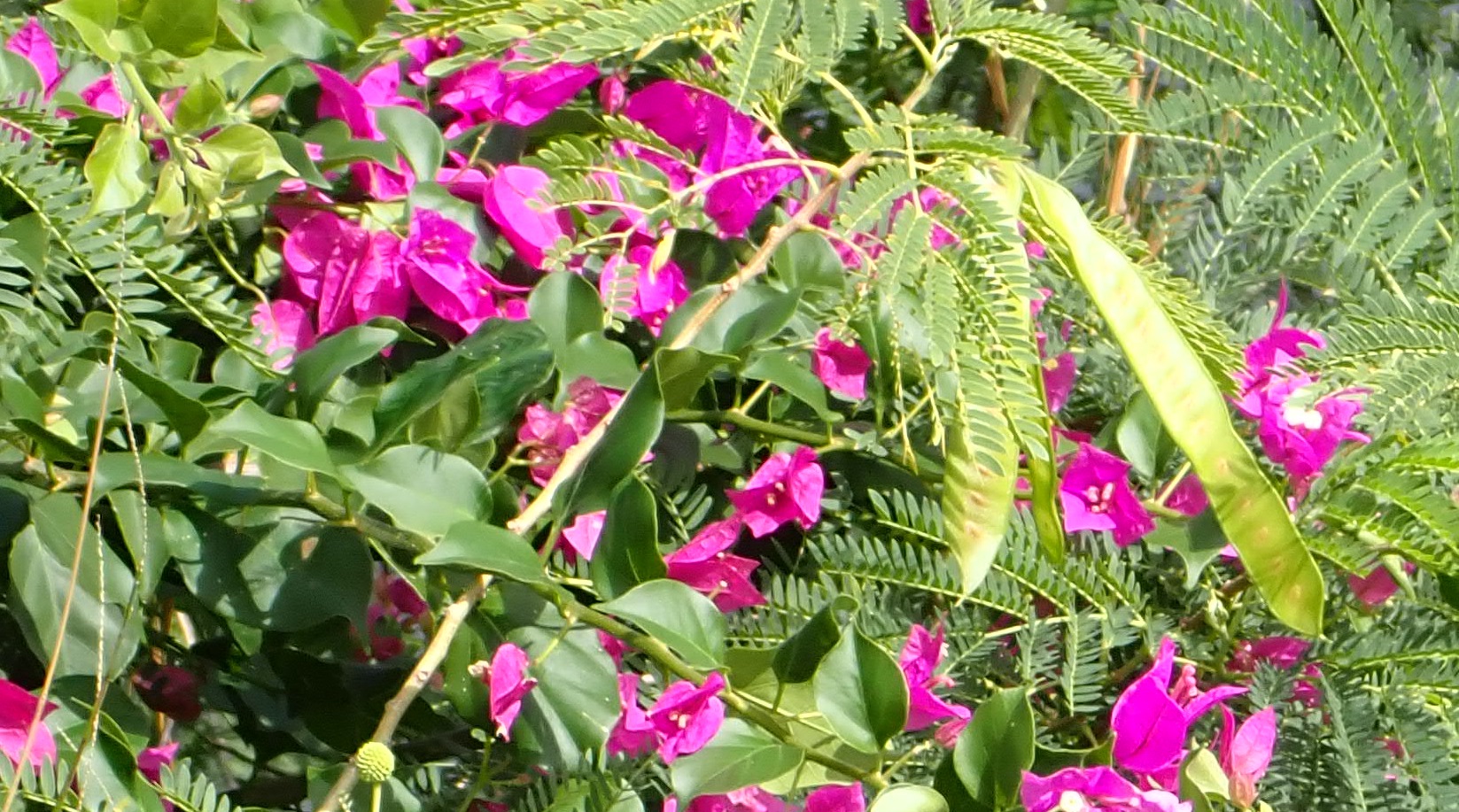 ABOVE: I took all these incredibly beautiful photos of flowers at Fort Soledad. I am a sucker for taking pictures of flowers. How could anyone ever doubt the existence of God? And He is a very good God I might add! Psalms 145:9, "The LORD is good to all: and his tender mercies are over all his works."
---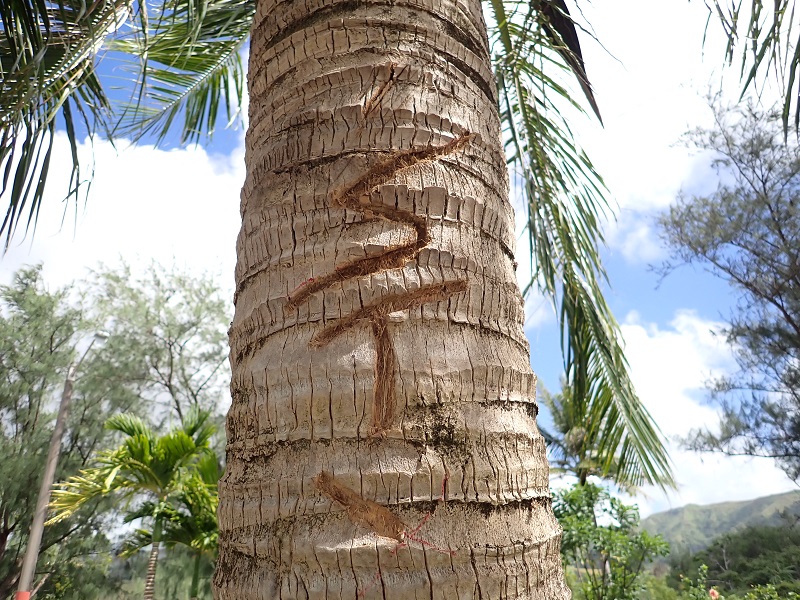 ABOVE: People like to carve their names into coconut trees. I've never done, but if Abby ever liked me I think I would. I took this photo at Fort Soledad.
---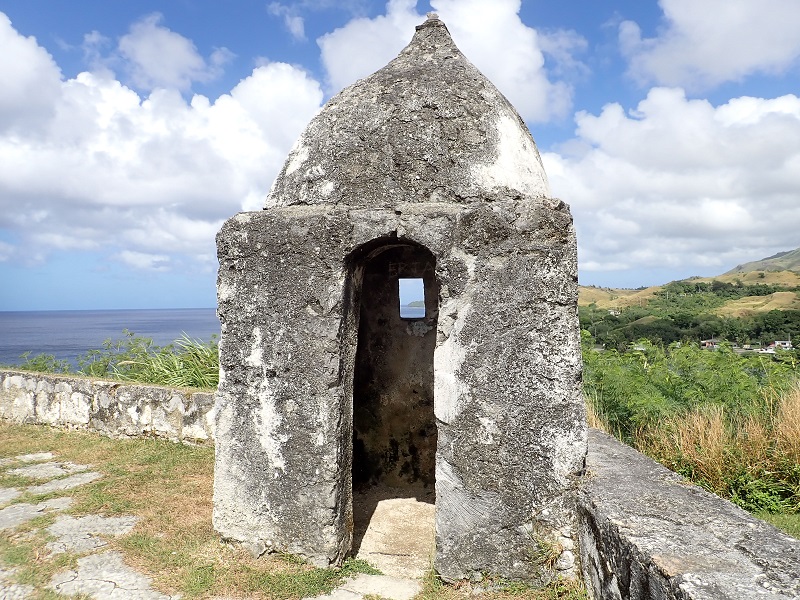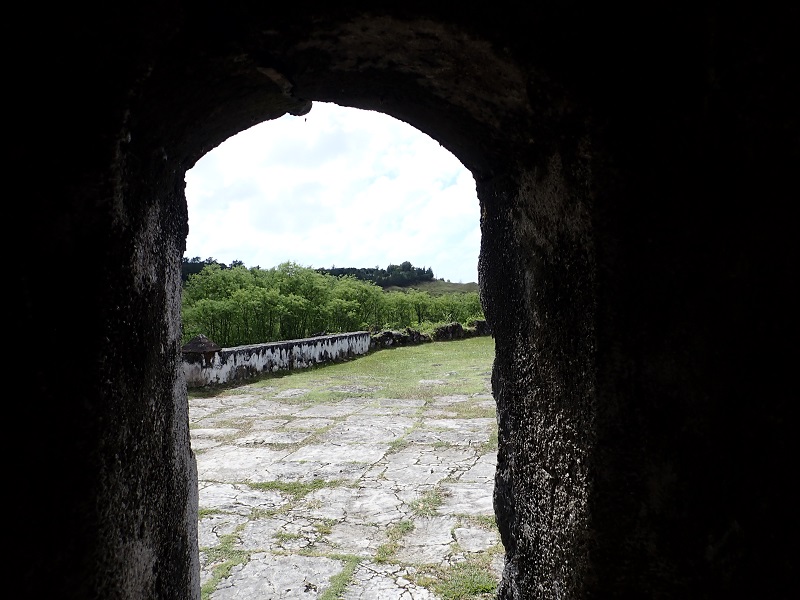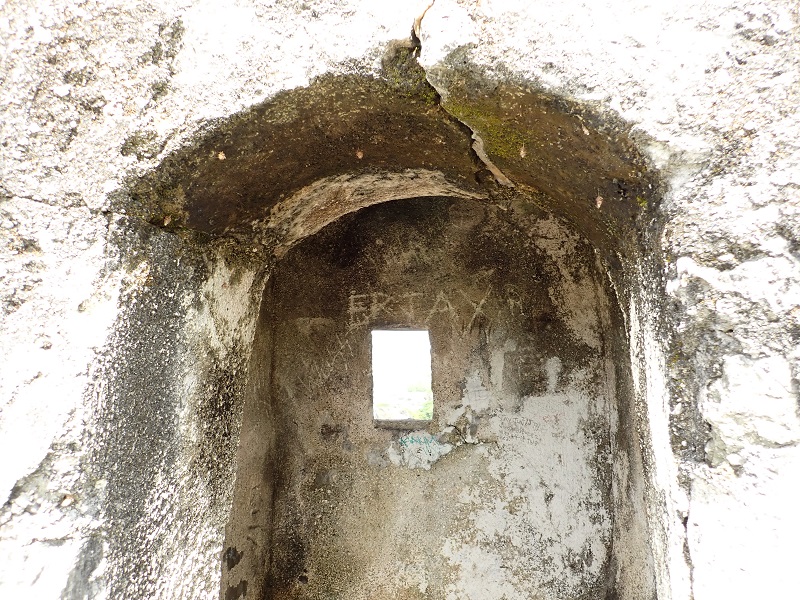 ABOVE: This is why they call this place "Fort Soledad." During the Spanish invasion of Guam, these were their defenses. Despite Magellan's visit, Guam was not officially claimed by Spain until 1565 by Miguel Lopez de Legazpi. However, the island was not actually colonized by Spain until the 17th century. On June 15, 1668, the galleon San Diego arrived at the shore of the island of Guam.
---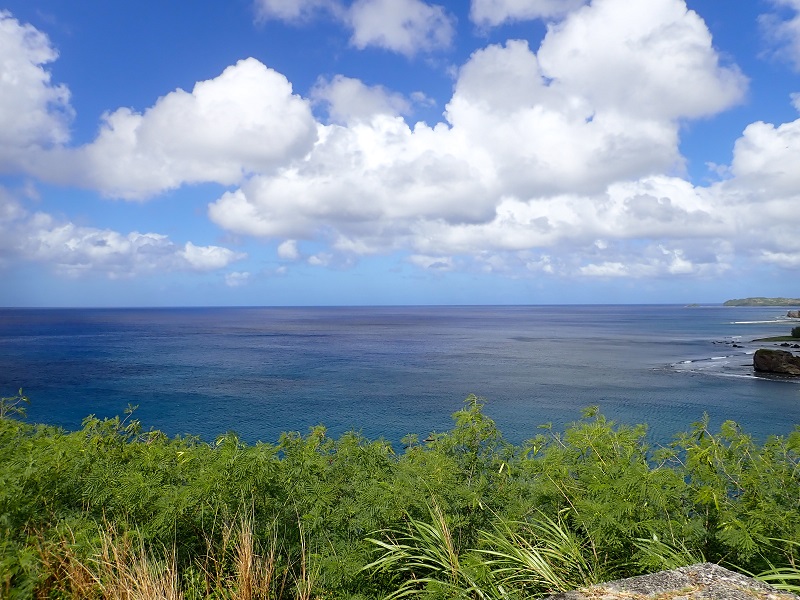 ABOVE: Look at that beautiful big blue Pacific Ocean. These shots were taken from the southernmost tip of Guam at Fort Soledad. God is amazing! Guam has some of the best indigenous people I've ever met and known. There are a lot of things I love about Guam. No traffic. Cops are cool most of the time. I haven't had a traffic violation in 16 years. I was pulled over twice for speeding when I first came to the Island, but they just gave me a warning because my record was clear. I have been really careful for the past 10 years about keeping the speed limit. It feels good to do right. A handful of great restaurants. No traffic cameras to send you tickets. You can make U turns just about anywhere. No state taxes.

What I hate about Guam is the intolerable heat all year long during the day. I love soaking up sun year round here and there, but you cannot really do anything unless you're in the shade, which is difficult to find. There is little to do or see on Guam. I was bored after a year when I moved here in 2004. Guam is tiny. The island is 32 miles long and 4 to 8 miles wide (212 square miles located 13.44 degrees north latitude). I hate that I cannot find a wife. I just don't know where to look. I've kindly asked plenty of women if they were available, but they all had someone, or said they were gay. Gee whiz! And Abby my dream girl doesn't want me. I sure love her! Rejection hurts. I hate paying more for shipping than the items I order from the mainland, and most companies won't even ship to Guam.

I also don't like the medical vulnerability living on Guam. Literally, many people die here because there is a woeful lack of a professional trauma unit. I worked with a guy many years ago at the Barrigada GMF Post Office, who broke his leg and went to Guam Memorial Hospital with a broom for a crutch. He came out with a cast on his leg and a broom for a crutch. Aarrgghh! On Guam, an ice-cream truck is a beat-up pickup with an ice-chest in the back. I'm not kidding! That is so funny. I love it. Guam is in desperate need for Christian missionaries. With the right woman by my side God could do wonders through me. I cannot do it alone. Loneliness eats at my soul like cancer. No one cares, and it hurts. God cares!
---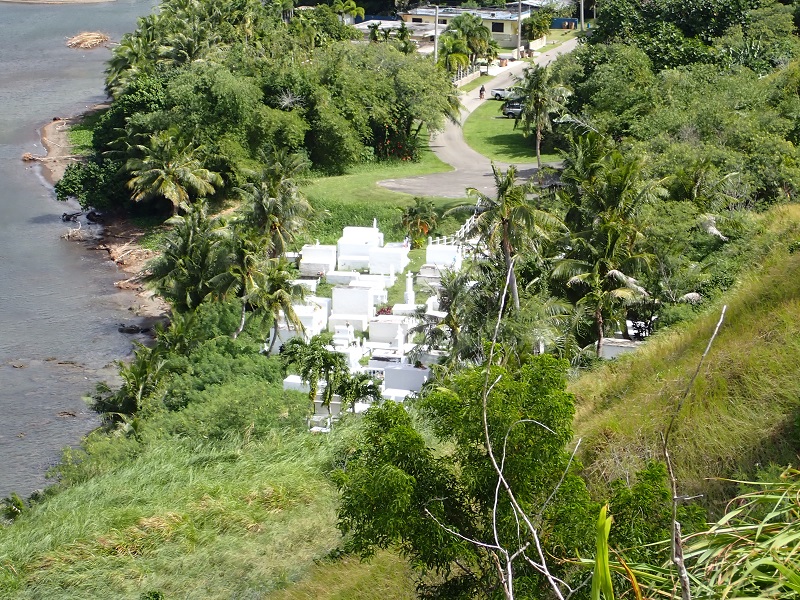 ABOVE: A cozy graveyard in Merizo. I took this photo looking down from Fort Soledad, which is located on a big hill.
---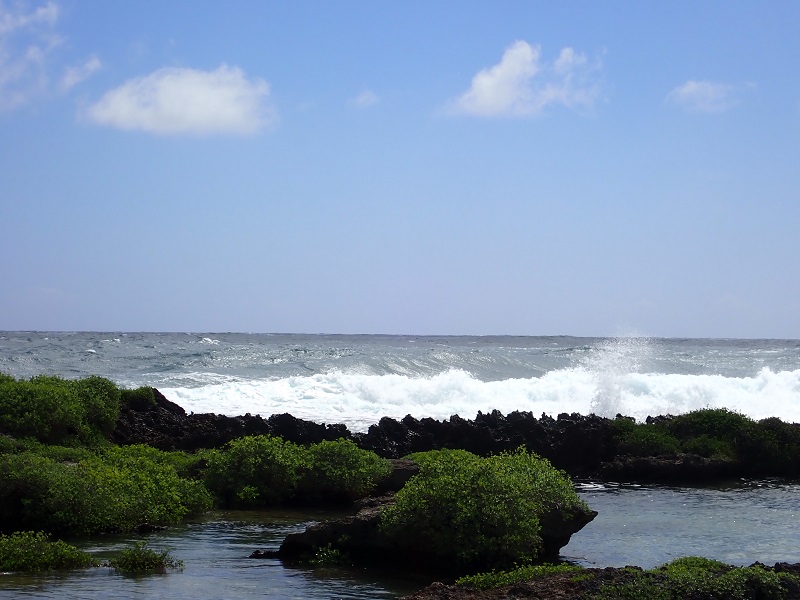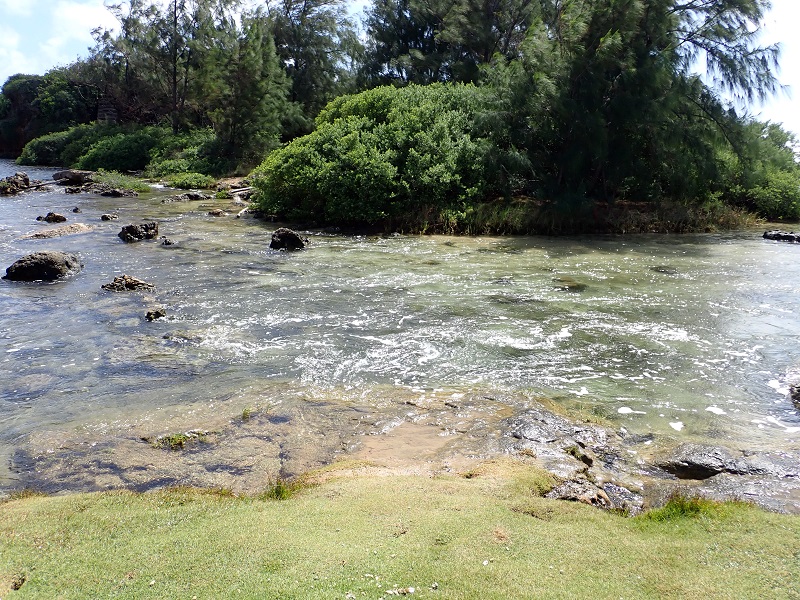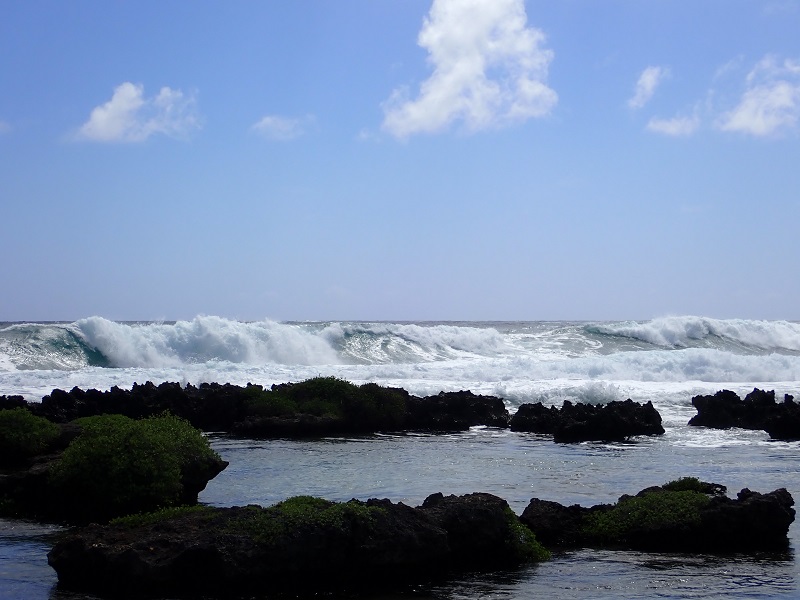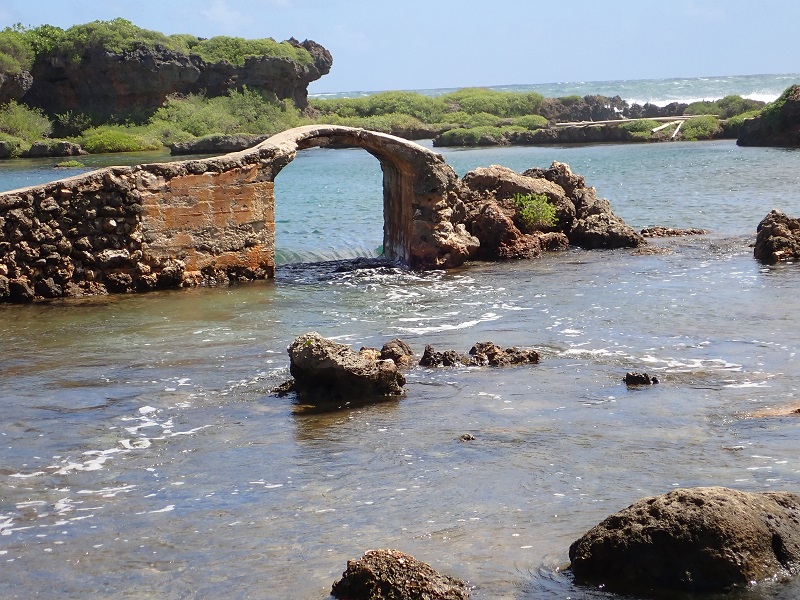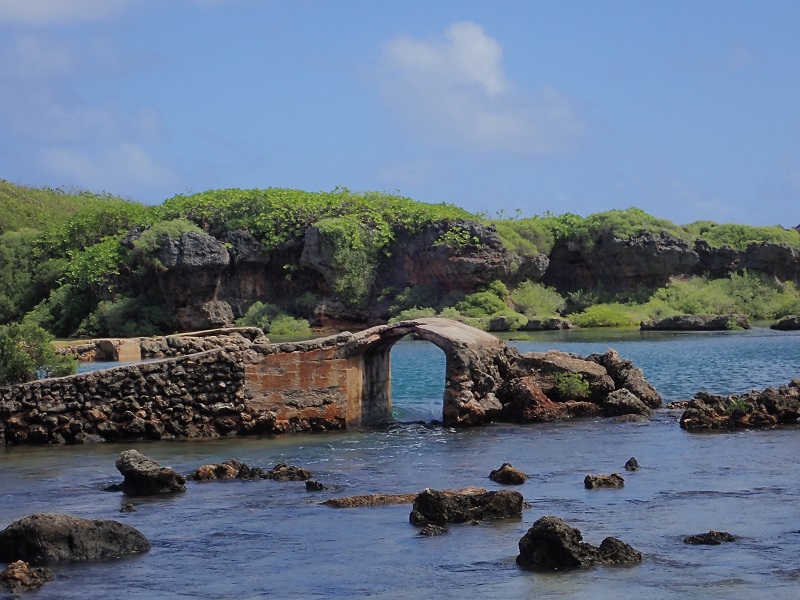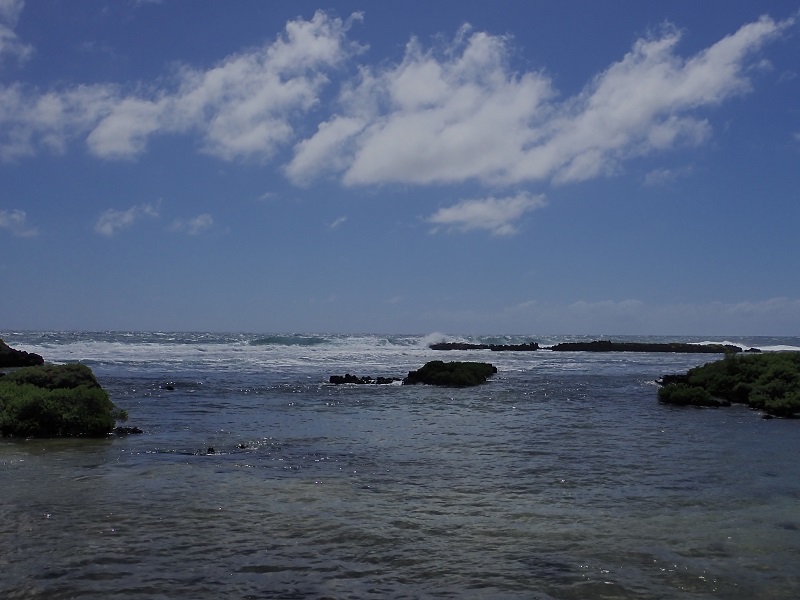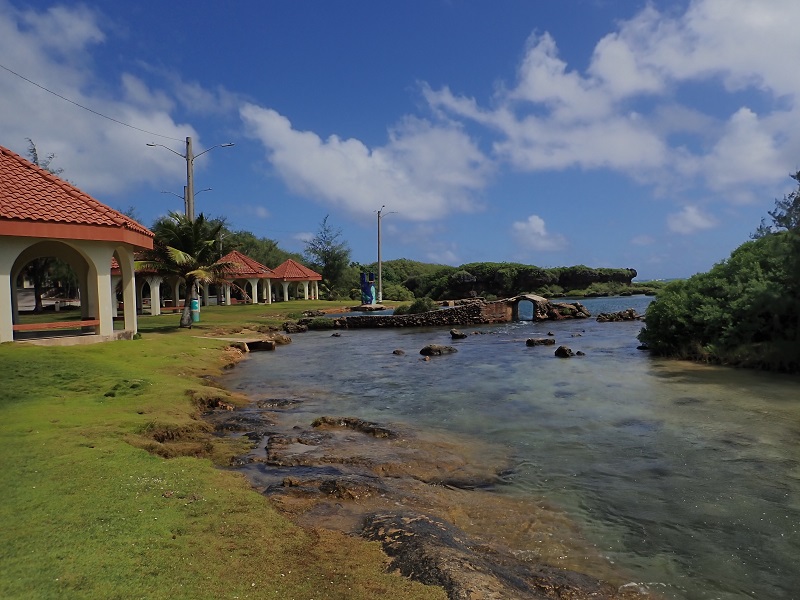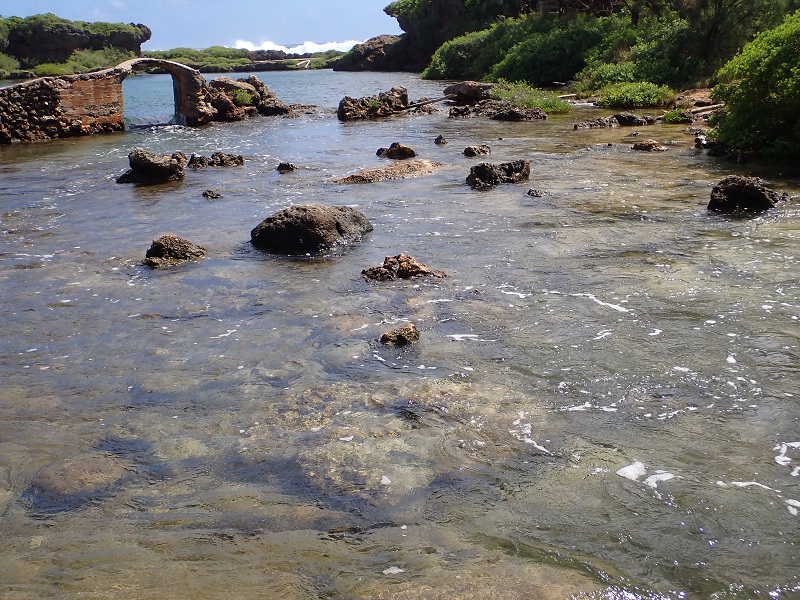 ABOVE: All of these photos were taken at what locals call "The Inarajan Swimming Hole." I have gone swimming here on several occasions. You can see the Pacific Ocean in the background and the waves crashing on the rocky shore. This cozy little swimming hole is about 12 feet deep.
---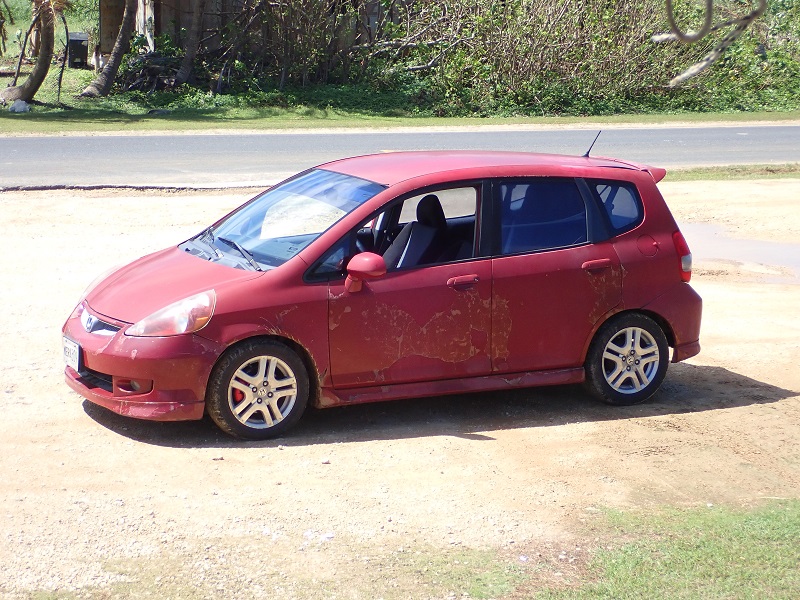 ABOVE: This is my personal vehicle, a 2007 Honda FIT. I love this vehicle. It has a 5 out of 5 for safety and performance. It was mere chance that I bought it. I went to buy a used car in 2013 and found this. It got it for $6,500 in 2013, which at the time had a Bluebook value of $8,500. I got it cheaper because the paint is all messed-up, which didn't matter to me. I love this vehicle and thank God for it. I actually can put my pedal steel guitar in the back, without breaking it down in the case. That's pretty cool. You can see the bright red calipers on the front, which are high performance break parts I ordered online, to have them installed at Triple J Honda. I have never owned a new car in my life, and never will. I am content with hand-me-downs. This is the newest car I ever had, which was 7 years old when I bought it. It has been good to me over the past 7 years. It only had like 70,000 miles on it when I bought it. The Japanese lady who owned this car before me lived in Merizo, so she did more driving than usual. On Guam, as a rule vehicles only have about HALF the miles for the same used price as in the states. About 7,500 per year. In the states it is 15,000 times the age of the car. So a car that is 10 years old in the states, you can expect that it will have about 150,000 miles on it.
---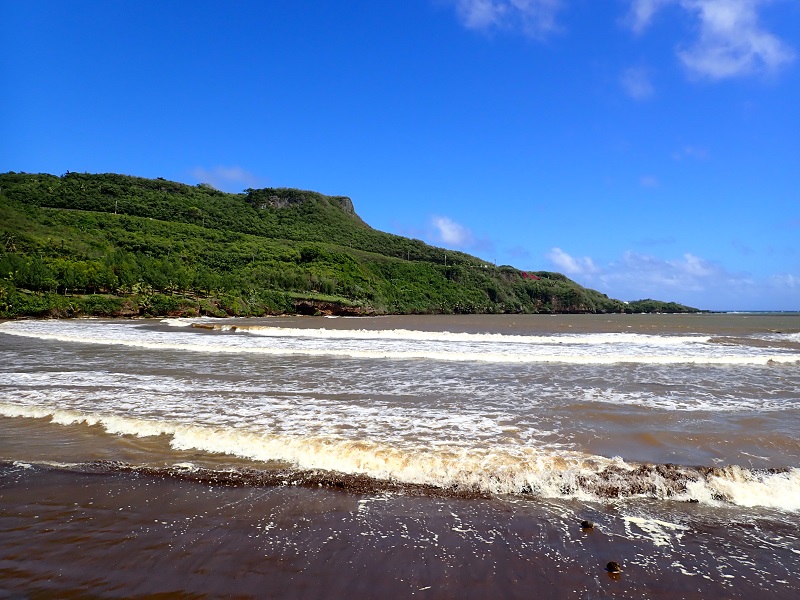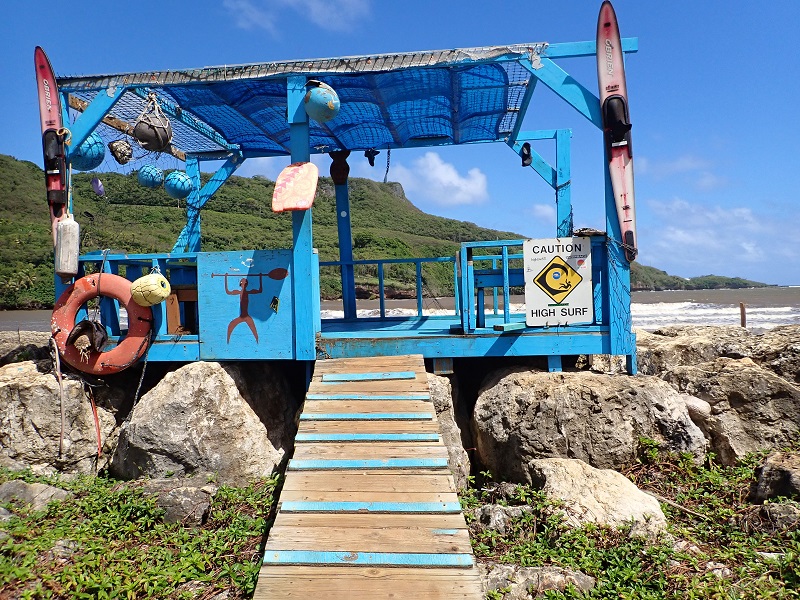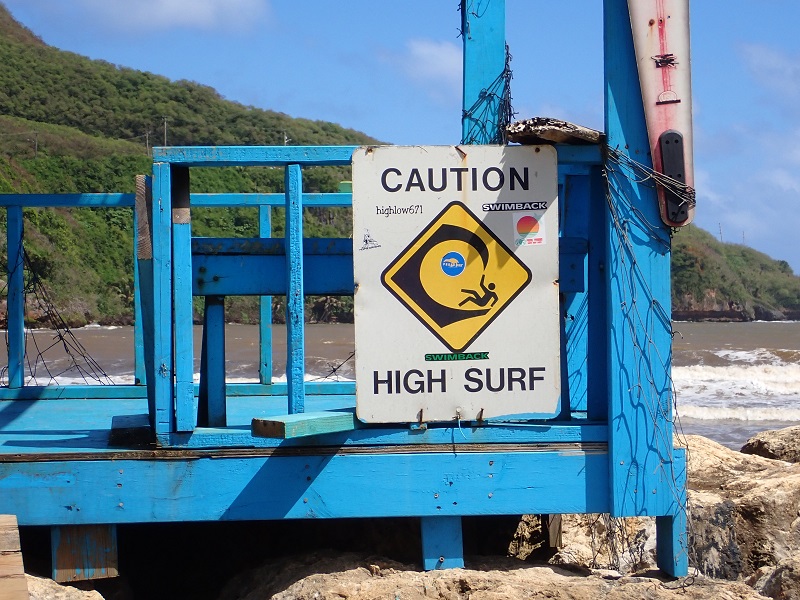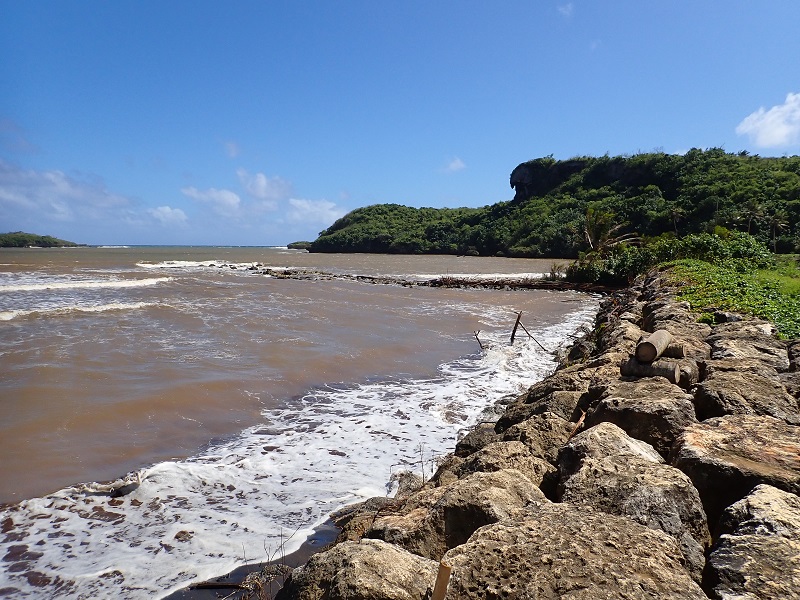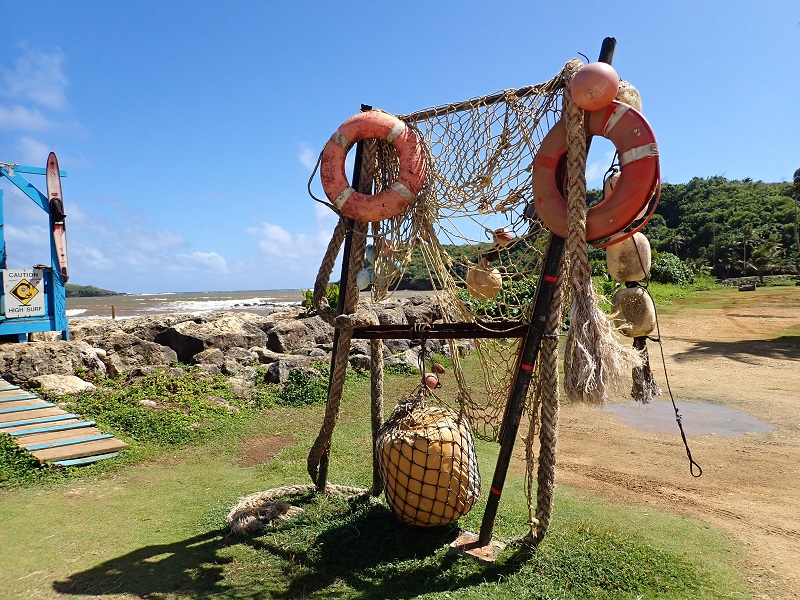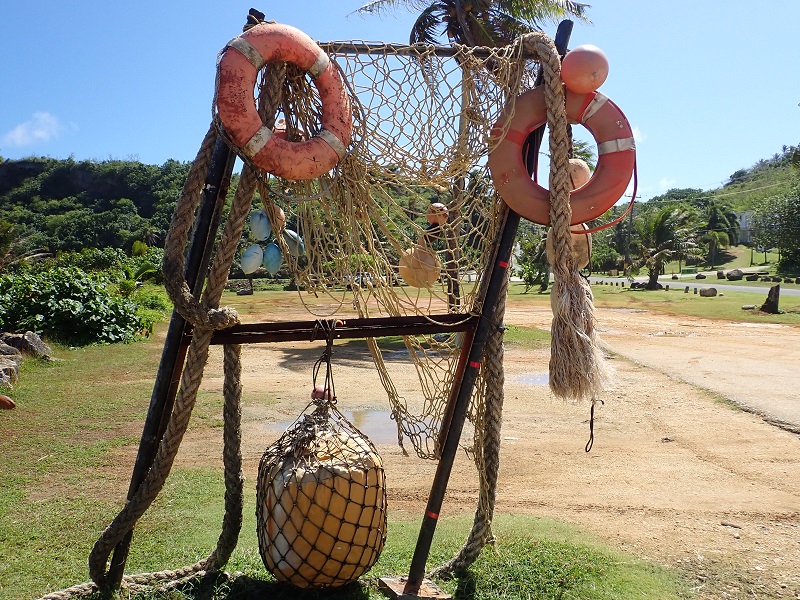 ABOVE: I took all these photos on the east side of the island somewhere around Talafofo. These names (Umatac, Merizo, Inarajan and Talafofo) are the names of Guam villages, in the order I drove through them. I started on Marine Drive going south by the Chamorro Village on the west side of Guam, and headed south and around the tail end of the island. The whole drive takes about 1 1/2 hours if you do the speed limit on Marine Drive, since it covers about 50 miles. I took 4 hours today, enjoying the trip immensely. I needed to get out and clear my mind. I prayed for all my web visitors during my trip. I love you all. Since the main road mostly goes through residential areas I like to go nice and slow, and wave at everyone as I pass by. People on Guam are for the most part very friendly.

But you don't want to go driving down private roads on southern Guam. People have lots of guns, ferocious Pitbull dogs, and are not fond of strangers. The island people are loving, but distrustful until they know what your about. So I have learned to always stay on the main roads. It can be scary going down unfamiliar small roads, as most of them lead in circles and to dead ends, and are difficult to turn around. For the first several years that I lived on Guam, I got lost more times than I can remember. People get mad real quick if you go any faster than a snail's pace on small back roads, and they will all stare at you, thinking you don't belong there. Kindly said, the islanders are very territorial like dogs... "Hey you, what the hell are you doing on my property?" I'm not kidding. So I avoid off roads now.
---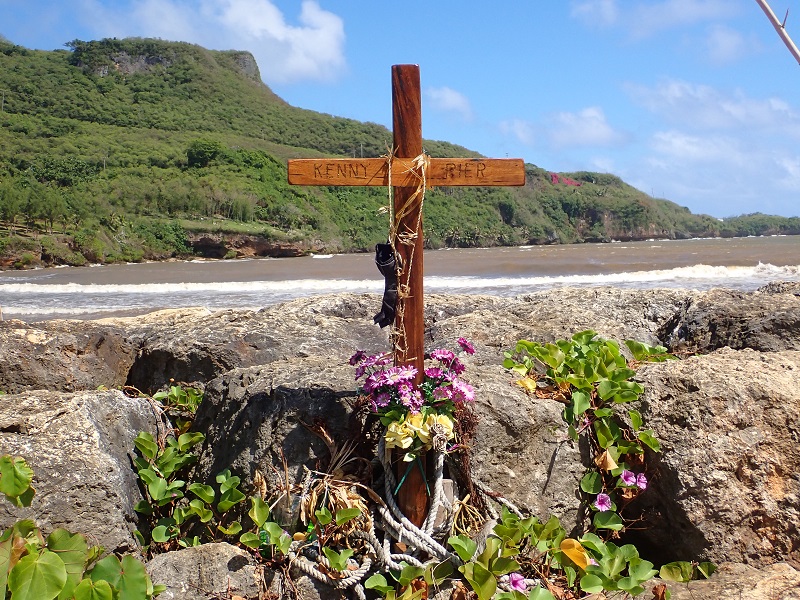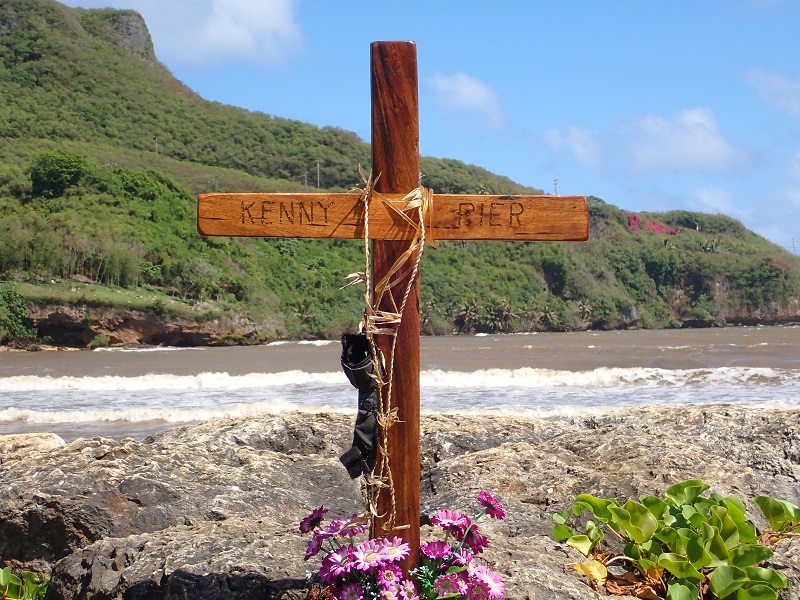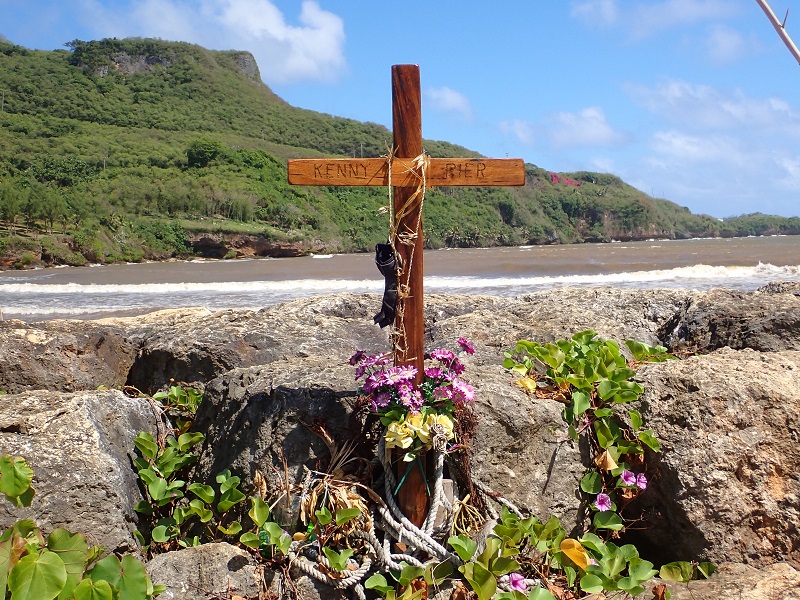 ABOVE: These photos were taken at the same beach as all the preceding pictures just before it. I believe this young man Kenny drowned at this beach, likely while fishing, but I don't know. Each year on Guam a couple dozen people drown, locals and tourists alike. I am always surprised that locals drown, who grew up here all their life. On the island we say: "Never turn your back on the ocean!" A local surfer taught me that a "set" is a series of ocean waves that travel in groups of seven, with the seventh wave being the biggest and most powerful. So the biggest wave is called a "set wave." The physics are based on the time spent in the water waiting for the set wave to arrive from the horizon. The surfers ride that set wave. Surfing is popular behind the Chamorro Village, but the waves aren't anywhere near as high as in Hawaii. When I visited Oahu island in Hawaii many years ago, I watched them surf up on the northwest part of the island. I cannot tell you how many times I have been walking along the ocean in the dry sand on Guam, thinking I am far enough away from the waves, and then out of nowhere comes this big wave that drenches my shoes and feet in 6 inches of ocean salt water! I hate when that happens...lol.
---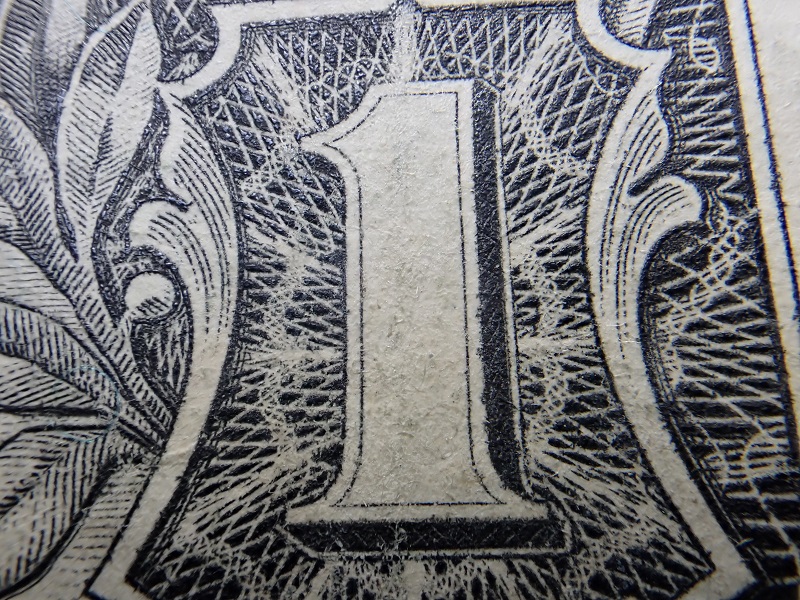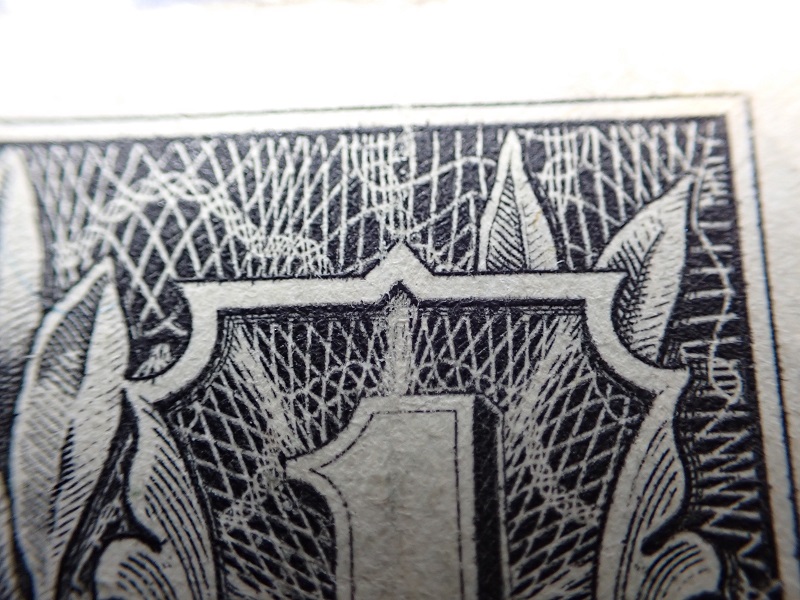 ABOVE: I really like my Olympus Tough camera. It has a built in microscopic feature that allows me to take pictures super close. I took the above photos today of the upper right corner of a U.S. one dollar bill. Pretty cool, huh? I love you all with God's unconditional love. Thank you for looking at my photos and reading my comments. Hebrews 12:2, "Looking unto Jesus the author and finisher of our faith; who for the joy that was set before him endured the cross, despising the shame, and is set down at the right hand of the throne of God."
---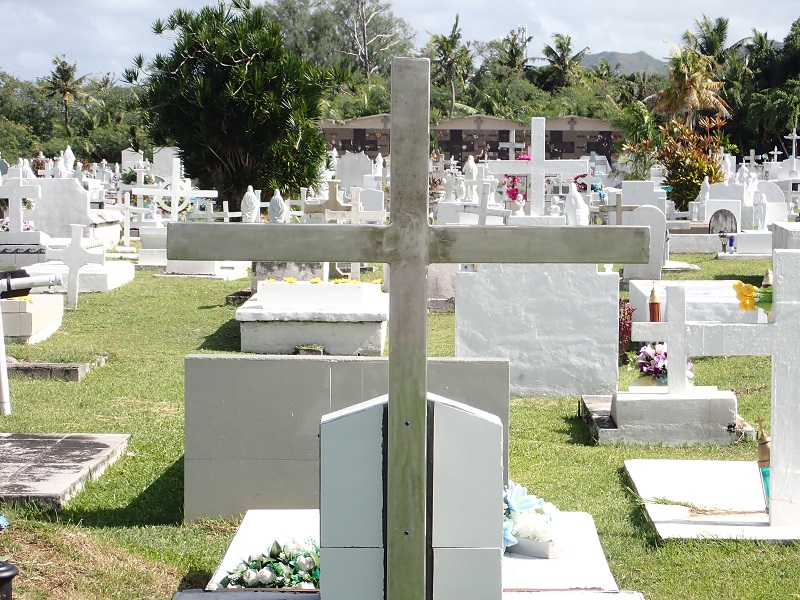 John 3:14-16, "And as Moses lifted up the serpent in the wilderness, even so must the Son of man be lifted up: That whosoever believeth in him should not perish, but have eternal life. For God so loved the world, that he gave his only begotten Son, that whosoever believeth in him should not perish, but have everlasting life."
---
The Gift Of Eternal Life Is Wrapped In The Wonderful Package Of Jesus
END OF ARTICLE
"Faith is the only righteous thing that I can do!"
—Pastor Jack Hyles, a quote from the MP3 sermon titled: "God's Reversal Of Psalm 51"
1st Corinthians 16:24, "My love be with you all in Christ Jesus. Amen."
---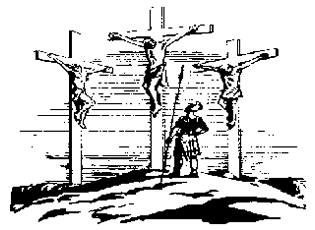 How Permanent Is Your Salvation?
(an excellent MP3 sermon by Pastor Hank Lindstrom, 1940-2008)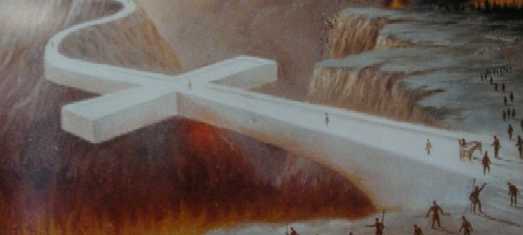 Mark 1:15, "...repent ye, and believe the gospel."
"The mark of the child of God is that he loves everybody!"
(a quote from Pastor Jack Hyles' classic MP3 sermon, "FORGIVENESS")
Mark 11:22, "And Jesus answering saith unto them, Have faith in God."
---
Ye Must Be Born Again! | You Need HIS Righteousness!