A 'miracle' at final Mass
Parishioners see fallen statue as closure protest
After 99 years of feasts, funerals, weddings, and baptisms, parishioners who went to the final Mass at Our Lady of Mount Carmel Church in East Boston yesterday declared that they had witnessed a miracle.
The church's statue of the Virgin Mary, which stood in front of the altar, tipped over suddenly and thudded to the floor after Mass, seemingly unmolested by human hands, parishioners said.
Trembling and weeping, they called it a sign from God protesting the Boston Archdiocese's decision to close their church, part of the lifeblood of the working-class, Italian-American neighborhood since 1905.
''This is a miracle!" Gerri Costa exclaimed after parishioners righted the 5-foot statue, which was missing a few pieces from its back. ''Miracles do happen, and this is a miracle. Viva La Madonna!"
The conclusion to the East Boston church's final Mass in Italian boiled with pain, anger, and hope, a tumult of emotions engulfing many parishes in the archdiocese as the process of closing 82 parishes continues.
In suburban and city churches, worshipers are grappling with the import of Archbishop Sean P. O'Malley's appointment last week of eight prominent Catholics to advise on the closing process. Many are pondering the meaning of O'Malley's latest statement, that he is reconsidering ''a couple" of his decisions to shutter churches.
''There's a couple [of parishes] that we're considering because of new information that has come forward," O'Malley said in an interview with the Globe Saturday. While he would not specify any parishes, he added that he expected to make decisions ''very shortly."
At St. Albert the Great Church in Weymouth, where parishioners have sat in vigil since Aug. 29 in hope of keeping it open, one of the vigil spokesmen, Colin Riley, said he was not sure how to react to O'Malley's statement or the newly appointed committee, which includes leaders from the worlds of finance, philanthropy, and higher education.
''I don't know how to read this," Riley said by phone. ''The archbishop's statement included no mention of the committee's purpose, no scope, no process, no timeline." He added, ''Out trust is at an all-time low."
Peter Borre, a parishioner at St. Catherine of Siena Parish in Charlestown, which is also slated for closure, said he did not feel any comfort in O'Malley's statement that he is reconsidering some parish closings.
''The entire reconfiguration process and suppression has been so flawed that singling out a few with a vague indication of hope is something that does not reassure me," Borre said. ''What this archdiocese needs to do is implement a pause in the entire process of reconfiguration."
Anthony Salvucci -- a parishioner at St. Bernard Parish in West Newton, which is slated to close Oct. 24 -- said yesterday that he was hopeful.
Closing the church, would be ''a shame," he said by phone yesterday. ''I always believe there's hope. There's always a chance, and I'd like to believe that."
By January, the archdiocese plans to close 82 of its 357 parishes, as it reorganizes following the clergy sexual abuse crisis and the resulting $85 million settlement to parishioners who brought claims of abuse against priests.
Suzanne Morse -- a spokeswoman for Voice of The Faithful, a Catholic lay group founded in response to the sexual abuse scandal -- called O'Malley's committee a ''first step" in rebuilding trust among parishioners.
Morse also praised the committee members -- led by Peter Meade, chairman of the board of Catholic Charities of Boston, and Sister Janet Eisner, president of Emmanuel College -- as ''independent-minded" people.
But she said she was disappointed that O'Malley had not firmly committed to ending the standoff with parishioners at St. Albert the Great and at St. Anselm in Sudbury, which is also occupied by parishioners.
In his statement Saturday, O'Malley said he had no choice but to close Boston-area parishes, as church leaders have nationwide.
''The pastoral requirements of serving our 2 million Catholics made some decisions concerning structure and finances imperative," he said. ''Hence, I undertook the process of reconfiguration."
At Our Lady of Carmel, parishioners in their 70s and 80s wept and embraced through the final Mass, while workers in the basement set up a final post-Mass spread of cookies and coffee.
Many were furious over the closing, saying it was the end of a way of life, a link to past generations, wiped out before its time.
Many accused the archdiocese of reneging on a pledge to hold Mass in a small chapel at a convent across the street, under a deal that was struck with parishioners to prevent a sit-in.
''We can't trust any priest," Gerri Costa shouted outside the church. ''Archbishop O'Malley, I thought you came to heal! You are a disgrace. I will never go to another church that has to do with the Archdiocese of Boston."
The Rev. Wayne L. Belschner said the future of the chapel idea will be decided soon.
''Once we repair the heat, once we repair the roof, and once we repair the walls and have the place painted, we will put a committee together to discuss the future of the chapel," he said. ''We said we would discuss the idea, but for some reason some people took it one step further and blew it out of proportion."
Belschner is pastor of Sacred Heart, a larger parish nearby that will serve parishioners from Our Lady of Mount Carmel. But its distance, geographically and culturally, made it a bitter consolation for many yesterday. ''Where are all the old people going to go?" asked Josephine Costa, 87. ''I'm going to be a Protestant. I'm not going to be no more Catholic."
Like many at the church, she was a lifelong East Boston resident whose most significant moments -- children's baptisms, weddings, and parent's funerals -- had all been marked inside the white apse, lit by stained glass windows.
The Rev. Francis de Sales Paolo, who has been at Our Lady of Mount Carmel for years, is now headed to a new parish on Cape Cod. He said he hoped for healing in the wake of yesterday's closing, but said he could not ignore the anger and sadness in his church.
''You know it's sad, of course," he said. ''It's sad because 100 years ago, they were the immigrants here, they were the artisans and carpenters and bricklayers and stonecutters, and they built this church with their hands."
''And so my idea is you've got to carry the faith on, because their work is not in vain," he said. ''But it's hard to explain that to people who built the building. But it can't last, like all buildings."
Globe correspondent Martha Bartle contributed to this report.
---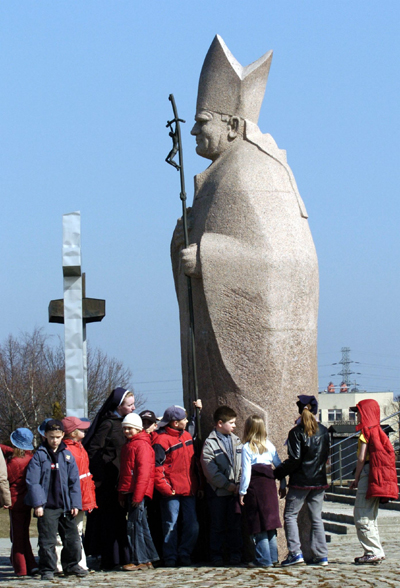 Click on the above picture