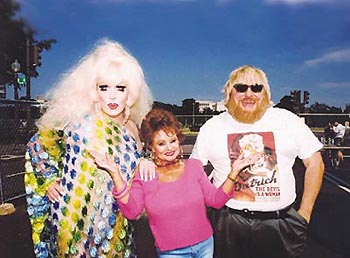 Photo to right: Tammy Faye (center) with Lady Bunny and Bruce Vilanch at 2002 Capital Pride
What is it that gays love about Tammy Faye Bakker-Messner? Is it her camp value? Her perky, love-gushing way with words? Is it her unbridled love for all creatures great and small, gay and straight, good and evil?
Or is it simply her mascara? Gobs and gobs of mascara. ...
MW: There are many Christians who say gay is evil, that it's an abomination.
TAMMY FAYE: I think being gay is just being a person who has a different thought on life. They're just people. I don't think that God categorizes people. I went to Disneyland one time, and it rained -- it's so awful when it rains at Disneyland -- and everyone disappeared inside. And when the rain stopped and everybody came out, every single person had yellow raincoats on. You couldn't tell the fat from the thin, the rich from the poor. You couldn't tell anyone from anyone else. And that day I looked up and I said, "God, I think this is how you see us, all in yellow raincoats, and only you have the permission to look under those yellow raincoats."
SOURCE: http://www.metroweekly.com/2002/06/the-words-of-tammy-faye/