The False Prophet And The Antichrist
All About Anti-Christ

(1). "And I stood upon the sand of the sea, and saw a beast rise up out of the sea, having seven heads and ten horns, and upon his horns ten crowns, and upon his heads the name of blasphemy." (Revelation 13:1)

(2). "and they are seven kings; the five are fallen, the one is, the other is not yet come; and when he cometh, he must continue a little while. (v.10) And the beast that was, and is not, is himself also an eighth, and is of the seven; and he goeth into perdition." (Revelation 17:10-11)
---

The Antichrist's Big Problem
Immediately after the Rapture, the Antichrist makes the covenant with Israel (Daniel 9:27). The False Prophet will seek to unify the religions of the world. He will not ask them to worship differently; but, to tolerate each other and not proselyte from one religion to another. They will not worship a single generic "god" as some have supposed; until the Antichrist demands their worship in the middle of the Tribulation Period.

There is a power struggle for world leadership in the first 3 ˝ years, with the Antichrist gaining dominance. (Revelation 17:10-11) He gives the 10 Kings of Revelation 17:12,13, their power and divides the world governance into 10 areas, or provinces, and gives each ruler responsibility for a province. They are to carry out the directions of the Antichrist and the False Prophet, which they do.

A. The "seven mountains" are not the "Seven Hills of Rome." ; but, seven kings, as the Angel explains to the Apostle John. "And there are...should be "they are" from the Gr. "eisi." (Revelation 17:10a).

B. There is no "Revived Roman Empire; but, the Antichrist rules a world empire, meaning "global." The Roman Empire at its greatest extent only covered 4.4% of the world's land mass.
The above handout goes along with the preceding Bible study titled, "The Antichrist's Big Problem."

The chart below is the exact same handout, except I inverted the colors in case you'd like to copy it for your own website presentation (i.e., you have a choice of colors)...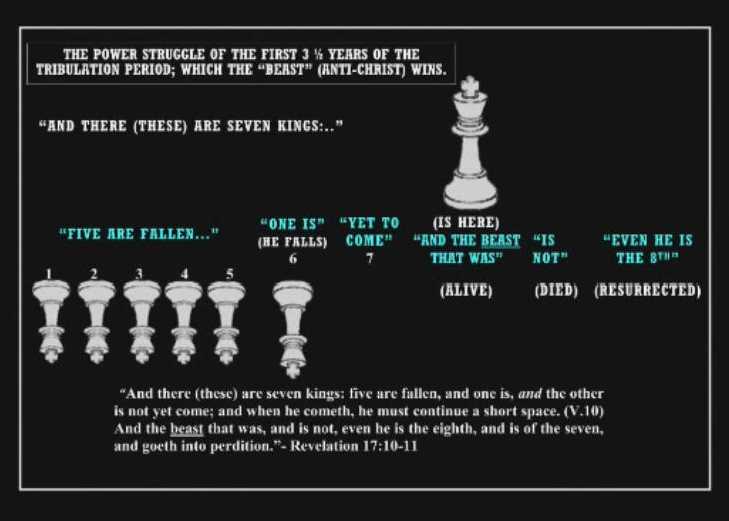 ---

Problem Solved!
A. The One-World Church is defined. (Revelation 17:5,6)

B. All super-natural power is either God-given; or, God-restrained. Both the Antichrist and the False Prophet can do miracles. (Revelation 16:14)

C. Christians will be killed for their testimony before the Mark of the Beast is put into place. (Revelation 7:9)

D. The One-World Religious System is destroyed. The Antichrist's breaks his covenant with Israel (Daniel 9:27); goes into the Temple and demands that he be worshipped as God. (2 Thessalonians 2:4). He seeks to eliminate the competition from the One-World Religious System, and God puts it into the hearts of the Ten Kings, or Rulers, he has placed over ten provinces of the world to destroy the One-World Religious System. Now, everyone has to take the Mark "666 to buy or sell. (Revelation 17:16,17)

Scriptures Used: Revelation 11:1,2; Daniel 2:21,22; Matthew 24.

---
Dr. Younce's Books are freely available online in .PDF format:
Click here if you need Adobe to read .PDF files...

---
MP3 and WMA Sermons and Bible Studies:
(Right Click to Download and Save)
Revelation Bible Study (MP3 Series)
---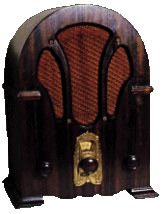 Heritage Radio Bible Class Online
Heritage Baptist Bible Church Online

---
Here is an excellent video Bible study concerning the doctrine of last things...
Gog & Magog - Part 3A | Part 3B | Part 4
The Antichrist's Big Problem (video) | Problem Solved! (video)
MP4 Video Archives
(MP4 video sermons can be downloaded)
---
I'm So Glad You Asked!
Questions and Answers by Pastor Max D. Younce...

49 Bible Questions And Answers
---

Dr. Max D. Younce, Pastor
HERITAGE BAPTIST BIBLE CHURCH
P.O. Box 573
Walnut Grove, MN 56180
Telephone (507) 859-2519
Web: www.heritagebbc.com
100 Bible Questions and Answers
---
"For God so loved the world, that he gave his only begotten Son, that whosoever believeth in him should not perish, but have everlasting life." —John 3:16