THE GLORY OF YOUR ABSENCE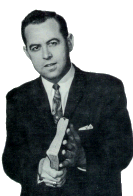 by Dr. Jack Hyles (1926-2001)

(Chapter 48 from Dr. Hyle's excellent book, Blue Denim and Lace)
---

Your presence yesterday was sweet, and the hope of seeing you tomorrow is blessed; yet today I have stumbled across a rare jewel that I named, THE GLORY OF YOUR ABSENCE. I had not planned for it, and I died when you left yesterday and had not planned a resurrection until I see you tomorrow. Yet rise I did in the energy of THE GLORY OF YOUR ABSENCE.

In your absence I have measured you. This I could not do properly yesterday, for I was with you. Now, in THE GLORY OF YOUR ABSENCE, I measure you without the persuasion of your beauty and find you are today exactly what I thought you were yesterday and what I dream you will be tomorrow.

In THE GLORY OF YOUR ABSENCE I can see you with the soul and not be hampered by our "glass darkly's."

In THE GLORY OF YOUR ABSENCE my love is proven to you in a new way, for now it is only your soul that makes captive my attention.

It is during the GLORY OF YOUR ABSENCE when I pledge to never again take for granted your presence. Only then can I properly savor the times of your presence yesterday and prepare for your presence tomorrow, that I may learn to adequately appreciate tomorrow's fellowship.

So THE GLORY OF YOUR ABSENCE is really THE GLORY OF YOUR PRESENCE, for in a mysterious way we are knitted. Hence, absence is impossible, for we are always present, for to be absent from the body is to be present with the soul.

Oh, I still prefer the blessing of your presence and will leap at your footsteps tomorrow, but today our souls shall walk together in THE GLORY OF YOUR ABSENCE.
NEXT | PREVIOUS | TABLE OF CONTENTS
---
More Life Changing Sermons by Dr. Jack Hyles:
Do you know for sure that if you died today, you would go to Heaven? You can know!
Click Here to find out how!
"I am an old-fashioned preacher of the old-time religion, that has
warmed this cold world's heart for two thousand years." —Billy SUNDAY
---