Leonard Nimoy
—Kindly, A Jewish Sex Pervert Who Loved Photographing Naked People!
By David J. Stewart | March 2015
"That they all might be damned who believed not the truth, but had pleasure in unrighteousness" —2nd Thessalonians 2:12

You'll never hear what I'm about to tell you from the predominantly Jewish-controlled mainstream newsmedia. I do not enjoy writing articles like this, but the truth needs to be told about Leonard Simon Nimoy (1931-2015). Our world is fast-headed for eternal damnation. Literally, BILLIONS of people will all be dead over the next few decades. If the Lord tarries His return, every one of the estimated 7,000,000,000 people alive upon the earth today will be dead in 125 years. I don't want you to go to Hell forever. Leonard Nimoy died so foolishly on February 27 last month at age 83.

Tragically, Mr. Nimoy went to Hell in his sins without Jesus Christ. Did anyone witness to him? Did anyone care? Would he have listened? It is very sad indeed. 2nd Corinthians 4:3-5, "But if our gospel be hid, it is hid to them that are lost: In whom the god of this world [Satan] hath blinded the minds of them which believe not [unsaved people], lest the light of the glorious gospel of Christ, who is the image of God, should shine unto them. For we preach not ourselves, but Christ Jesus the Lord; and ourselves your servants for Jesus' sake."

I have read nothing but positive comments from the Jewish-controlled media. I am NOT anti-Semite, God forbid. I love all Jewish people, including Leonard Nimoy. I am however against the arrogance-fueled heresy of Zionism that blinds men's minds and hearts, hindering them from seeing the glorious Gospel of Jesus Christ. It breaks my heart to know that Mr. Nimoy went to Hell. As you will now learn for yourself, Leonard Nimoy was caught up into New Age philosophies of a male and female dual aspect of God. There is no feminine aspect of God (as sinfully taught by Feminist Theology). The Holy Bible is a masculine Book!


Leonard Nimoy Expressed His Jewish Religion Through Nude Photography

Leonard Nimoy was a big-time sexual degenerate, by Biblical standards. In a disturbing two-part YouTube interview video by Leonard Nimoy titled, "Sex And Religion," featured at Rmichelson.com (I will not link to either of these websites because of their nude and lewd content), Mr. Nimoy makes some shocking statements. Nimoy claims that his first sexual experience was at age 8-to 9 years old, while attending an orthodox Jewish synagogue. He claims that the Rabbi got up and prayed in Hebrew, while everyone in the congregation made an occult hand-sign (which he later introduced in Hollywood as the famous "Vulcan Hand Sign" in the Star Trek series). During the occult ceremony at the synagogue, Nimoy was told by his father to cover his eyes and not to look.

According to Nimoy, he was later taught by a Jewish Rabbi that a female deity (named Shekhina) entered into the gathering room to bless the congregation. Yes, Leonard Nimoy believed that God has a female aspect (which is satanic New Age). The reason why Nimoy was told to cover his eyes was in humility to the female deity, Shekhina. So Nimoy claims he pondered how to see the Shekhina if you cannot look at her. His solution was to combine sexuality with religion. Literally, Leonard Nimoy claims that he sought to photograph the female aspect of God (the Shekhina) by photographing nude, lewd and sensual women. This is utter wickedness. Clearly, based upon Nimoy's own testimony, he had a warped (no pun intended) view of God. Whereas the Holy Bible teaches that the Godhead exists as God the Father, God the Son and God the Holy Spirit, Mr. Nimoy saw God as being half female and half male, and he chose to spend his life pursuing the female aspect of God (which is a false god that cannot save anybody).

Biblically, God has no female side. Only in witchcraft, the occult, Yin-Yang and New Age occultism do we find the existence of a female goddess or deity. Again, the Holy Bible teaches about GOD THE FATHER, and GOD THE SON, and GOD THE HOLY SPRIT (Who is referred to as "He" in John 16:13, "Howbeit when he, the Spirit of truth, is come, he will guide you into all truth." All aspects of the Divine Godhead are masculine, and always shall be. There are no feminine aspects of the Godhead. Woe unto the wicked!

It is difficult for me to believe that Mr. Nimoy was sincere in his bizarre claims; yet, I think he was sincere, simply because sex and religion have always co-existed since pagan times. The followers of Baal, Egyptians and Babylonians were perverts, who combined sex-magic with false religion. Nimoy claims that he was seeking God through sex. That may be true, although heathen as can be. 2nd Timothy 3:7, "Ever learning, and never able to come to the knowledge of the truth."


Jesus Christ Came to Save Ungodly Sinners

I realize that Leonard Nimoy (aka, "Mr. Spock" on the mega-successful TV series Star Trek) is beloved by many Americans, which is why I am compelled to write this article. I know some Christians think I have the Spirit of Christ, but am not preaching with a Christlike spirit. I disagree 100%! Did John the Baptist lack a Christlike spirit when he publicly preached and denounced Herod and Herodias (his brother's wife) for living together in adultery? I think not! John did the right thing, preaching against sin. John was not perfect, as we see when he became discouraged while in prison, questioning if Jesus were even the Christ; yet John was still a preacher. Everybody is out to get the preacher, to discredit and tear his name down, to try to silence him. We need many more John the Baptists today!!! I preach in the Spirit of Christ and with a Christlike spirit, balancing love for the sinner with hatred for sin!

Even Christ Himself preached against people's sins. John 7:7, "The world cannot hate you; but me it hateth, because I testify of it, that the works thereof are evil." John 3:20 teaches that the reason why the wicked won't come to Jesus Christ for salvation is because they love their sins and don't want to acknowledge them. John 3:20, "For every one that doeth evil hateth the light, neither cometh to the light, lest his deeds should be reproved." This verse helps us to understand repentance. A person will not come to Christ to be saved unless they have repented, that is, they have changed their mind, now acknowledging that they are a woeful sinner in the eyes of a holy God.

Repentance is not turning away from sinful behavior; but rather, acknowledging that you are a woeful sinner in need of the Savior. If you didn't repent, you wouldn't come to Christ. Thus, a person who believes on Christ has repented. This is why the words "believe" and "believed" are mentioned 85 times in the Gospel of John, but the word "repent" is not mentioned even once. Many naive Bible students errantly make the mistake of defining repentance as a change of lifestyle, which is unbiblical. Leonard Nimoy never believed on Christ, because he never repented. This is what Jesus meant in Matthew 21:32, "For John came unto you in the way of righteousness, and ye believed him not: but the publicans and the harlots believed him: and ye, when ye had seen it, repented not afterward, that ye might believe him." The object of repenting is believing. It is a false teaching to say that a man must repent first, then believe. Biblically, repentance and faith happen at the SAME TIME. The man who changes his mind without believing has not repented in a Biblical sense; but rather, he has experienced reformation and not the new birth.


Neither Leonard Nimoy Nor His Jewish Rabbi Feared God

Nimoy's perverted work Shekhina Photography was published in 2005, and another immoral degenerate work in 2008 titled, The Full Body Project (featuring fat large-sized women, some laying across his dining room table). Nimoy's Jewish Rabbi, John Rosove says that nudity, sensuality and lewdness in photography is a good thing and he encouraged Nimoy in his wickedness.

I couldn't make this stuff up it is so bizarre. According to Nimoy's Rabbi, John Rosove, "Western culture needs to get over itself" concerning the awfulness, shock and immorality of nudity. Nimoy states in the interview, "I still consider myself a good Jew." Well, I say kindly that Hell is filled with good Jews and good Muslims and good Roman Catholics. Jesus said that in order to enter into the Kingdom of God, a man MUST BE BORN-AGAIN!!! John 3:3, "Jesus answered and said unto him, Verily, verily, I say unto thee, Except a man be born again, he cannot see the kingdom of God."

Based upon Nimoy's religious belief that God is part female, Nimoy photographs naked women in lewd, bizarre, and sensual posses, sometimes piling 6 or 7 naked women together in a flesh pile to photograph. That, or Nimoy has a half-dozen obese woman laying next to each other on the floor, like piglets on a farm. I didn't look through all the photos. I've seen enough. It's repulsive to say the least, and highly laughable if it weren't so serious a matter in God's eyes. Clearly, neither Leonard Nimoy nor his Jewish Rabbi see any harm in public nakedness, but the very Torah from the Old Testament which they claim to honor and believe condemns public nudity as a sin. The entire chapter of Leviticus 18 teaches for men and women not to see one another's nakedness, especially between family and close relations. One thing that is clear to me, from researching Leonard Nimoy's filthy sex-film projects, is that neither Nimoy nor his Rabbi have any regard whatsoever of God. There is no fear of God before their eyes (Romans 3:18).


I Am a Sinner Too and Do Not Condemn Mr. Nimoy

Please understand that I do not condemn anyone, certainly not Leonard Nimoy. I am the biggest sinner that I know, because I know myself better than anyone, and you should feel the same toward yourself if you're right with God. People naturally tend to categorize sins, esteeming some sins as being worse than others. For example: we all consider murder, adultery and blackmail to be horrible sins and crimes, but prayerlessness, gossip and hatred of others are also some of the worst sins that we can commit. Dr. Jack Hyles is correct when he says, "Planned gossip is worse than spontaneous adultery." Very few people would agree with that, but it is true nonetheless. Prayerlessness is equivalent to idolatry! Gossip and hatred are the same as murder in God's eyes. My point is that we are all horrible sinners, and no one has any right to condemn someone else. So I don't condemn Mr. Nimoy, God forbid.

I wrote this article for a few reasons...

First, to set the facts straight that Leonard Nimoy was a member of a false religion, and he did not go to Heaven. Nimoy trusted in the Cabalistic demonic doctrines of a female deity, which is rooted in pagan ancient religions and not the Holt Scriptures. Jesus said that except a man be born-again, he cannot enter into the Kingdom of God. Being Jewish no more guarantees a person Heaven than having black skin makes someone an American. Romans 2:11 teaches that God is no respecter of persons. Jews cannot enter into the Kingdom of God unless they are born-again by faith in the Gospel of Jesus Christ, just like is required of any Gentile.

Second, it is not ok and acceptable to take photos of nude women. Both Nimoy and his heathen Rabbi have attempted to justify graphic public nudity in the name of so-called "art." It is an abominable evil in the sight of the Lord. Public nakedness is always a sin. It is a shame how American women over the past 60 years have stripped their clothes off. Most women nowadays laugh at Biblical preaching against immodesty, and those are the very same murderers who have had abortions (or support them).

Statistically, women who have had abortions are very likely to seek more abortions. Immodest clothing leads to sexual immorality, unintended pregnancies and murder by abortion. What Leonard Nimoy did as a sleazy pornographer is shameful and disgraceful. Wikipedia calls Mr. Nimoy "a very decent man," but that is pure subjective opinion. Truthfully, in God's eyes, Mr. Nimoy was a wicked Christ-rejecter who made his own bed in Hell, where he will be punished for all his sins for the rest of eternity without end. I say that with a heavy heart and grief, for I wish it weren't so. I didn't author the Holy Bible, but I believe it 100%!!! If you die in your sins without God's righteousness which comes only by faith in the Gospel of the Lord Jesus Christ (Philippians 3:9), you will burn in the fires of Hell forever too with Leonard Nimoy (Revelation 20:15). The choice is literally yours alone to make.


Spock's Vulcan Hand-Sign is An Occult, Sex-Perverted, Religious Symbol

Few Star Trek fans realize that the "Vulcan Hand Sign" is a satanic occult symbol; as also is the so-called 6-pointed "Star of David" (which is no where mentioned in the Holy Bible). It is plainly an occult symbol. Here's something next that ought to rattle your cage. The following screen-caption from part-two of "Sex And Religion" by Leonard Nimoy speaks volumes. Notice the illuminati pyramid formed by the two Vulcan hand-signs put together. This is the stained-glass window in Leonard Nimoy's church. Here we plainly learn that the New World Order is involved with Leonard Nimoy and his works. Furthermore, Nimoy openly admits that his famous Vulcan Hand-sign was born out of a religio-sexual experience while attending a Jewish synagogue as a youth.

Take a look at the creepy picture below from their synagogue, a screen-capture from the video interview with Leonard Nimoy. . .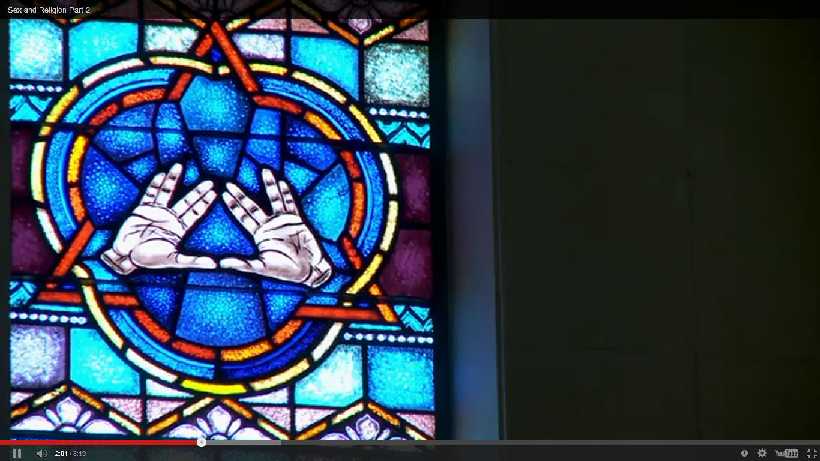 The famous "Vulcan" occult Hand-Sign, Displayed as an Illuminati pyramid.
Leonard Nimoy was unquestionably a great actor, famous for his role as "Spock" in the legendary "Star Trek" television series and numerous successive Hollywood movies. Sadly, Mr. Nimoy rejected Jesus Christ as his personal Savior, instead trusting in his heathen Jewish religion. Nimoy came from a Jewish family. Unfortunately, and I say this truthfully and not to be unkind, Hollywood is a pervert's paradise which is predominantly Jewish. Nimoy was a very talented man, and one of his passions was photography. Not surprisingly, Wikipedia's website shelters Nimoy from the dark truth that he was a major soft-pornographer.

I looked at the WordNet dictionary by Princeton University, and they define the word "pornography" as "illegal activities intended to stimulate sexual desires." Leave it to a heathen university to misdefines what pornography really means. Anybody knows that pornography means naked people photographed in erotic posses or situations, which is exactly what Leonard Nimoy's photography is!!! All pornography is illegal in God's eyes. Job made a covenant with his own eyes in the Old Testament, to ensure that he would live righteously and treat his maid with dignity. Women have been reduced to mere sex objects in the United States, and they love to have it so, just so long as they do it of their own free will (usually for money). It is evil and wicked in God's sight.


If it's Immoral, it's Godless Art and An Abomination Unto God Almighty

You know, it's amazing how a person can take the same sexually-immoral filthy (such as indecent photos) and label them as "art" in some affluent homosexual's art gallery, and now it's called "cultural beauty." We are truly insane in America. Hypothetically, you could call anything "art" if you're willing to throw away morality, the Word of God, common sense and all sense of human decency. Thankfully, many schools and colleges have banned Leonard Nimoy's lewd photograph collection from being shown at any student functions. Many scheduled requests were cancelled. But leave it to the mainstream liberal media to catapult Nimoy's works of darkness into the stratosphere!!! Because of the liberal perverted media in America, Nimoy's satanic works of darkness have become extremely popular and iconic in lieu of his recent death.
It upsets me how hypocritical our Godless society is. Genuinely great men, who were truly decent (like Pastor Jack Hyles (1926-2001) who spent his life helping others, preaching the Gospel, giving away millions of dollars and pastoring for 55-years) are slandered and maliciously attacked, falsely accused and torn down. The content on Wikipedia is allegedly controlled by the public, but it is my opinion that Wikipedia is controlled, just as is the biased newsmedia and agendacized Hollywood. Some of the most wicked people listed on Wikipedia don't have one negative word said about them, while numerous godly pastors and Christian organizations are unfairly maligned. Not one negative word is mentioned on Wikipedia about Leonard Nimoy. His naked photograph collection is merely mentioned as an ISBN number. I tell you, Mr. Nimoy was a disgrace to America... a leftwing, liberal, sex-perverted, religious nut! And moreover, as mentioned, Spock's Vulcan hand-sign that everyone so adores is a satanic occult symbol used in Cabbala.

Bless God, we need preaching preachers in America! It doesn't surprise me that a Jewish man who grew up in Jewish synagogues, learning the ways of the heathen, would become a reprobate who claims to be seeking the (Shekhina) goddess by taking photographs of women who are naked, sensual and the bottom-dwellers of life. What kind of woman, if she has a single ounce of integrity in her, would allow a stranger to whom she is not married to photograph her naked body in weird positions to sell in a book? Leonard Nimoy did not know the Lord Jesus Christ. Nimoy's motivation for his despicable practice of filming a bunch of fat ugly whores to sell books is alarming. What if a Hollywood star started knocking on doors in your community, asking for volunteers to be filmed butt naked for his religious book? Have we lost our minds in America? Evidently many people have!

I think I need to go take a nice long walk tomorrow. The truth wearies my soul. This is all so insane. Spock from Star Trek believed that God was a female, so he photographed naked women in erotic positions to sell as "art" in galleries and bookstores. Yet, Nimoy still considered himself a good Jew with no regrets. And Nimoy's Jewish Rabbi, who introduced him to the female deity (Shekhina) thinks public nudity is acceptable. Unfortunately, Shekhina didn't die on the cross for Leonard Nimoy's sins, and so the only place he could have went upon his death is the Lake of Fire.

It's Heaven or Heaven, there are no other places to go after death. The Bible plainly teaches us that eternal life is God's free gift, just for the taking by faith in the death of Jesus Christ on the cross and believing that He raised-up after three days. Hollywood continually blasphemes God, by cursing in His holy name. I have heard both William Shatner (Captain Kirk) and Leonard Nimoy (Mr. Spock) publicly take the Lord's name in vain. Deuteronomy 5:11, "Thou shalt not take the name of the LORD thy God in vain: for the LORD will not hold him guiltless that taketh his name in vain."

It is a shame that Mr. Nimoy's occult involvement with the synagogue of Satan from childhood, influenced his life's faith to trust in an idolatrous false goddess that in reality doesn't exist, except as a part of the demonic false teachings of New Age rubbish. The immoral, Godless and satanic works performed by Mr. Nimoy will follow him into eternity, and he will be judged at The Great White Throne of Judgment (Revelation 20:11-15). Sadly, it is too late for Leonard Nimoy, but it is not too late for you yet if you're still alive on earth. I guarantee you that Spock (or Mr. Nimoy) is not enjoying himself while burning in the brimstone and fires of Hell forever without mercy or hope. I didn't write the Holy Bible, so don't get mad at me, get mad at God if you don't like what I teach. It's all from the Holy Bible. Jesus plainly taught in John 14:6 that He is THE ONLY WAY to God the Father. It's simple to be saved!


America is On a Nonstop Highway to Hell

We are living in one of the most ungodly, vulgar and warped societies in history today in the United States. Truly, Sodom was a nice place to live compared to America today. They didn't have drive-by shootings in Sodom. They didn't have pornography in Sodom. They DID have the depths of wickedness that we hear about daily in the news, but anywhere near the extend that we have today. Sodom likely only had a couple thousand inhabitants at most (and that's a guess). We have over 300,000,000 people in America today! If Sodom would have had guns, drugs and pornography, they would have indulged in them. We are able in modern times to commit sin much more efficiently. America is being destroyed on purpose, by design, and all of our nation's greatest spiritual leaders are powerless to stop it because of complacency, indifference, woeful ignorance, lack of courage and our spineless culture. We abuse our liberties and freedoms to commit sin, awful sin. And the more that people sin, the worse that everything gets, and the less people care. Apathy is the biggest problem today, but who cares?

The media and Wikipedia have whitewashed Leonard Nimoy's perverted practice of photographing naked women, often laying together in groups. It is ungodly filth and immoral. Clearly, Mr. Nimoy and his filthy Rabbi rejected God's Holy Word. Repeatedly in the two-part video interview I mentioned early, both Nimoy and his Rabbi downplay the awfulness of what they are doing. Biblically, they are promoting the lusts of the flesh. 1st Peter 2:11, "Dearly beloved, I beseech you as strangers and pilgrims, abstain from fleshly lusts, which war against the soul." The entire chapter of Leviticus 18 is about God's command to keep our clothes on!

The first thing that Adam and Eve did after they chose to go into sin was to seek clothing, because they felt shame. It is normal as sinful human beings to feel shame when we are naked in public. That is because it is moral and right not to see each other's nakedness. Only be the hardening of the human heart can people become so ungodly, desensitized and reprobate that they can walk around naked and not be ashamed. When the demon-possessed maniac was running around naked in Mark 5:1-15, the first thing he did when Jesus found him and cast out the demon, was to put his clothes back on. I love this next verse in Mark 5:15, "And they come to Jesus, and see him that was possessed with the devil, and had the legion, sitting, and clothed, and in his right mind: and they were afraid." Did you read that? When demons influence people, they take their clothes off! Ah, but when Jesus comes, people come into their right mind and put their clothes back on! Amen!

The longer that abortion continues to be legal, the more people are increasingly becoming indifferent. The more sexual perversion that Hollywood puts on television and into the movies, the more desensitized Americans are becoming to the awfulness of sin and evil. Consequently, our generation and our children, and their children are set on edge to commit wickedness. What one generation tolerates the next generation will embrace wholeheartedly. Whatever sense of morality we once had in America is virtually gone! The next upcoming generation will be monsters!!! God is gone in America, and the fools who want to have it so will split Hell wide open the second they die. All of the insane fools who boast while singing ACDC's, "I'm On A Highway To Hell," will soon get what they asked for and chose... eternal damnation in the Lake of Fire!!!

I am very saddened by the knowledge that Leonard Nimoy is burning in Hell this moment, but that was his own choice. Mr. Nimoy heard the Gospel. No one in America, with all the churches and preachers that we have, can honestly claim that they have never heard the Gospel. Furthermore, Nimoy was born in 1931 and grew up in the city of Boston. America was still highly Christian during that era. Sadly, from an early age, Nimoy was exposed to the satanic Jewish Kaballah (which was never intended to be a legitimate belief system in my opinion). Have you ever tried to study Kaballa? It is utter nonsense.

Nimoy's faith in a female deity, which led him into a lifestyle of sexual depravity, cannot save him from his sins and spare him God's wrath in the fires of Hell forever. 2nd Thessalonians 1:8-9, "In flaming fire taking vengeance on them that know not God, and that obey not the gospel of our Lord Jesus Christ: Who shall be punished with everlasting destruction from the presence of the Lord, and from the glory of his power." Will you also go away from the Lord Jesus Christ in unbelief, as did Leonard Nimoy? END

---

America Has Become A Vulgar Nation

The facts about pornography (or indecency) are shocking and disturbing. It is an evil dirty business. Courtship, decency and chivalry are virtues woefully lacking in America today, largely due to the preponderance of pornography (soft and hard porn alike). Those who make a career out of smut and filth are God's enemies (James 4:4). That included Leonard Nimoy, who died without Christ in his sins. Each and every born-again Christian ought to hate pornography and do everything in their power to protest it, take a stand against it, and run away from it. 1st Peter 2:11, "Dearly beloved, I beseech you as strangers and pilgrims, abstain from fleshly lusts, which war against the soul." The Greek word for "abstain" here is apechomai and means "to hold oneself off, that is, to refrain."

Pornography and scantily-clad whorish women (for dressing like that) have destroyed the United States, diminishing the sacredness of marriage and cheapening the woman's body. It is because of abortion rights that America's youth no longer value the sacredness and value of human life. And it is because of feminist rights, immodest clothing and worldly music that compel today's youth to indulge in premarital sex. Tragically, today's youth do not value courtship, chastity, nor a marriage commitment. The Godless schools won't teach them the right way. Lord knows that they'll learn all the Devil's ways from television. Our nation is in serious moral trouble ladies and gentlemen. Americans think it's cute to turn their daughters into slutty prostitutes...

"DANCE MOMS" Promotes Child Exploitation and Pedophilia!

The porn industry is synonymous with the Homosexual Agenda, NAMBLA, AWAB and everything unholy and demonic. There's not a more repulsive, morally reprehensible, low-life, and sadistic group of swine than pornographers. Those who produce indecent magazines, like Sports Illustrated, and Maxim, are just as guilty of pornography as the hardcore MA only garbage they produce in Hollywood. It's a sinful way to make money, definitely not a legitimate business, and the money they make is blood money from all the marriages, communities, lives and homes ruined. Hell will be hot!

If I had the power to do so, I'd rip out every internet connection in the world and there'd be no internet. It is simply too evil in this present wicked world and few people have the spiritual character to control where they go. I'd get rid of the mainstream newsmedia, shutdown the networks. I'd rid this world of television altogether. The world is simply too evil. Oh, how the world needs Jesus!

Study Condemns TV's Lewd Underaged Teen Girls
(Study Focuses on Television Executives who Exploit Underaged Teen Girls for Profit)
---

Numbers 33:52, "Then ye shall drive out all the inhabitants of the land from before you, and destroy all their pictures, and destroy all their molten images, and quite pluck down all their high places."
---
Ye Must Be Born Again! | You Need HIS Righteousness!