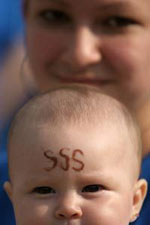 It's hard to imagine a country more traditional, and more religious, than Guatemala. For that reason, news that the country is denying entry to a cult leader who tattooes "666" on his arm, calls himself The Antichrist, and whose (alleged) 2 million followers describe him as a living deity -- it's pretty far out.
Jose Luis de Jesus Miranda is the head of the Florida-based Growing in Grace church. He runs a 24-hour Spanish-language television network, and hosts a radio program broadcast on 287 stations.
Thumbnail at left (Alexandre Meneghini, AP) (link to full-size): A follower of Miranda holds a baby with "SSS" painted on her head. The letters stand for Miranda's motto, "salvo, siempre salvo," or "saved, always saved." This week, Miranda tried to fly on his private jet to Guatemala, where he apparently has a big following, to celebrate his 61st birthday. But Guatemalan officials flagged him as a terrorist, and say he's a security risk because he provokes conflict with Roman Catholics and evangelicals.

Despite the Guatemalan government's security block, his supporters say...
"It has been predestined, and angels will make it happen," said Axel Poessy, Miranda's media director. "He is, after all, God himself."
Well, that didn't work out. Miranda was indeed denied entry to Guatemala. Miranda spun the story of the nixed visit as his choice:
He had vowed to defy the ban but canceled Saturday and will instead address the gathering in a video teleconference, said the sect's head pastor in Guatemala, Jorge Batres. "We're a church respectful of the law and we will have to wait until the judge gives us an injunction," Batres said.

Batres said De Jesus Miranda's Guatemalan followers will "firmly fight within the law so that he can come and let the world know that Jesus the Man is in Guatemala."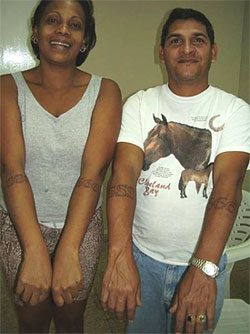 No surprise here, but the church's website appears to be a very important part of their "Antichrist ministry" outreach program.
The most interesting parts of the site, to me, are these videos of children proclaiming themselves part of a "Super Race" of Miranda followers, and this photo gallery documenting "Day of the Tattoo," where followers of de Miranda all got tattoos of "666" and "SSS" ("salvo, siempre salvo") on their bodies to proclaim their faith. Miranda moved his church and his headquarters to Houston some time ago: Link. Then he announced he is the Antichrist.