Malcolm X Exposed!
By David J. Stewart
"But there were false prophets also among the people, even as there shall be false teachers among you, who privily shall bring in damnable heresies, even denying the Lord that bought them, and bring upon themselves swift destruction." -2nd Peter 2:1
Malcolm X made some great quotes, and I believe was sincere in his efforts to empower African Americans to fight for justice and equality. Unfortunately, Malcolm X has led untold multitudes of blacks into the damnable Islamic religion, which denies Jesus Christ. By the way, the Jewish religion of Judaism is just as damnable. Islam teaches that Jesus never died on the cross, is not the Savior, and is not the Son of God. Dr. Kenneth Boa correctly states...
No religion poses a more formidable challenge to Christianity as we enter the third millennium than Islam. It is the dominant religion in many parts of the Third World, and its appeal as the religion of the oppressed, the religion for those who resent their treatment at the hands of the white European and American establishments, has considerable force. -Kenneth Boa Th. M.; Ph.D.; D.Phil.
Thus, Islam greatly appeals to African Americans, who's ancestors were oppressed by the white man for centuries, and even today. It is tragic that blacks are buying into the lie of Islam, for no other reason than Islam's sympathy for black suffering historically. If you want sympathy, then turn to the Lord Jesus Christ, who was beaten, spit upon, and crucified to death for your sins and mine.
Many of Malcolm X's philosophies could be applied to the apostate condition of Christianity today. For example, Malcolm X stated... "Nobody can give you freedom. Nobody can give you equality or justice or anything. If you're a man, you take it." Most churches today are fast asleep, and think freedom is a right; BUT, it is not. Freedom comes at a high price, paid for by the blood of those who were willing to die for it, and eventually it will require blood once again to keep it. America is quickly becoming a Police State, and the courts are fast moving towards banning any public preaching against homosexuality. I believe Malcolm X was a sincere man; but sincerely WRONG about God. Tragically, Malcolm X is burning in Hellfire this moment, because he died in his sins without Christ as his Savior (2nd Thessalonians 1:8--King James Bible). I say this with great sadness.
END
---
---
Secular History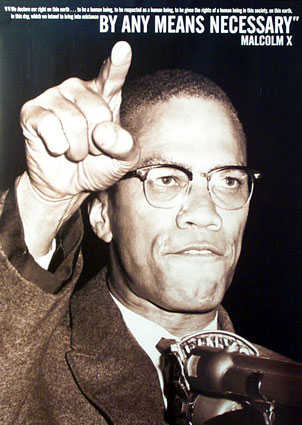 Malcolm X, Religious Figure / Civil Rights Figure
Born: 19 May 1925
Birthplace: Omaha, Nebraska
Died: 21 February 1965 (assassination)
Best Known As: Assassinated leader of the 1960s black power movement
Name at birth: Malcolm Little
While in prison for burglary, Malcolm Little adopted the Black Muslim faith and became a minister of the Nation of Islam upon his release in 1952. As Malcolm X, he was a charismatic advocate of black separatism who rejected Martin Luther King, Jr.'s policies of non-violence. Malcolm X broke with the Nation of Islam in 1964. That same year he made a pilgrimage to Mecca and shortly afterwards he embraced orthodox Islam and took the name El-Hajj Malik El-Shabazz. He recanted some of his earlier more strident viewpoints on race, though he remained a staunch advocate of "black power." He was shot to death by a group of men while giving a speech in New York City in 1965; some of the men had connections to the Nation of Islam, though a formal tie between that group and the assassination was never proven.
The Autobiography of Malcolm X was published after his death in 1965 and became a best-seller; the book was co-written by Alex Haley, later the author of Roots... X's widow, Betty Shabazz, died on 23 June 1997 after being severely burned in an apartment fire set by her 12-year-old grandson... Actor Denzel Washington played Malcolm X in the 1992 Spike Lee movie X.
END