SWINE FLU AND CORONA VIRUS PANDEMIC

By David J. Stewart | May 2009 | Updated February 2020
Known as "Swine Flu," the deadly virus we've been hearing about recently in America is an influenza strain combining Bird Flu from Asia, Human Flu from Europe and Swine Flu from North America. It was recently reported by the Telegraph in London that scientists had deliberately combined Bird Flu with regular vaccinations, which resulted in the death of 21 homeless people. As of 04-26-09, MSNBC reported that 86 people have died in Mexico from Swine Flu. U.S. declares swine flu public health emergency - Infectious diseases - msnbc.com

According to reports, the virus is a "never-before-seen form of the flu that combines pig, bird and human viruses" which consists of an intercontinental mix of viruses from North America, Europe and Asia.

"CDC officials detected a virus with a unique combination of gene segments that have not been seen in people or pigs before," according to an Associated Press report.

"This strain of swine influenza that's been cultured in a laboratory is something that's not been seen anywhere actually in the United States and the world, so this is actually a new strain of influenza that's been identified," said Dr. John Carlo, Dallas Co. Medical Director (video clip here).

SOURCE: Swine Flu Is Deadly Mix Of Never-Before-Seen Viruses

Note as of May 2010: It's been one year since the Swine Flu scare. The crucial thing to realize is that from the beginning, Swine Flu was identified as a bioweapon. Bush, Obama and Rumsfeld are all stock owners in the drug, Tamiflu, which is the cure for Swine Flu. Connect the dots. This was only a test by the global elite, to get ready for the unthinkable, which is coming. FEMA has 500,000 coffins waiting for something!

Swine Flu outbreaks have been reported so far in California, Texas, Indiana, Kansas and New York so far as of 04-28-09. All indications point toward a designer virus, a manmade bioweapon. One of the most telltale signs is that the Bush, Obama and Rumsfeld are all stock owners in the drug, Tamiflu, which is the cure for Swine Flu. Connect the dots.

This is a new virus never seen before according to the CDC, combining various flu strains. The Swine Flu pandemic WILL BE used as a means of furthering Police State control over the public. Anyone who refuses the shot, which has serious potential health risks, will be placed into a FEMA detention camp. FEMA has purchased over 500,000 plastic coffins in Georgia. Plans for Mass Graves have been Confirmed in New York. The government has been surveying cemetery readiness for a Flu outbreak. It's not hard to connect the dots.

It's also interesting to note that months prior to the 911 attacks, there were warnings from the World Health Organization of a possible small pox epidemic.

"A total population of 250-300 million people, a 95% decline from present levels, would be ideal." —Ted Turner to Audubon Magazine, 1996

---
A STRENGTHENED CORONA VIRUS AND A POLICE STATE!!!
IT WAS ALWAYS COMING TO THIS ...
FLU IS NOT THE BIGGEST DANGER ...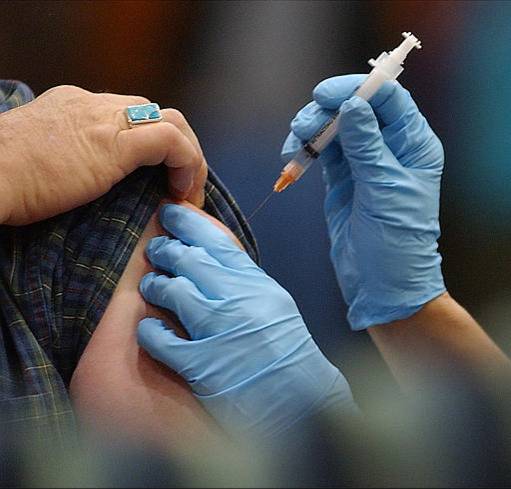 ... IT'S THE VACCINE
By David Icke
https://www.davidicke.com/index.php/article/228335/the-reality-behind-the-swine-flu-conspiracy
Note: I do not endorse David Icke, nor his website, but he has done an excellent job exposing the Swine Flu scam.
https://edition.cnn.com/2020/02/10/asia/china-security-police-wuhan-virus-intl-hnk/index.html
https://www.reuters.com/article/us-china-health-surveillance/coronavirus-brings-chinas-surveillance-state-out-of-the-shadows-idUSKBN2011HO
---
Ye Must Be Born Again! | You Need HIS Righteousness!