The Controversial Story Of B17
Professor G. Edward Griffin
Read the Complete .PDF Book Now!—WORLD WITHOUT CANCER

The Controversial Story of B17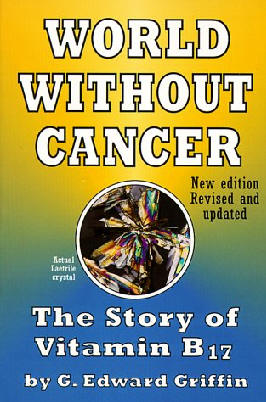 Read The Free Book Now! (.PDF)
Professor G. Edward Griffin narrates his movie World Without Cancer. In it, Griffin marshals the evidence that cancer is a deficiency disease – like scurvy or pellagra – aggravated by the lack of an essential food compound in modern man's diet. That substance is vitamin B17..In its purified form developed for cancer therapy, it is known as Laetrile. YOU DECIDE!
FRAUD ALERT: National Center For Biotechnology
Information (NCBI) Says There's
No Proof That B17 Works!

I don't claim that B17 prevents or cures cancer. In fact, I have serious doubts that it does anything beneficial. The only reason I ever gave B17 serious consideration is because I trust Dr. G. Edward Griffin, but the fact does exist that he has made millions of dollars time and time over by selling his book, "World Without Cancer." If B17 was as great as many people claim, where are the studies to back up the claims? THEY DON'T EXIST. But studies showing the ineffectiveness of B17 do exist! I personally think B17 is quackery, but I still wanted to share this incredible story with you. YOU DECIDE! ~David J. Stewart

Watch Free B17 Cancer VIDEO Now


Running time: 55:45 (File Size: 6.7 MB)
So many people have cancer throughout the world today, and yet the people have been deceived into thinking that drugs is the only way. It's not even THE way. Drugs will make you even more sick.

Revelation 18:23 says that Babylon has deceived then nations with her "sorceries". That word sorceries in the original Greek is "pharmakeia", which is where the word pharmaceutical comes from. The world has been deceived by the "pharmaceuticals" of Babylon.

There is a way to cure cancer and it is a natural drug free way! The natural foods and lifestyle that our Heavenly Father has given us.

Personally, I'd rather die of cancer than allow doctors to poison and burn me with chemotherapy, which will certainly make me sick and likely kill me! Instead, drastically change your diet.

EAT TO STARVE CANCER!