"For I testify unto every man that heareth the words of the prophecy of this book, If any man shall add unto these things, God shall add unto him the plagues that are written in this book: And if any man shall take away from the words of the book of this prophecy, God shall take away his part out of the book of life, and out of the holy city, and from the things which are written in this book."
Revelation 22:18-19, King James Bible

The Catholic Church Teaches a Perverted Salvation
From The Questions and Answers Catholic Catechism, by Father John A. Hardon, who holds a Doctorate degree from the Gregorian University near the Vatican in Rome, and is professor in the Institute for Advanced Studies in Catholic Doctrine at Sr. John's University in New York, copyright 1981. (Well endorsed by Mother Teresa, "Healthy Food For Hungry Souls.")

"The church is the universal sacrament of salvation..." (Q. 402, p. 96).

"Non Christians can be saved through the church..." (Q. 418, p. 99).

In Dictionary of the Liturgy, by Rev. Jovian P. Lang, OFM (Catholic Book Publishing Co., NY, copyright 1989).

"Also, the church could be considered the universal Sacrament of salvation for all the faithful." (page 563).

"Although Christ died to save all human beings, every individual must apply the fruits of the Redemption...This is done principally through the Church and her Liturgy. The liturgical action is itself an event of salvation..." (573).

"Thus, the Liturgy is completely concerned with salvation. It speaks of the "bread of life" and the "cup of eternal salvation" (Eucharistic prayer 1*)."(573)

Liturgy = "1 a: a rite or series of rites, observances, or procedures prescribed for public worship....c: ceremonial or ritualistic worship....2: a system or series of ceremonial or ritualistic actions done according to a prescribed arrangement" (Websters Third New International Dictionary).

In Dictionary of the Liturgy (p. 183) speaking of Eternal Life it says: "The Liturgy is one of the most powerful means for Christians to obtain this life of grace."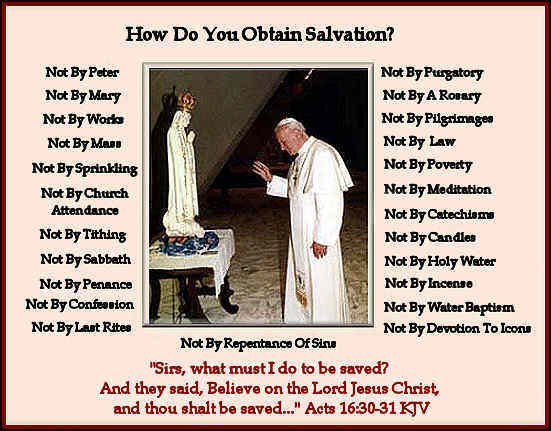 What The Word of God Says On Salvation
"That if thou shalt confess with thy mouth the Lord Jesus, and shalt believe in thine heart that God hath raised him from the dead, thou shalt be saved. For with the heart man believeth unto righteousness; and with the mouth confession is made unto salvation. For the scripture saith, Whosoever believeth on him shall not be ashamed. For there is no difference between the Jew and the Greek: for the same Lord over all is rich unto all that call upon him. For whosoever shall call upon the name of the Lord shall be saved." Romans 10:9-13 KJV
"Sirs, what must I do to be saved? And they said, Believe on the Lord Jesus Christ, and thou shalt be saved." Acts 16:30-31 KJV
"For by grace are ye saved through faith; and that not of yourselves: it is the gift of God: Not of works, lest any man should boast." Ephesians 2:8,9 KJV

The Catholic Church on "Sacraments"
The Catholic Church teaches that the "sacraments" (not a biblical word or doctrine) are necessary for salvation (Baptism, Confirmation, the Eucharist or Mass (Communion), Penance (confession), Matrimony, Anointing the Sick, Holy Orders (ordination of a priest)).
"Sacraments. Outward signs or sacred actions...through which grace is channeled...When the Sacraments are administered validly and the recipient is properly disposed, the Sacraments attain their ends infallibly, that is, grace is automatically communicated to the recipient. Thus, the Sacraments perpetuate Christ's Redemptive Action." (Dictionary of the Liturgy, p. 561)

THE WORD OF GOD:
"For by grace are ye saved through faith; and that not of yourselves: it is the gift of God: Not of works, lest any man should boast." Ephesians 2:8,9 KJV (not through "sacraments", which is works)
Jesus A Repeated or Re-enacted Sacrifice in A "Mass"???
Not According to the Bible's definition!
"Nor yet that he should offer himself often, as the high priest entereth into the holy place every year with the blood of others; For then must he often have suffered since the foundation of the world: but now once in the end of the world hath he appeared to put away sin by the sacrifice of himself. And as it is appointed unto men once to die, but after this the judgment: So Christ was once offered to bear the sins of many; and unto them that look for him shall he appear the second time without sin unto salvation." Hebrews 9:25-28 KJV
"And every priest standeth daily ministering and offering oftentimes the same sacrifices, which can never take away sins: But this man, after he had offered one sacrifice for sins for ever, From henceforth expecting till his enemies be made his footstool. For by one offering he hath perfected for ever them that are sanctified." Hebrews 10:11-14 KJV
"And when I saw him, I fell at his feet as dead. And he laid his right hand upon me, saying unto me, Fear not; I am the first and the last: I am he that liveth, and was dead; and behold, I am alive forevermore, Amen;" Revelation 1:17-18 KJV
Roman Catholics call the Apostle Paul a liar on this next verse, with their false doctrine of transubstantiation:
"Wherefore henceforth know we no man after the flesh: yea, though we have known Christ after the flesh, YET NOW HENCEFORTH KNOW WE HIM NO MORE (after the flesh)." 2 Corinthians 5:16 KJV

"It is the spirit that quickeneth; the flesh profitteth nothing; the words that I speak unto you, they are spirit, and they are life." John 6:63 KJV

"But the hour cometh, and now is, when the true worshippers shall worship the Father in spirit and in truth: for the Father seeketh such to worship him. God is a Spirit: and they that worship him must worship him in spirit and in truth." John 4:23-24 KJV

(Worship Him in Spirit, not in "sacraments" nor earthly, physical things)

The Catholic Church Teaches A "Different Jesus" When They Teach That He Returns Transformed In A Eucharist
(2 Corinthians 11:4)
The Eucharist - (From Dictionary of the Liturgy, p. 183). "Eucharist. This Greek word for thanksgiving is a technical term for the Mass...the Eucharist is both a Sacrament and a Sacrifice."

(from The Question and Answer Catholic Catechism, p. 244, Q. 1212). "The center of the whole Catholic liturgy is the Eucharist. The Eucharist is most important in the life of the Church because it is Jesus Christ. It is the Incarnation continued in space and time. The other sacraments and all the Church's ministries...are directed toward the Eucharist." and Q. 1214. "The Eucharist is a sacrament which really, truly, and substantially contains the body and blood, soul, and divinity of our Lord Jesus Christ under the appearances of bread and wine. It is the great sacrament of God's love in which Christ is eaten..."

Transubstantiation "That teaching of the Church which signifies the conversion or complete change of the substance of bread and wine into the substance of Christ's Body and Blood." (Dictionary of the Liturgy, p. 624).

It Is A Sacrifice Q. 1265 (p. 254) "The Sacrifice of the Mass is the true and properly called Sacrifice of the New Law. It is the Sacrifice in which Christ is offered under the species of bread and wine in an *unbloody manner*. The Sacrifice of the altar, then, is no mere empty commemoration of the Passion and Death of Jesus Christ, but a true and proper act of sacrifice. Christ, the eternal High Priest, in an unbloody way offers himself a most acceptable Victim to the eternal Father, as he did upon the Cross."
Victim? What Does Jesus Say About This?
"Therefore doth my Father love me, because I lay down my life, that I might take it again. No man taketh it from me, but I lay it down myself. I have power to lay it down, and I have power to take it again. This commandment have I received of my Father." - John 10:17-18 KJV
So Jesus says He was NOT a victim, that He willingly laid it down of His own will.
""...this same Jesus, which is taken up from you into heaven, shall come in so like manner as ye have seen him go into heaven." (Acts 1:11 KJV) So Jesus will return in the same manner He ascended, and not millions of times a day to be transformed into a round wafer so that Roman Catholics can supposedly eat His literal flesh. He didn't go up looking like a round wafer; therefore He doesn't return looking like a round wafer.
Since Roman Catholic doctrine claims that "Christ, the eternal High Priest, in an UNBLOODY way offers himself a most acceptable VICTIM" (see above) then the Mass is absolutely ineffectual in regards to anyone's salvation or justification, for only the BLOOD of Christ cleanses us from sin. Therefore your priests can partake of their alcoholic drinks on their altars until they die, but it will attain for them no benefit or eternal reward, in fact, according to Hebrews 10:29, it will result in their "sorer punishment".

"But if we walk in the light, as he is in the light, we have fellowship one with another, and the blood of Jesus Christ his Son cleanseth us from all sin." - 1 John 1:7

Blasphemous Leadership
The Vatican at Rome and her priests steal from Christ the right to forgive and redeem sins:
"All bishops and priests have the power to forgive sins or absolve sins. Christ conferred this power on the apostles, and on the bishops and priests who would succeed them. However, the Church reserves the right to determine when a priest may use the power to forgive sins." (The Question and Answer Catholic Catechism, Q. 1327), p. 264).

BUT ONLY CHRIST HAS THE POWER TO REDEEM SINS
""And, behold, they brought to him a man sick of the palsy, lying on a bed: and Jesus seeing their faith said unto the sick of the palsy; Son, be of good cheer; thy sins be forgiven thee." Matthew 9:2 KJV
"If we confess our sins, he is faithful and just to forgive us our sins, and to cleanse us from all unrighteousness." 1 John 1:9 KJV
There Is No God-given Authority for a Special Class of Priests In This Age of Grace
Every true believer is a "priest" now. God has ordained pastors and deacons, not priests, to lead local churches.

Read 1st Peter 2:5: "Ye also, as lively stones, are built up a spiritual house, an holy priesthood, to offer up spiritual sacrifices, acceptable to God by Jesus Christ."

"Yes also, as lively stones, are built up a spiritual house, an holy priesthood, to offer up spiritual sacrifices, acceptable to God by Jesus Christ." 1 Peter 2:5 KJV

A minister of God is commanded to be "the husband of one wife". That commandment has been ignored
by the Roman Catholic Church and its "priesthood" since its inception in the 4th century AD. No wonder
there is so much sexual abuse in the Roman Catholic Church, for the Bible says that forbidding to marry is
a "doctrine of devils"!

"Now the Spirit speaketh expressly that in the latter times some shall depart from the faith, giving heed to seducing spirits and DOCTRINES OF DEVILS; Speaking lies in hypocrisy; having their conscience seared with a red hot iron;
Forbidding to marry ...."
(II Timothy 4:1-2).

"This is a TRUE saying, If a man desire the office of a bishop he desireth a good work. A bishop then must be blameless,
the husband of one wife . . . one that ruleth well his own house, having his children in subjection with all gravity.
(For if a man know not how to rule his own house, how shall he take care of the church of God?)."
(I Timothy 3:1-5).

If a Roman Catholic priest is allowed to marry and have children the money he makes during his lifetime will be
given to his family, and the Catholic Church would lose it. That is one reason the Papacy will never allow priests to marry.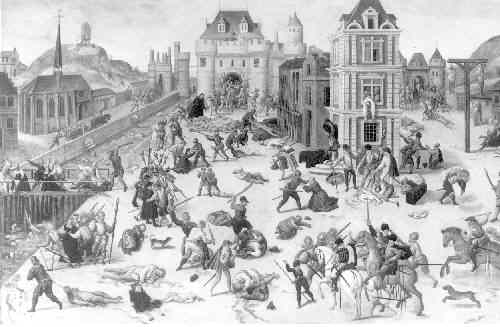 An Eyewitness Account of the Saint Bartholomew's Day Massacre by François Dubois
August 24, 1572, was the date of the infamous St. Bartholomew's Day Massacre in France. On that day, over 400 years ago, began one of the most horrifying holocausts in history. French Roman Catholic soldiers and the Roman Catholic clergy fell upon the unarmed people, and blood flowed like a river throughout the entire country. Men, women, and children fell in heaps before the mobs and the bloodthirsty troops. In one week, almost 100,100 Bible believers, and others who rejected the Vatican's heresies, perished. The rivers of France were so filled with corpses that for many months no fish were eaten. When news of the Massacre reached the Vatican there was jubilation! Cannons roared - bells rung - and a special commemorative medal was struck - to honor the occasion! The Pope commissioned the painting of a mural to celebrate the Massacre - which still hangs in the Vatican today!

Massive Idolatry - The Cult of Mary
"Mary was involved in the Mysteries of Christ. As the most holy Mother of God she was, after her son, exalted...above all angels and human beings. Hence, the Church appropriately honors her with a special cult or devotion. The Church's devotion to the Blessed Virgin is an intrinsic element of Christian worship." (from The Dictionary of the Liturgy, p. 390-391). "Thus, at every liturgical celebration, Mary the Mother of God is with us -- as our Model, our Intercessor," ...."Each Marian celebration is also intended to give us a better understanding of Mother Mary and her part in our salvation." (p. 393). "In all perils and needs, the faithful have fled prayerfully to her protection." (p. 391).
Links To Show Marian Idolatry Is Alive And Well In The Catholic Church
Do They Worship Jesus, the Saviour, Or A False Goddess, The Queen Of Heaven
Whose Worship Is Condemned In The Scriptures? (Jeremiah chapters 7 and 44)
The Roman Catholic Church falsely teaches from their own corrupt imaginations:

1. That she was immaculately conceived (like Christ).

2. That she was assumed into heaven bodily (called "The Assumption of Mary").

3. That she is an intercessor or mediatrix and that it is perfectly permissible to pray to her for intercession instead of on Jesus Christ, as we are commanded to do in 1 Timothy 2:5.

Mary Replaces Christ in Catholic Doctrine!

The Roman Catholic Image, Right, Shows "Mary" stepping on and defeating the Dragon (the beast, Antichrist - Rev. 17:3) of the Great Tribulation, INSTEAD OF JESUS CHRIST AS PROPHESIED IN THE BIBLE! (Genesis 3:15, Romans 16:20) THIS IS BLASPHEMY.

Jesus Is Our Only Mediator Between God And Men
"For there is one God, and one mediator between God and men, the man Christ Jesus;" 1 Timothy 2:5 KJV

"Likewise the Spirit also helpeth our infirmities: for we know not what we should pray for as we ought: but the Spirit itself maketh intercession for us with groanings which cannot be uttered. And he that searcheth the hearts knoweth what is the mind of the Spirit, because he maketh intercession for the saints according to the will of God." Romans 8:26-27 KJV

"Wherefore he is able also to save them to the uttermost that come unto God by him, seeing he ever liveth to make intercession for them." Hebrews 7:25 KJV

Mary was a sinner like you and me. She needed a Savior. (Luke 2:22-24 & Leviticus 12 KJV)

Roman Catholics will often try to claim that they do not "worship Mary". They are blinded by their own apologetic teachings of their church. PRAYER IS A FORM OF WORSHIP, SO THEREFORE WHEN CATHOLICS PRAY TO MARY THEY ARE INDEED WORSHIPPING HER.

WEBSTER DICTIONARY DEFINITION of "PRAYER": "A PETITION OR ACT OF DEVOTION TO AN OBJECT OF WORSHIP"

NEITHER JESUS NOR PAUL EVER AUTHORIZED ANYONE TO PRAY TO MARY, FOR THIS WOULD BE CONTRARY TO THE COMMANDS OF HOLY SCRIPTURE

The Catholic Church Perverts The Ten Commandments
In an obvious attempt to avoid the prohibition by God not to make images and bow down to them, the Roman Catholic Church perverts the Ten Commandments. In "The Dictionary of the Liturgy": "Q. 537. (On pages 121-122): "What are the Ten Commandments? They are:
1. I am Yahweh your God. You shall have no gods except me.
2. You shall not take the name of the Lord your God in vain.
3. Remember to keep holy the Lord's day.
4. Honor Your father and your mother.
5. You shall not kill.
6. You shall not commit adultery.
7. You shall not steal.
8. You shall not bear false witness against your neighbor.
9. You shall not covet your neighbor's wife.
10. You shall not covet anything that belongs to your neighbor."
What the Catholic Church Likes To Leave Out In This List -- "No Graven Images"!
"And God spake all these words, saying, I am the Lord thy God, which have brought thee out of the land of Egypt out of the house of bondage. Thou shalt have no other gods before me. Thou shalt not make unto thee any graven image, or any likeness of any thing that is in heaven above, or that is in the earth beneath, or that is in the water under the earth: Thou shalt not bow down thyself to them, nor serve them: for I the Lord thy God am a jealous God, visiting the iniquity of the fathers upon the children unto the third and fourth generation of them that hate me;" Exodus 20:1-5 KJV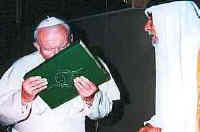 More Idolatry in Action: Pope John Paul 2nd Kisses The Koran
WEBSTER DICTIONARY definition of Idol: "An image used as an object of worship."

THE BIBLE'S definition of Idol: An image to represent a false god (in context: Acts 7:41; Acts 15:20; Romans 2:22; 1 Cor. 8:4-7; 1 Cor. 12:2; 2 Cor. 6:16; 1 Thess. 1:9; 1 John 5:21; Rev. 9:20)
THEREFORE BY EVERY DEFINITION BOTH SECULAR AND BIBLICAL:
THE POPE IS AN IDOLATER! AND THE BIBLE TELLS US TO "FLEE FROM IDOLS"! (1 John 5:21)

A Perverted View of the Judgment of God - "Purgatory"?
Q. 316 (p. 82, The Question and Answer Catholic Catechism): "Purgatory is a state or condition in which the souls of the just, who die with the stains of sin, are cleansed before they are admitted to heaven." Q. 317 "Stain of sin means the temporal punishment still due to venial or forgiven mortal sins. If the punishment has not been satisfied before death, a person must suffer in purgatory to repay this debt which is owed to the divine Majesty." Q. 320 "The sufferings of purgatory are more intense than any suffering in earth."

But The Bible Says The Saved Are Immediately Taken to Be With the Lord Jesus Christ
"Therefore we are always confident, knowing that, whilst we are at home in the body, we are absent from the Lord: (For we walk by faith, not by sight:) We are confident, I say, and willing rather to be absent from the body, and to be present with the Lord." 2 Corinthians 5:6-8 KJV

"For to me to live is Christ, and to die is gain." Philippians 1:21 KJV
It is either heaven or hell according to the Bible. There is no middle ground. (Romans 2:5-11, Revelation 21:8 KJV).

WHY THE APOSTLE PETER WAS NOT A GENTILE "FIRST POPE"
Catholic Doctrine Private Interpretation
Catholic Doctrine Speaks: "First Dogmatic Constitution of the Church of Christ" published in the fourth session of the Holy Ecumenical Council of the Vatican, Section 4: "The supreme power of teaching is also included in the Apostolic primacy, which the Roman pontiff, as the successor of Peter, Prince of the Apostles, possesses over the whole Church...because the sentence of our Lord Jesus Christ cannot be passed by, who said, Thou art Peter, and upon this rock I will build my church." That the Roman Pontiff is the true Vicar of Christ, and the head of the whole Church, and the Father and teacher of all Christians. We teach that the Roman Pontiff, when he speaks ex cathedra...that such definitions of the Roman Pontiff are irreformable of themselves, and not from the consent of the Church. This gift then of truth and never failing faith was conferred by heaven upon Peter and his successors in this chair [the Vatican at Rome]."
The entire Papal system is based on one verse of the Bible, namely Matthew 16:18.
In that verse it is claimed that Jesus made St. Peter the first Pope. This is called the "Primacy of Peter". Not one of the early
Christians understood it to mean any such thing. The Council of Chalcedon, held in the year 451, totally repudiated this idea.
The first person to make such an outlandish claim was Pope Leo I.

The Bible On Peter And Who Exactly IS "The Rock"
1. Peter was the "minister of the circumcision" (Galatians 2:8 KJV)....minister of the Jewish brethren, not commissioned to be the beginning of a Gentile Roman Catholic Church.
Pauline Authority
Paul was the apostle called out by Jesus Christ to preach the gospel of the grace of God to the Gentiles (Galatians 2:2, 2:8), and Paul was the one who wrote to the Roman church [Book of Romans]. Jesus never started any Roman Catholic Gentile papacy in Matthew 16, for Jesus said:
"I am not sent but unto the lost sheep of the house of Israel" (Matthew 15:24 KJV), not Rome!
Rome KILLED Jesus, Paul, Peter, John, and thousands of early disciples.
Every single cult on the face of the earth will ignore the doctrinal authority of the Pauline epistles for the church in this age of grace, in preference for taking verses out of context in the synoptic gospels (Matthew, Mark, Luke, and John), chiefly aimed doctrinally at JEWS and ISRAEL. This, beloved, is STEALING. And God knows it. This is one reason the Roman Catholic "Church" calls her leaders "priests". This church believes it has replaced ISRAEL as pertaining to the promises and the prophecies of God (and that is why this "church" has been historically anti-Semitic). Why do you think Hitler, Mussolini, and Franco, all baptized Roman Catholics, wanted to bring in a "1000 Year Reich"? Did they just pick that number out of a hat? No: 1000 years is the number given in Revelation 20, describing the millenial reign of Jesus Christ. Because Roman Catholics are postmillenial, and deny that Jesus Christ will return to establish a literal, physical kingdom on earth from Jerusalem, as prophesied over and over again in both Testaments. They believe that THEY are "bringing in the kingdom" by their own (often bloody and violent) efforts. However, the kingdom will NOT be established WITHOUT the KING ON HIS THRONE FIRST!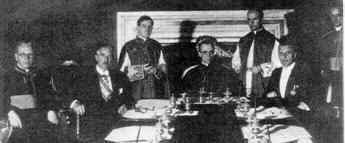 Signing the Concordat with Hitler's henchmen is Cardinal Pacelli (later to become Pope Pius XII). By 1933 he was the Vatican Secretary of State. Second from left is Franz von Papen, a sinister Nazi and devout Roman Catholic who was Hitler's ace diplomat and the Vatican's agent in helping to bring Hitler to power. Standing at the far right can be seen the little-known Vatican prelate, Montini, later to become Pope Paul VI. Two future Popes signing with Hitler, knowing how he hated the Jews and the Christians. Then not speaking out when over 12 million went to their deaths in concentration camps, run by Roman Catholic commandants like Stangl. Eternal shame! 1st John says there is NO eternal life abiding in a MURDERER. Her bloody history proves that this "church" could never have been "the one true church Christ founded."
THE UNHOLY ROMAN CATHOLIC TRINITY OF THE 20TH CENTURY
Benito Mussolini
Baptized Roman Catholic
Father Of The
Modern Vatican City State

Adolph Hitler
Baptized Roman Catholic
Fascist Ruler Of Germany
Sought To Rule The World

Francisco Franco
Baptized Roman Catholic
Dictator Of Spain
1/2 Of Spain Died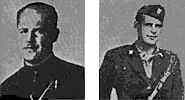 The Franciscan monk, Miroslav Filipovic, left, as a priest; wearing his cassock, right, in Ustashi uniform. Filipovic was the Catholic
commandant of the concentration camp at Jasenovac.
Jasenovac concentration camp distinguished itself because of the number of young inmates sent there.
In 1942 the camp held over 24,000 Orthodox youngsters. Twelve thousand of them were murdered in cold blood.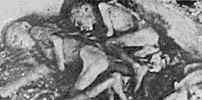 Corpses of children starved to death in the concentration camp at Jasenovac.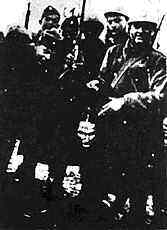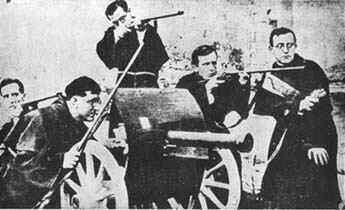 1st Photo: Roman Catholic Ustashi soldiers carrying the head of a Serbian Orthodox priest that they cut off.
2nd Photo: Roman Catholic Priests killing for Franco in Spain.
The "one true church Christ founded"??? Don't be ridiculous!
Someone in the REAL "one true church" would love their enemies,
and seek to present them with the gospel, not murder and torture them!
Perhaps the most important question is not "which is the one true church Christ founded?",
but rather instead: "ARE YOU IN IT?" If you are not saved "by grace through faith",
then you cannot possibly be in that church, no matter which church you attend.
God is not through with Israel.
No Christian Church Has Any Biblical Authority To Despise The Jews And Israel,
Or To Believe That Their Church Has Replaced Israel On God's Prophetic Timetable.
Read Romans Chapters 9-12.
2. Peter was married. (Matthew 8:14 KJV).

3. After Jesus supposedly commissioned Peter as a "rock" that He would build a Gentile Roman Catholic Papacy upon, He turned to Peter and called him "Satan". (Matthew 16:23 KJV).

4. Peter cursed and swore (Matthew 26:74 KJV).

5. Peter denied and abandoned Jesus Christ in His hour of suffering. (Matthew 26:69-75 KJV).

6. Peter would not let Cornelius bow down to him (Acts 10:26 KJV).

7. Paul, the apostle Jesus called out to preach the gospel of the grace of God to the Gentiles, publicly blamed Peter for teaching wrong doctrine and rebuked him. (Galatians 2:11 KJV).

8. Jesus Christ is the Rock upon which the Christian church is built upon. (1 Cor. 10:4: "And did all drink the same spiritual drink: for they drank of that spiritual Rock that followed them: and that Rock was Christ."). Peter was just a "stone" (John 1:42 KJV: "...thou art Simon the son of Jona: thou shalt be called Cephas, which is by interpretation, A stone.").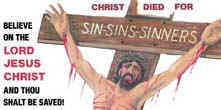 Every single one of these heresies of the Roman Catholic Church is a diversion from the Truth (John 14:6) and will consequence in hell *if believed and trusted in*. Church membership and observing Roman Catholic "sacraments" cannot save your soul; only faith in what Jesus Christ did for you on the cross will save you!
"And brought them out, and said, Sirs, what must I do to be saved? And they said, Believe on the Lord Jesus Christ, and thou shalt be saved, and thy house." Acts 16:30 KJV
"For whosoever shall call upon the name of the Lord shall be saved." Romans 10:13 KJV
Ask Him in prayer to save you from hell today!
If you know yourself to be saved by grace through faith, yet are
still attending a Roman Catholic Church, know that God says to leave
the Harlot Church (Revelation 17) on the Seven Hills of Rome:
"Come out of her...that ye be not partakers of her sins, and that ye receive not of her plagues." (Rev. 18:4 KJV)
Whom will you obey? God, or man?
"Am I therefore become your enemy, because I tell you the truth?"
Gal. 4:16
John 6:51 -Eating Jesus' Flesh and Blood?