Benny Hinn is a Palestinian Arab born in 1952 in Jaffa, Israel, to a Greek father and an Armenian mother. Benny was raised in the Greek Orthodox religion and went to French Catholic schools. In 1968 the Hinn family moved to Toronto, Canada.
Evidently, Benny became a charismatic in 1972 shortly after attending a Kathryn Kuhlman service. The only thing that is consistent with Benny is the inconsistency of his stories. In terms of his conversion, there have been at least half a dozen different stories. One can only wonder which one if any is accurate.
Hinn decide the faith healing business was for him. So by December 1974 he began holding weekly healing meetings in Oshawa, Ontario, despite his complete lack of formal study or knowledge of scripture.
In 1983 Benny moved his operations to the Orlando Christian Center in Florida. Following some legal troubles, he decide in late 1999 to move his operations to Dallas, Texas. Texas is the Mecca of faith healers. It is very hard to prosecute religious scam artists in the Lone Star State.
Over the past few years Benny has moved in and taken over Paul and Jan Crouch's TBN television program. Benny was a good fit with the charismatic Jan Crouch. Benny and Jan have turned TBN into a charismatic big top.
Jan claims to have raised a chicken from the dead when she was a little girl. Supposedly a truck ran over the bird. Jan simply poured oil over it and the little chicken came back to life.
Benny just couldn't be topped by the false prophetess Jan, so Benny then claimed a man was raised from the dead at one of his services. Right! Benny has still not repented so if you ask me, there is still a dead man on stage at every Benny Crusade.
Benny's fellow faith healers at Oral Roberts University granted him an honorary doctorate degree. How convenient!
Hinn has documented his false teachings in several books including Good Morning Holy Spirit, The Anointing, The Blood, This Is Your Day for a Miracle and He Touched Me.
Benny Hinn - False Claims
Benny claimed that his father was the mayor of Jaffa, Israel. When confronted with this lie Benny acknowledged that his father did not have the title of mayor, but says he performed the functions of mayor. The truth is Benny's father was "a clerk in an Arab labor office."
Benny says he was miraculously cured of stuttering. The truth is people familiar with Benny's since his youth say that he never had a stuttering problem.
Benny claims that a dead man placed on his stage was raised back to life. As far as I know Benny has still not repented and asked for God's forgiveness.
Benny claims to have raised people out of wheelchairs, given blind eyes sight, opened the ears of the deaf, and also healed at least four people of AIDS. Not a single case has been substantiated.
On Paul and Jan Crouch's TBN television program, Praise The Lord, Trinity Broadcasting Network, October 19, 1999, Benny said the following: "You're going to have people raised from the dead watching this network... people around the world who will lose loved ones, will say to undertakers, "Not yet. I want to take my dead loved one and place him in front of that TV set for 24 hours." I'm telling you. People will be -- people -- I'm telling you, I feel the anointing talking here. People are going to be canceling funeral services and bringing their dead in their caskets, placing them -- my God! I feel the anointing here -- placing them before a television set, waiting for God's power to come through and touch them ... You wait. Now the Lord just told me..."
Benny claimed on another occasion during a TBN broadcast that "the Lord was in front of him" and when he moved his arm so did Jesus. When he moved his foot so did Jesus. This continued until they walked together and they merged becoming one. Like I said before, until Benny repents from such blasphemy there will continue to be at least one dead man showing up at every Benny show.
Benny Hinn - False Teachings
Benny's on stage antics are matched only by the heresy he peddles as "personal revelation from God." Don't take my word for it, you decide for yourself. Benny Hinn stands or falls on his own words. According to Benny, Adam could fly like a bird, Eve gave birth out of her side, we are little gods, a man was raised from the dead on his stage, there are nine in the Holy Trinity, Jesus died spiritually, and Jesus took on Satan's nature.
Here is just a sample of Benny's false teachings from the past and present:
Adam Could Fly, To The Moon

"Adam was a super being when God created him. I don't know whether people know this, but he was the first Superman that really ever lived. First of all, the Scriptures declare clearly that he had dominion over the fowls of the air, the fish of the sea - which means he used to fly. Of course, how can he have dominion over the birds and not be able to do what they do? I'll prove it further. Adam not only flew, he flew to space. He was-with one thought he would be on the moon." (Praise the Lord, TBN, 26th December 1991).

Eve Gave Birth Out Of Her Side

"The Holy Spirit says, 'God's original plan is that the woman was to bring forth children out of her side" (Our Position in Christ#5,1990,audiotape,s de2)
You Are A Little God Running Around Earth - "When you say, 'I am a Christian,' you are saying, 'I am mashiach,' in the Hebrew. I am a little messiah walking on earth, in other words. That is a shocking revelation. ...May I say it like this? You are a little god on earth running around" (Praise-a-Thon, TBN, 6th November'90)
Are you ready for some real revelation knowledge....you are god (Benny Hinn, Our Position In Christ, tape # AO31190-1)
Never Say, "Lord, If It Be Thy Will." - "Never, ever, ever go the Lord and say, 'If it be thy will....' Don't allow such faith-destroying words to be spoken from your mouth" (Rise and Be Healed!, 1991, p47-48).
Jesus Faces The Father AS A Man - "God came from heaven, became a man, made man into little gods, went back to heaven as a man. He faces the Father as a man. I face devils as the son of God. (Benny Hinn, Our Position in Christ #2-The Word Made Flesh (Orlando: Orlando Christian Center, 1991, videotape #255)
Jesus Would Have Sinned Without The Holy Spirit - "Had the Holy Spirit not been with Jesus, He would have sinned. That's right, it was the Holy Spirit that was the power that kept Him pure. He was not only sent from heaven, but He was called the Son of Man - and as such He was capable of sinning... Without the Holy Ghost, Jesus would have never have made it... Can you imagine Christ headed for the grave, knowing He would remain there forever, if the Holy Ghost would change His mind about raising Him from the dead? (Benny Hinn, Good Morning, Holy Spirit, first edition Nashville: Thomas Nelson, 1990, 135-36)
Jesus Became One In Nature With Satan - "Jesus knew the only way He would stop Satan is by becoming one in nature with him ... He became one with the nature of Satan, so all those who had the nature of Satan can partake of the nature of God. Benny Hinn, TBN, 15th December 1990).
Jesus Died Spiritually - "Before He died, I should say, on that cross, something happened to Him which began the wheels of the New Creation moving that was this: He died spiritually! ...Jesus Christ understood that spiritual death is union with the satanic nature." (New Creation in Christ sermon, late 1988).
Jesus Was Born Again In Hell - "Jesus was born again [in hell]" (Our Position in Christ#1, 1991, audio-tape).
The Trinity Is Actually Comprised Of Nine - "Each one of them is a triune being by Himself...there's nine of them" (Benny Hinn, TBN, 3rd October 1990).
Health - No Sickness For Saints - "There will be no sickness for the saint of God" (Rise and Be Healed!, 1991, p14); "He promises to heal all- every one, any, any whatsoever, everything- all our diseases! That means not even a headache, sinus problem, not even a toothache- nothing! No sickness should come your way" (ibid., p32); "God's greatest desire for the church of Jesus Christ...is that we be in total and perfect health" (ibid., p65); "If your body belongs to God, it does not and cannot belong to sickness" (ibid., p62);
Wealth - God Wants You To Be Rich - "The Lord giveth and never taketh away. And just because [Job] said, 'Blessed be the name of the Lord,' don't mean that he's right. When he said, 'Blessed be the name,' he was just being religious" (Benny Hinn, TBN, November 1990);

"Years ago they used to preach, 'O we are going to walk on streets of gold.' I would say, 'I don't need the gold up there. I've got to have it down here'" (Praise-a-Thon, TBN, 2nd April 1991).

"The wicked are piling up the funds and I love the way John [Avazini] teaches on this. He's the best there is on how to get the wealth of the wicked. Man, I like it!" (Praise-a-Thon, TBN, 6th November 1990.)

"Poverty is a demon. God had to show me a vision of a demon literally to prove this to me... I had a vision in my bedroom. I was asleep and woke up and right in front of my face I saw a devil. You say, 'You saw it?' Yes, sir, I did. If you have troubles with it, that's your problem. And that thing was mocking me in my bedroom. And the Lord spoke and said to me, 'That is the demon of poverty.' (TBN, 1990).

The Anointing Is Mandatory To Serve The Lord - "I am not overstating the case. The anointing is mandatory if you are called to serve the Lord. Without it there will be no growth, no blessing, no victory in your ministry." (The Anointing, p.79.)
Benny Is Jesus In The Flesh - "I am not, hear me, I AM NOT PART OF HIM, I AM HIM! THE WORD HAS BECOME FLESH IN ME!. ...When my hand touches someone, it's the hand of Jesus touching somebody" (Our Position in Christ).
Benny Has Healed Thousands - "Hundreds of verified healings and thousands of conversions have occurred including people rising from wheelchairs and leaving crutches. Several blind eyes and deaf ears have been opened and verified" (The Anointing, 1992, pp94-95).
Benny's Speech Releases Faith - "Faith is released when I speak the word of faith." (Benny Hinn, TBN, 6th July 1992.)
Benny Gives Revelations - "Please, please, please, don't think [we're] here to repeat something you've heard for the last 50 years. ...If we quit giving you new revelations, we're dead"
Benny's Had A Revelation On Catholic Communion - God really gave me a revelation that night, that when we partake communion, it's not just communion. We are partaking Christ Jesus himself. He did not say, 'Take, eat, this represents my body.' He said, 'This is my body, broken for you...' When you partake communion, you're partaking Christ, and that heals your body. When you partake Jesus, how can you stay weak? ...sick? ...And so tonight, as we partake communion, we're not partaking bread. We're partaking what He said we would be partaking of: 'This is my body'"(Praise the Lord, TBN, Dec 27 '94)
Only The Immature Question Benny - "So don't question this teaching. Only the immature question it" (Our position in Christ)
Benny Calls Dissenters Morons - "Those that put us down are a bunch of morons" (Praise-a-Thon, TBN, November 1990);
Benny Would Like To Blow Our Heads Off - "Somebody's attacking me because of something I'm teaching. Let me tell you something, brother: You watch it! ...You know, I've looked for one verse in the Bible; I just can't seem to find it. Once verse that said, 'If you don't like them, kill them.' I really wish I could find it! ...You stink frankly- that's the way I think about it! ...Sometimes I wish God will give me a Holy Ghost machine gun; I'll blow your head off" (Praise-a-Thon, TBN, 8th November 1990);
Benny Thinks He Is God's Anointed - "The Holy Ghost is upon me....The day is coming when those that attack us will drop down dead....Don't touch God's servants; it's deadly....Woe to you that touch God's servants. You're going to pay" (Miracle Invasion Rally, 22nd Nov '91).

"Now I'm pointing my finger with the mighty power of God on me....You hear this: There are men and women in Southern California attacking me. I will tell you under the anointing now, you'll reap it in your children unless you stop.... You are in danger. Repent! Or God Almighty will move His hand. Touch not my Anointed...." (World Charismatic Conference, 7th August 1992.);

The Holy Spirit Longed For Benny's Fellowship - One evening I was lost in the Spirit, having the greatest time in the world talking to Him. The woman of the house called up, 'Benny, supper is ready.' But I was bubbling over and didn't want to leave. She called again, 'Supper is ready.' And as I was about to leave, I felt someone take my hand and say, 'Five more minutes. Just five more minutes.' The Holy Spirit longed for my fellowship." (ibid., p56.)
Now you understand why Benny seldom opens up his Bible on stage. These things are the utterances of a raving lunatic. He doesn't have a clue as to what scripture actually says so he makes things up and claims they are personal revelation!
Summary
Is Benny Hinn one of God's anointed? Does the Holy Spirit supernaturally heal the sick during the Benny show? Did Adam fly like a bird? There is no middle ground here. You must either accept all of these claims or you must reject them all.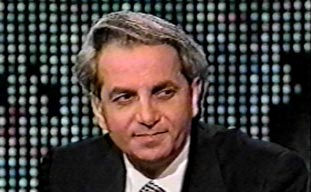 "For it is easier for a camel to go through the eye of a needle than for a rich man to enter the kingdom of God." Luke 18:25
Either these men and women have the power to heal people over the TV, with a knock on the forehead, and by blowing on victims, or they are con artists robbing God and sinning against the Holy Spirit.
Don't take my word for it, you decide for yourself. Benny Hinn stands or falls on his own words.