OKLAHOMA CITY BOMBING Cover-up!
---
Blown Up from Within by Explosive Devices... Two Bombs found UNDETONATED!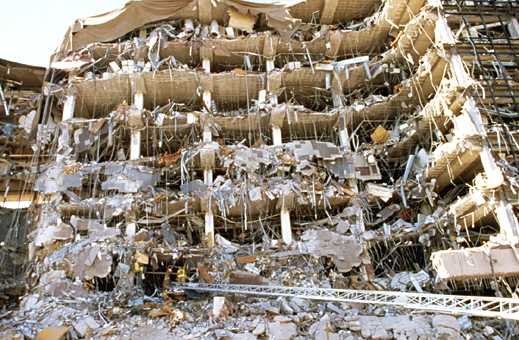 Documented PROOF there were additional explosive charges!
---
Research Links:
THE EXECUTION OF A GOVERNMENT PATSY
THE SECRETS OF TIMOTHY McVEIGH
According to his death certificate, Timothy McVeigh died a soldier.
Deathbed confession implicates USG withholding of key evidence in OKC bombing case
Weeks Before 1995 Oklahoma Bombing, Government Warned of Possible Terror Attacks
Victims' Mother Asks Why No ATF Were Killed in Bombing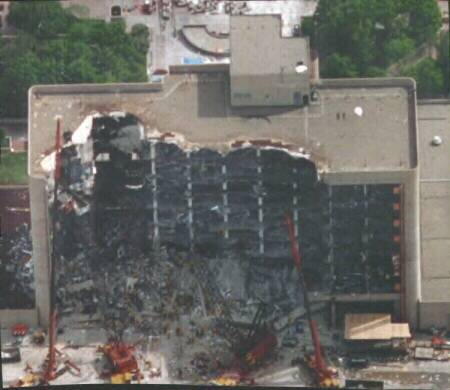 Bombing sent grandmother on long quest
CHANDRA LEVY: UNRAVELING GOVERNMENT COVER-UPS?
The 168 Lives Lost on April 19, 1995 | Was FBI early arrival in OKC?
Unresolved Deaths in OKC | WHO KILLED TERRY YEAKEY?
The big bad wolf is dead? | Lead in Oklahoma Bombing | Those Who Died
McVeigh's death certificate | Open letter to John Ashcroft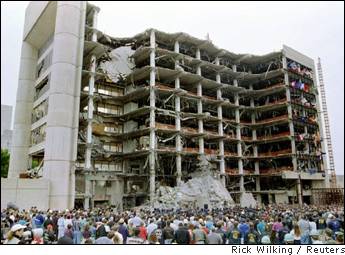 JOHN ASHCROFT AND THE OKC BOMBING
Did A Lawsuit Stop McVeigh's Execution? | Open letter to John Ashcroft
The Murrah Building Cover-up (literally) | UPDATE: Oklahoma Bombing Cover-Up
Jane Graham Information | "High Explosives" WHICH HAD A TIMER ON IT
Police Sergeant Suicided To Keep Truth Hidden
Oklahoma Bombing Affidavits: Additional Bomb
Experts say Murrah Building damage not done by truck blast alone
The Oklahoma City Bombing: 30 Unanswered Questions
---
McVeigh Video Destroys OKC Bombing Official Story

(Shows McVeigh was in military receiving instruction in "explosives and demolition" over a year after official story says he was discharged, whistleblower harassed for years while unknowingly in possession of bombshell tape )

A video that shows Oklahoma City bomber Timothy McVeigh at a U.S. military base that specializes in explosives and demolition training over a year after he supposedly left the army puts the official story of the April 19 1995 federal building bombing under serious doubt and mandates a re-opening of an investigation into the terror attack that killed 168 people.

The video was released by Bill Bean, a film producer who has suffered intense surveillance and harassment since taking the footage, and is the subject of a February 2007 Hustler Magazine feature story.

On August 3rd 1993, Bean was given a tour of the Camp Grafton military facility in North Dakota as part of a research effort to scout possible shooting locations for a film he was working on. Bean met the Camp Superintendent Col. Dahl and was permitted to film every location he visited.

SOURCE: McVeigh Video Destroys OKC Bombing Official Story

---
"John Doe #2 Identified: But Can We Get The FBI To Arrest Him?"
OKC Bombing ~ What Is The Government Hiding | Air Force Photos and JANE GRAHAM
Mind Control & Timothy McVeigh's Rise from "Robotic" Soldier to Mad Bomber
Secret Pentagon Report on Oklahoma City Bombing--Evidence of an Inside Job?
Secret Pentagon Report on Oklahoma City Bombing
OKC BOMBING WAS VIA EM BEAM WEAPON? | THE NEW AMERICAN: Oklahoma City Bombing
INSIDE THE NEW OKLAHOMA CITY FBI DOCUMENTS
What Really Happened? -THE OKLAHOMA CITY BOMBING
Lawsuit filed for stay of execution for Tim McVeigh
Fed Informant Documents Treason in OKC Bombing
Experts also say the way the Murrah building fell... | Blowing the Lid Off the O.K. City Bomb
Third Suspect Identified in Oklahoma Bombing
Oklahoma Bombing Grand Jury Loses Credibility | FBI Scandals and Death Threat Bring No Closure
The Oklahoma Bombing | Timothy McVeigh Convicted but Jury is Still Out
Many, Many Questions Still Haunt Oklahoma | The Oklahoma City Bombing and the Politics of Terror
OKC Bombing- Death of a Hero: Terry Yeakey | Oklahoma City: Two Blasts and Strange Facts
William F. Jasper: Multiple Blasts: More Evidence | Police Officer Murdered to cover up OKC Bombing
UNRESOLVED DEATHS IN OKLAHOMA | OKC Murders
OKC Blast Linked To Bin Laden - FBI Refused To Accept Evidence
OKC investigating committee concludes U.S. 'had prior knowledge of the bombing'
OKC Trial TranscriptsTerry Nichols | What You Won't Hear In The News!!
CHANDRA LEVY: UNRAVELING GOVERNMENT COVER-UPS?

Oklahoma City Bombing (It wasn't diesel fuel and fertilizer, but high explosives planted in the building)
Oklahoma City Bombing COVER-UP! (Our own government did this to us) | Any Questions?
What Really Happened in Oklahoma 1995? (Alex Jones Real Media video exposing 911 cover-up, but also contains a lot of info about the Oklahoma City bombing later in the film. This is an excellent made video that I hope you will watch. Click HERE to watch the video NOW).

---
"Most people prefer to believe their leaders are just and fair even in the face of evidence to the contrary, because most people don't want to admit they don't have the courage to do anything about it. Most propaganda is not designed to fool the critical thinker but only to give moral cowards an excuse not to think at all" —Michael Rivero
---
Police Officer Murdered to cover up OKC Bombing
---