Man "Preaching Jesus" to Lion Gets Attacked
Into the lion's den
November 4, 2004 | Photo: AFP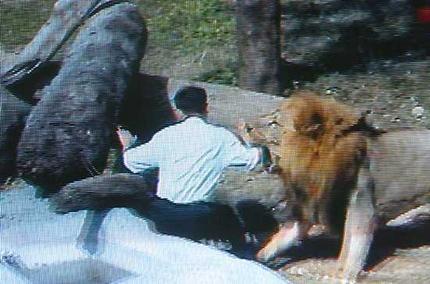 A TV grab shows local resident Chen Chung-ho being attacked by a lion inside a zoo in Taipei.
A lion attacked a man who jumped into the animal's enclosure and shouted "Jesus will save you!" at the big cat on Wednesday at a zoo in Taiwan's capital.
Cable TV stations showed the lion ripping a jacket off the man as he stood in a grassy enclosure that held two of the animals.
Without panicking, the man fell back on a stone ridge, and the lion then jumped at him, biting him in the arm. The lion then clawed at his trousers before retreating.
The man then calmly stood with his arms outstretched in front of the two animals.
An eyewitness, Hsu Li-jen, told cable station CTI that the man shouted "Jesus will save you" at the animals.
Guards drove the lions away with water hoses and police shot the animals with tranquiliser darts. The man, identified only by his surname, Chen, then picked up his jacket and climbed out of the pen himself. He was taken to the hospital for tests.
"He had bite marks both at the front and back of his leg," Doctor Wang Yao-ching told CTI.
Another doctor said Chen, 46, had psychological problems. "He took this dangerous action today because he imagined he heard voices," psychiatrist Teng Hui-wen told reporters, saying his case was still being investigated.
AP | SOURCE
---