I'll Be Sleeping Again At Wal-Mart Tonight In My Car
by David J. Stewart | July 2021
What a hectic time it has been since I left Guam! Good night in the morning. Last night I slept in my car for the first time in my life. It was a very strange feeling, I admit. I learned a lot of stuff from my experience. First, I was still suffering from jetlag, so I couldn't sleep. 11 am at night in Pensacola, Florida is equivalent to 2 pm Guam time (Guam is 15 hours ahead). So I was wide awake, as worn out physically and mentally as I was. I think there is a short circuit or something in my headlights, because they partially stay on all the time, when the car if on. I need to have that fixed soon.

At first I turned the vehicle off and tried to sleep in the back seat. It wasn't even a couple minutes before I quickly realized that sleeping in the back seat wasn't going to work. I was in an awkward position and couldn't even begin to find any comfort. So I went and put the driver's eat all the way back, and that was much more comfortable. I finally dozed off at about midnight, but it was so humid and uncomfortable (even with the windows down), that I tossed and turned and at 1 am couldn't sleep due to the discomfort. So then I decided to let the vehicle idle, and run the air-conditioning. That was such a relief. But that meant my headlights were partially on all the time, so I would stand out in the Wal-Mart parking lot all night long with my headlamps on...lol.

At first I was a bit paranoid, wondering if the police or security would hassle me. "Hey you!," I thought to myself. But I saw about 3 dozen other cars also in the Wal-Mart parking lot (I guess a lot of people are homeless). I just picked a cozy spot away from everyone else, and no one bothered me. So I messed with my laptop until the battery went low, and then my new mobile phone. I can charge the mobile phone in my car, but not the laptop. I paid $30 for the DC to AC inverter, but it wont charge my laptop. So it was a waste of money.

I needed to use the restroom and didn't know what was open at 11 pm. So, I Googled MacDonald's. I found one 7 minutes north on route 10. They're open until 1 am, but when I got there I realized that only the drive-thru was open. As I was leaving, at the traffic light I saw a Waffle House open. I had totally forgot that I had asked a lady earlier, who worked at Wal-Mart, if she knew of any places that were open 24 hours a day. She had mentioned the Waffle House, but I totally forgot. So I made a pit stop there and drove back to Wal-Mart. Then as I returned to my cozy parking spot at Wal-Mart, I looked up across the street and guess what I saw? Yes, a Waffle House...lol. Story of my life!

I went over to check out the Waffle House across from Wal-Mart at about 4 am, and the food smelled so good, but I didn't eat there. The place was full of people. I had chowed down on that awesome Chinese food I told you about last night, so I wasn't hungry. I decided last night that I would eat the left over Chinese food for breakfast, and then eat nothing all day today (and I haven't), so I would be really hungry tonight, and I'm planning on going to the Waffle House sometime after midnight. I'll probably head over around 2 am. Since I can't sleep at night yet, I might as well make the best of it!

On Guam, I usually went to bed at about 8 pm, which is 5 am in Pensacola. Sure enough, I knocked out at 5 am and had some quality sleep for 2 hours. I woke up and went to the YMCA when they opened at 7 am. I spent 5 hours there! I drank my morning protein shake, exercised some, used their steam room, microwaved the rest of my Chinese food before I left, charged my laptop, shaved and put some clean clothes on.

After I left the YMCA today, I drove to a place called ACE Unlocks to have an extra key made for my vehicle. The first key's plastic housing broke in half the first day I got the car, and I taped it. So, now I have a new key, but it cost me $155 for just one key. It's called a Smart Key, which is why it is so expensive. I'll use the old taped key as a spare. Then I headed to MacDonald's again, where I visited last night, to see if I could plug in my laptop and use their Wi-Fi, because I needed to start changing my contact information in a hundred accounts. Wal-Mart offers free Wi-Fi, but they don't have a place where I can plug-in and recharge my laptop, which is only good for about an hour. I was delighted that MacDonald's was virtually empty, and the lady working there kindly told me I could sit at one of their tables, and use their power outlet, and free Wi-Fi. I have been sitting here for the past 7 hours! It has been a mentally intensive afternoon for me, updating several dozen accounts. WHOIS is very strict on correct contact information. They'll terminate my website accounts if the information is inaccurate, so this is very important and needs to be verified.

Just updating the contact information for my 7 ministry websites is very time consuming. I have to edit the account info, billing info, technical info, et cetera. Then I have to edit WHOIS, which is totally separate. I have some websites parked at one hosting company (e.g., the domain for Jesus-is-Savior.com is parked at Netfirms), but the website is actually hosted at a different hosting company (e.g., Jesus-is-Savior.com is hosted at KnownHost). So it gets confusing. I have accounts all over the place. Thankfully, I keep good records and passwords. Anyway, I am about half done, after 7 hours, but I have accomplished MUCH today. I updated my bank account information from Guam, my USPS account (so my mail on Guam will be forwarded to Pensacola), et cetera.

Since it is the 4th of July weekend, I couldn't find a hotel for less than my left arm. I'm not paying $450 for a hotel room! But as I was coming back to Wal-Mart (my home base) from Ace Unlocks, I noticed a sign that shocked me. It advertised a hotel room for $35 a night, but only if you stay for 7 days. I don't have to tell you what I did! I turned around and went back. But I was so sleepy that I decided to take a nap for an hour, and it was wonderful in their parking lot. Then I went inside and inquired. I kindly told her what had happened coming from Guam, and how my 31-day hotel reservation was cancelled without notice because my flight was delayed beyond my control. I told her that I had spent the night sleeping in the Wal-Mart parking lot in my car. The lady was kind and said they had nothing today, but she kindly told me to call her tomorrow morning after 10 am. So perhaps they'll have a room available. I told her I will GLADLY stay a week. I told her I would love to stay for a month, but she said they have to see first if I keep all the house rules. I assured her that there WON'T be a problem with me. I am greatly humbled after sleeping in my vehicle in Wal-Mart's parking lot. Housing now has a whole new meaning to me, and I sure appreciate having a roof over my head most of the time. God is so very good. What a Savior!!!

So we'll see what happens. I plan to stay up most of tonight. I just asked the manager and he said I can stay in the dining room at MacDonald's until 10 pm, which is what I will do. The less time I spend sitting on my car at Wal-Mart, the more bearable the night is. I was really bored through the night, unable to sleep, and with my battery low on my laptop. That is another reason why I haven't eaten all day, planning to eat at the Waffle House and sit in their nice restaurant for a couple hours, to help get me through the long lonely sleepless night. It will be nice to be around people. Then again, it will be the 4th of July, so I don't know if they'll still be open. That would be a bummer! Wow, I'll really be bored. They advertise that they're open for 24 hours all the time, so we'll see. Running my car at idle all night costs about $5 in gas, which is not bad.

When I got back to Wal-Mart, I saw a fireworks stand. I'm a big kid when it comes to fireworks, girls and ice-cream. I took these photos...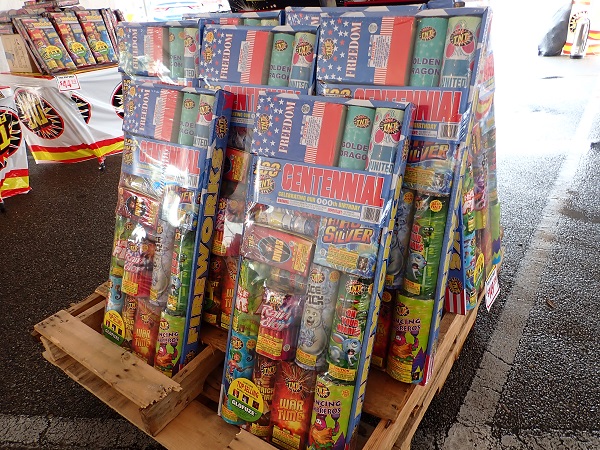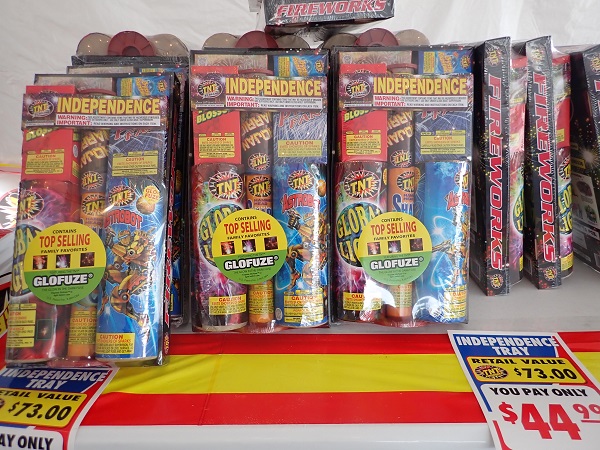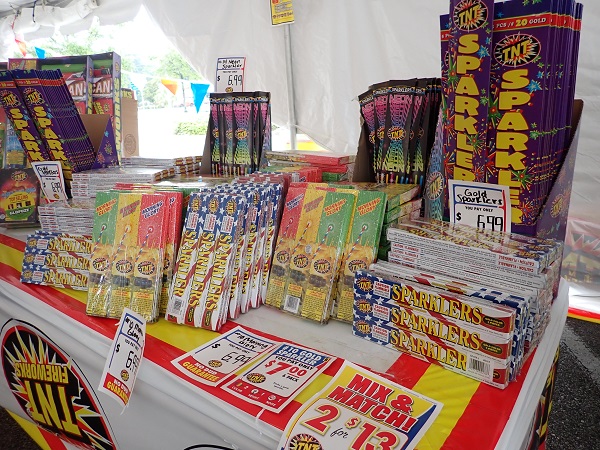 I didn't buy any. That's all I need is to get into trouble lighting off fireworks in Wal-Mart's parking lot...lol. Prices sure have gone way up since I was a kid. Heck, I used to buy bricks of firecrackers for $5 each (80 packs of 16 each). When I was a teenager, a neighbour in Chicago got me 72 M-80's (the real deal that would blow your hand off) for $36. Ah yes, the good old days! They didn't even sell firecrackers at this fireworks stand. The people that run the stand gave me permission to take pictures of their fireworks. I asked them first. I think fireworks are really cool stuff! I like Roman Candles, but they didn't have any cool stuff like that.

I'm going to call Monday about some long-term rental apartments. I found a few places, but I need to call. Hopefully the Hospitality Inn will have something available tomorrow, but it is the 4th of July. If not, I praise God for a vehicle to stay in overnight in Wal-Mart's parking lot. At least I still have a roof over my head if it rains. And I have a safe place to stay. Wal-Mart has security cameras all over, which makes me feel safe there. And there are no bears in Pensacola. Okay, I'm getting weird now. It's been a long day...lol. Actually, I was wrong, A BEAR WAS SPOTTED IN PENSACOLA! You couldn't make this stuff up! Oh no, now I am worried about a bear eating me...lol. Not really.

Okay, that's all for now. I just wanted to share my second day here with everybody. My body is going to require about a week to adjust to the time change differential between Guam and Pensacola. Right now my body is in shock, thinking it is daytime at night, and nighttime during the day. I love you all. Thank you to those who are praying for me. I am fine, just under a lot of pressure right now. Little by little things will work out. I have faith in God (Mark 11:22). God is with me (Hebrews 13:5). I am looking unto Jesus (Hebrews 13:2). My mind is on heavenly things (Colossians 3:1-3). I need to go apply for a driver's license this week, focus on finding a doctor, apply for a long-term rental apartment, and contact several organizations to change my contact information, et cetera. Once I find permanent housing my mind will be better prepared to settle down. Right now I am homeless and everything feels out of place. This is all normal for my situation. Hey, I'm eating at the Waffle House at 2 am. I have a plan...lol! One day at a time. Jesus is precious!!!
The Gift Of Eternal Life Is Wrapped In The Wonderful Package Of Jesus
END OF ARTICLE
"Faith is the only righteous thing that I can do!"
—Pastor Jack Hyles, a quote from the MP3 sermon titled: "God's Reversal Of Psalm 51"
1st Corinthians 16:24, "My love be with you all in Christ Jesus. Amen."
---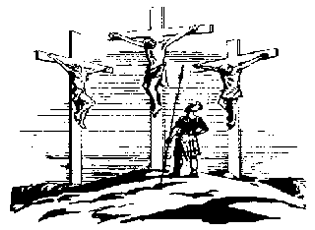 How Permanent Is Your Salvation?
(an excellent MP3 sermon by Pastor Hank Lindstrom, 1940-2008)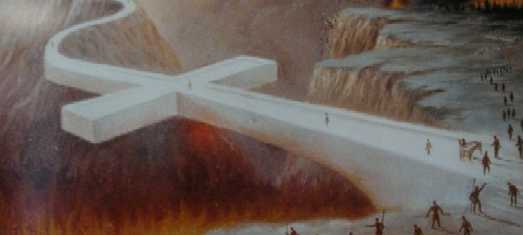 Mark 1:15, "...repent ye, and believe the gospel."
"The mark of the child of God is that he loves everybody!"
(a quote from Pastor Jack Hyles' classic MP3 sermon, "FORGIVENESS")
Mark 11:22, "And Jesus answering saith unto them, Have faith in God."
---
Ye Must Be Born Again! | You Need HIS Righteousness!